I have seen this project on many sites. But I never could find a step by step DIY on how to upcycle a picture frame into an earring rack tutorial. So I searched for directions, but couldn't find them. That's when I took matters into my own hands. I found an old frame, headed out to my shop, and figured it out, taking a few photos along the way.
RELATED POST: Upcycled: 5 Easy Upcycles With Common Household Items
I have long wanted one of these little earring racks to hang on the wall near my bathroom vanity. I tend to clutter all my vanity drawer space by tossing earrings in. Then, I wonder why I can't find them. I have a small home and we need to make all our storage space count! This seems like a great way to take advantage of vertical storage space.
I had an old and ugly yellow wooden picture frame with years of dust from the attic. But I don't really even know where it came from, I just always had it. Actually, I kind of think I picked it up at a yard sale with some intention that never panned out. It was in decent condition, but very dirty to say the least.
It looked like this, with years of dust and grime. Although I will admit, the paint splatters were on my work table, that's just background. I paint on this table all the time as you can see!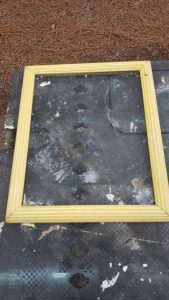 STEP ONE: CLEAN AND PREP
I spent a few minutes taking the glass out, cleaning it, and used a brush to clean all the dust and dirt out of the grooves in the frame. I then used the air hose to blow out any remaining debris. Don't ever spray paint over dust, cobwebs, etc. or you won't be happy with the end result. A clean surface is always the best surface to paint on!
Don't ever spray paint over dust, cobwebs, etc. or you won't be happy with the end result. A clean surface is always the best surface to paint on!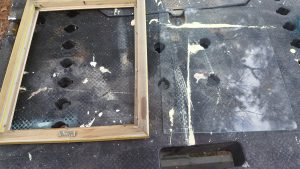 STEP TWO: TWO COATS OF SPRAY PAINT
I applied two coats of Valspar's Project Perfect Spray Paint in Exotic Sea, a fun and bright blue. It will add a fun, vibrant pop of color to the wall. I applied one coat and let it dry for about 10 minutes. I applied the second coat, then left it alone to dry very well.
STEP THREE: ADD A FABRIC BACKGROUND
While I was in between coats of spray paint, I turned attention to the glass piece, which became the backer for my earring rack. I found a scrap of fabric I had from when I reupholstered the chair next to my back door. I sat it over the glass plate that I had removed. Then I cleaned and eyeballed how much fabric I needed. I cut down the fabric to size.
Then, I applied spray adhesive to the glass. I laid the fabric down very carefully…and straight! Using a scraper, I gently pushed out all air pockets, and wrinkles and let it dry for about 15 minutes. After it was dry, I flipped it over and folded over the corners like I was wrapping a present and tacked it all down with spray adhesive.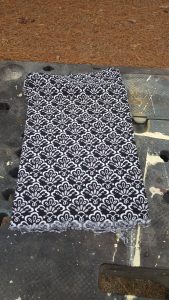 AT THIS POINT, I QUIT FOR THE DAY AND LET THE PAINT AND GLUE ALL DRY OVERNIGHT! YOU NEED TO FLIP THE FRAME FACE DOWN TO FINISH. YOU DON"T WANT TO MUCK UP YOUR PAINT JOB!
STEP FOUR: ADD THE EARRING RACKS
Instead of wire stretched across my earring holder, I did my own spin on the racks of the earring holder. Also I used clear colored Stretch Magic jewelry cord. This is because I liked the idea of the earrings kind of suspending from the clear cord.
I cut three pieces of Stretch Magic cord to length and stapled them to the back of the frame. I left plenty of "clearance" to put the fabric-covered backing on without pinching them or making them too tight.
STEP FIVE: ADD THE FABRIC PIECE INTO THE FRAME
Finally, I the fabric-covered glass and carefully worked it into the frame. This particular frame didn't have a cardboard backer, but it would have been easier to work with than the glass. I think all DIY'ers and crafters know, though, that we work with what we have!
This is a quick, easy and fun project. I think that I made all the pieces in under 20 minutes. Re-assembling the parts the next day took about 5 minutes. In fact, I think that I have found a Christmas present to make for a few special people! I will enjoy using this earring holder every day and finally clearing the clutter out of my vanity!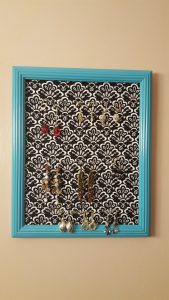 As always, please share comments or email me at diyhomegardenblog@gmail.com with photos of your own take on this project. Have a happy DIY day!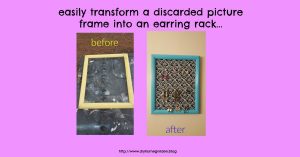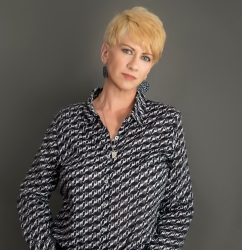 Latest posts by Deborah T
(see all)