Great grilling at home is easy. That is, when you carve out a grill platform from grass or unused lawn space, you create attractive grill zone for your yard.
In fact, my husband and I look forward to grilling every Sunday afternoon. First, we take time to prep a lot of food. Then we cook it for lunch all week long. This is because we both have full-time jobs. So this helps us to stay on track with healthy-ish eating habits.
A SPECIAL PLACE FOR GRILLING
Sadly, our grill was under our carport. So we always had to move the car first, then roll it out. Then we can use it. After use, we cleaned it, then rolled it back under the carport. Then, we move the car back into place. Blah! Enough of that!
So it was time to create a special space for the grill. Firstly, I asked for a pergola. This was so I keep my red-headed self in the shade as I grilled. However, we compromised on a big colorful lawn umbrella. It was something we could roll up if needed. Or something we store away safely if we expect a hurricane.
This was about an hour's job work. Moreover, it was something that we worked on together. We quickly got it done this past Sunday afternoon. Just in time for grilling!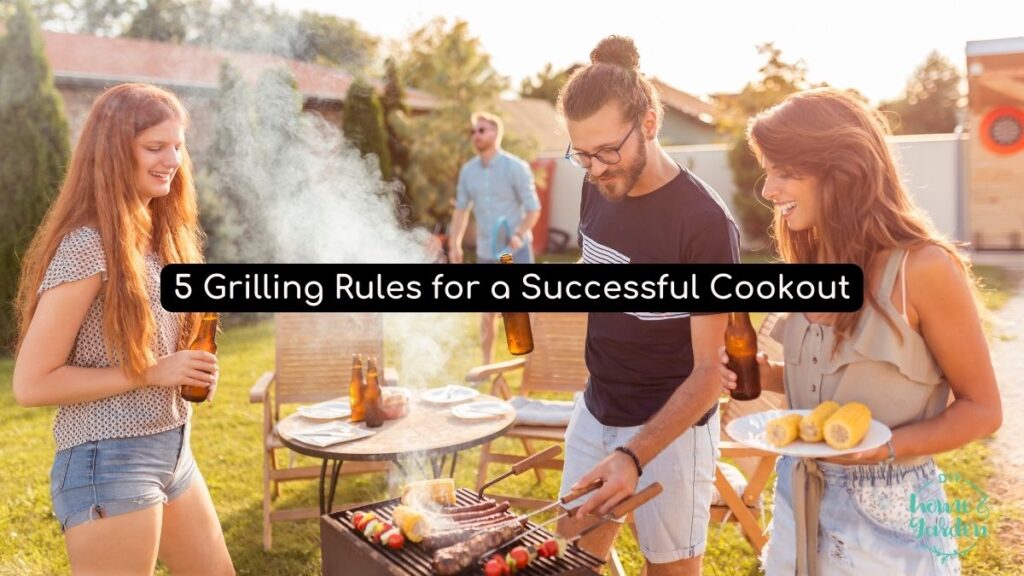 SELECT A SITE AND START DIGGING!
Select a level, relative rock-free spot in the grass as the site for your grill zone. Somewhere near your kitchen, if possible. Also, you want to consider a location somewhere near a seating area. This gives you easy access to the kitchen. So you can quickly move food in and out of the house. Also, you can entertain your guests. We have an excellent, shady carport next to the grill zone. We purchased a couple of clearance chairs that we plan to tuck into the screened porch when not in use by the grill.
Measure your pavers and estimate the shape of your grilling area. Dig out and grass, weeds, rocks, and debris with a flat-bottomed shovel. Use a rake to smooth out the area and get rid of all small debris. Just the tiniest rock can make your pavers uneven. This is very important because you want your grill to sit level.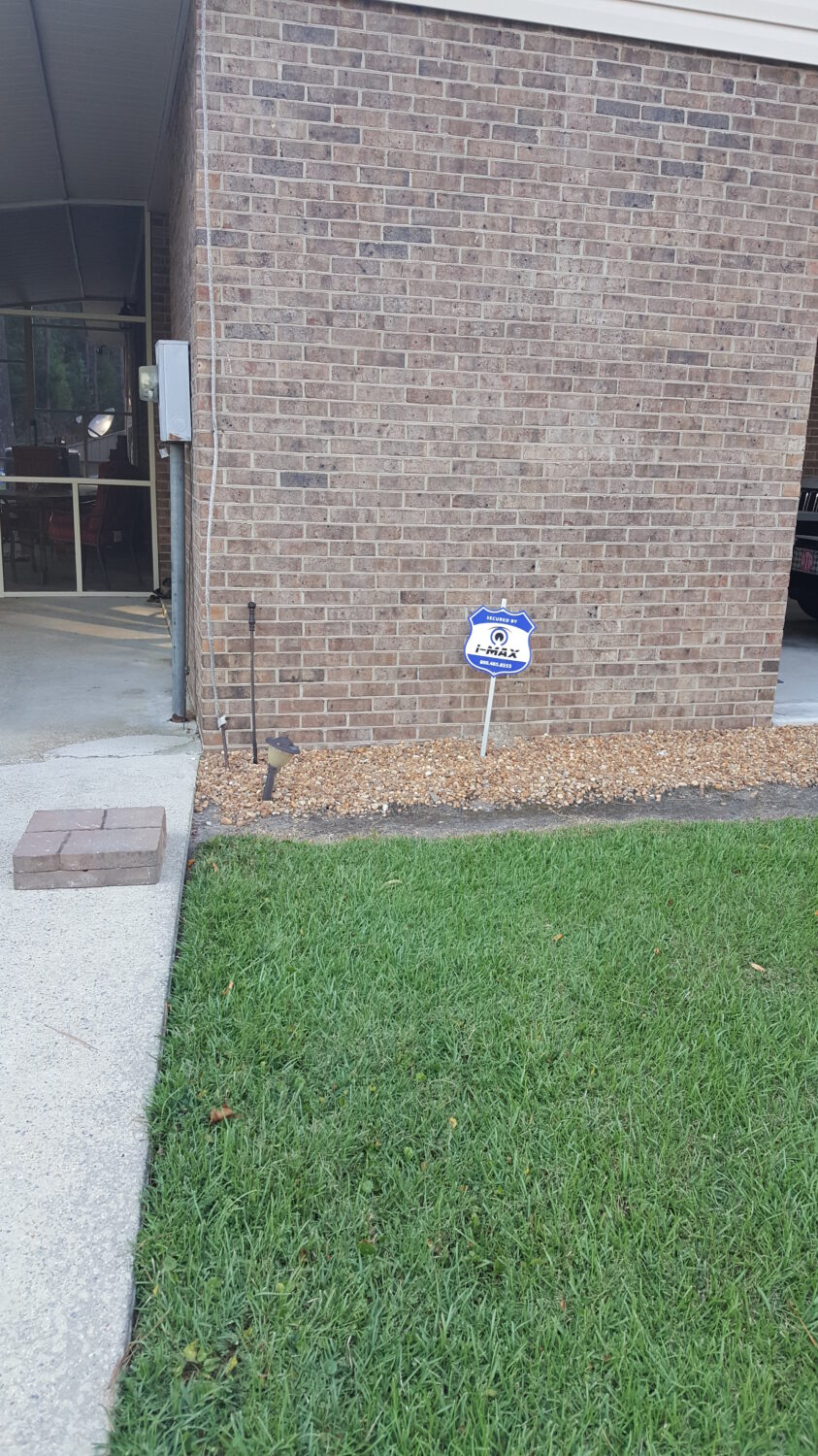 ADD YOUR PATIO PAVERS:
Add your patio pavers and leave a little bit of space between each one. You may need to play with the layout. For example, you may need to dig out a little more prominent space, then wiggle them in to fit correctly. Or you may stagger the patterns as we did.
Taking the time to "dry-fit" the pavers in your new grill zone will save you aggravation later. Make sure you like the arrangement of the blocks and that they sit level before you proceed.
STAKE YOUR UMBRELLA INTO PLACE:
We set a metal fence stake into the ground securely. Then we added three clamps to hold our shade umbrella into place. Make sure you leave clearance to put up the umbrella, so it doesn't hit the grill as it winds up. Also, make sure it's high enough to not catch fire!
We did this before setting the sand. We thought it wouldn't hurt to add a little sand around it for extra help keeping in place.
Of course, we plan for the unavoidable event of tropical storms or hurricanes. So we can pull this out of the metal clamps at a moment's notice. We store all our patio furniture in the barn before hurricanes. So this will go with those other items.
As we use our new space, I will update if we decide to squash this umbrella idea.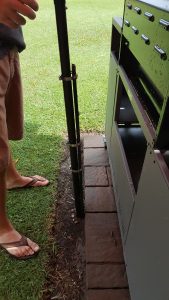 SET THEM IN WITH SAND:
Firstly, dump a large amount of sand onto your pavers. You will need more than you think! Then grab an old broom and work the sand into the space between the patio pavers.
Fill every space as tightly as you can. Here's a really short video of my hubby sweeping the sand. This demonstrates how he works one little section at a time.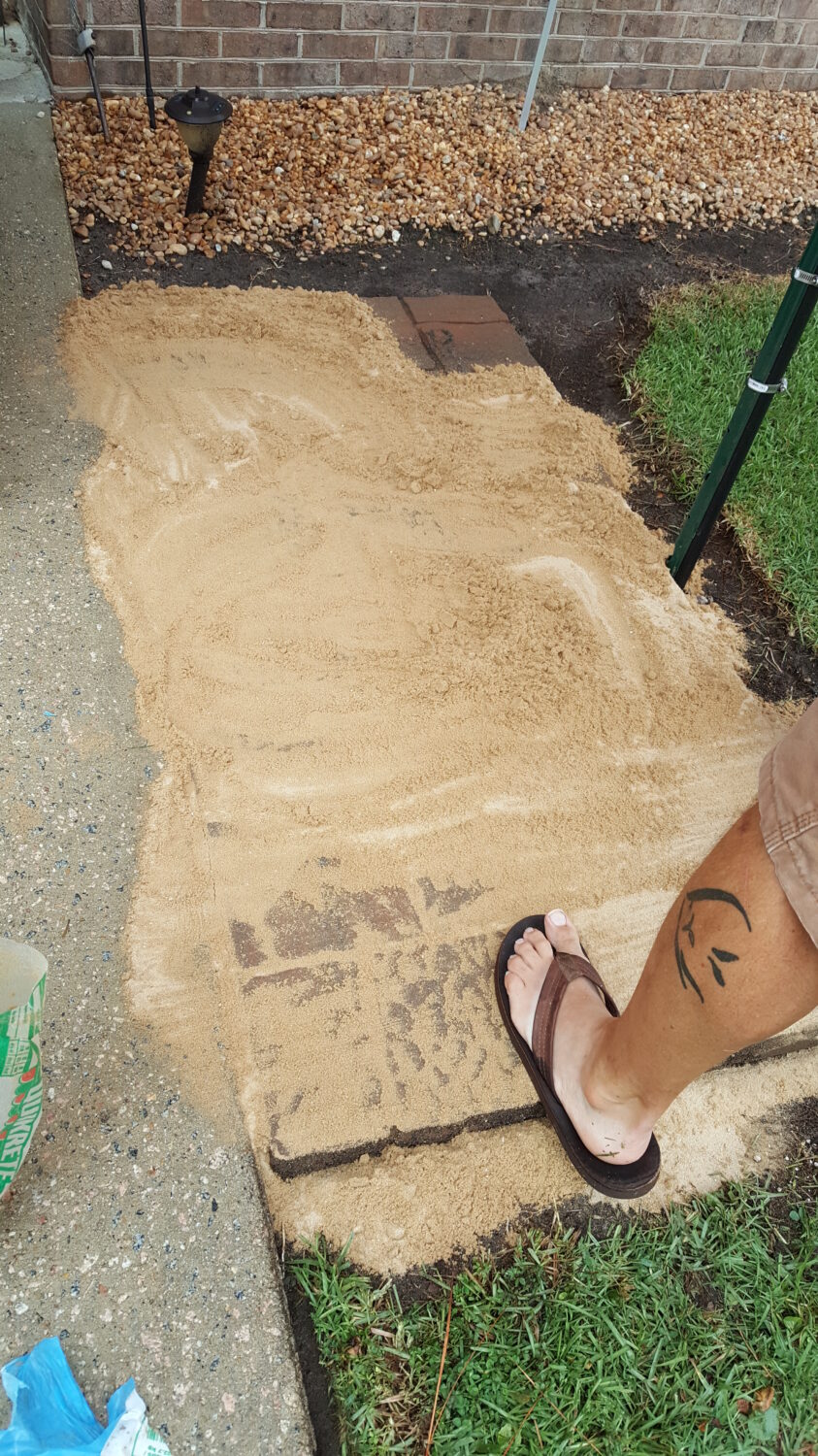 Does anyone ever notice that I'm always holding the camera while he does all the work? Lol.
ADD EDGING MATERIAL
Adding some kind of edging material will make your grilling patio look more finished. So we chose to use river rocks to make it easy to cut grass. Then we can ride the mower with the tire on the rocks. This is better than trimming with the weed eater every week. This is especially important if you have a large yard. Who wants more grass to edge? Not me!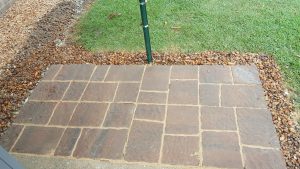 THE GRILLING ZONE – AFTER: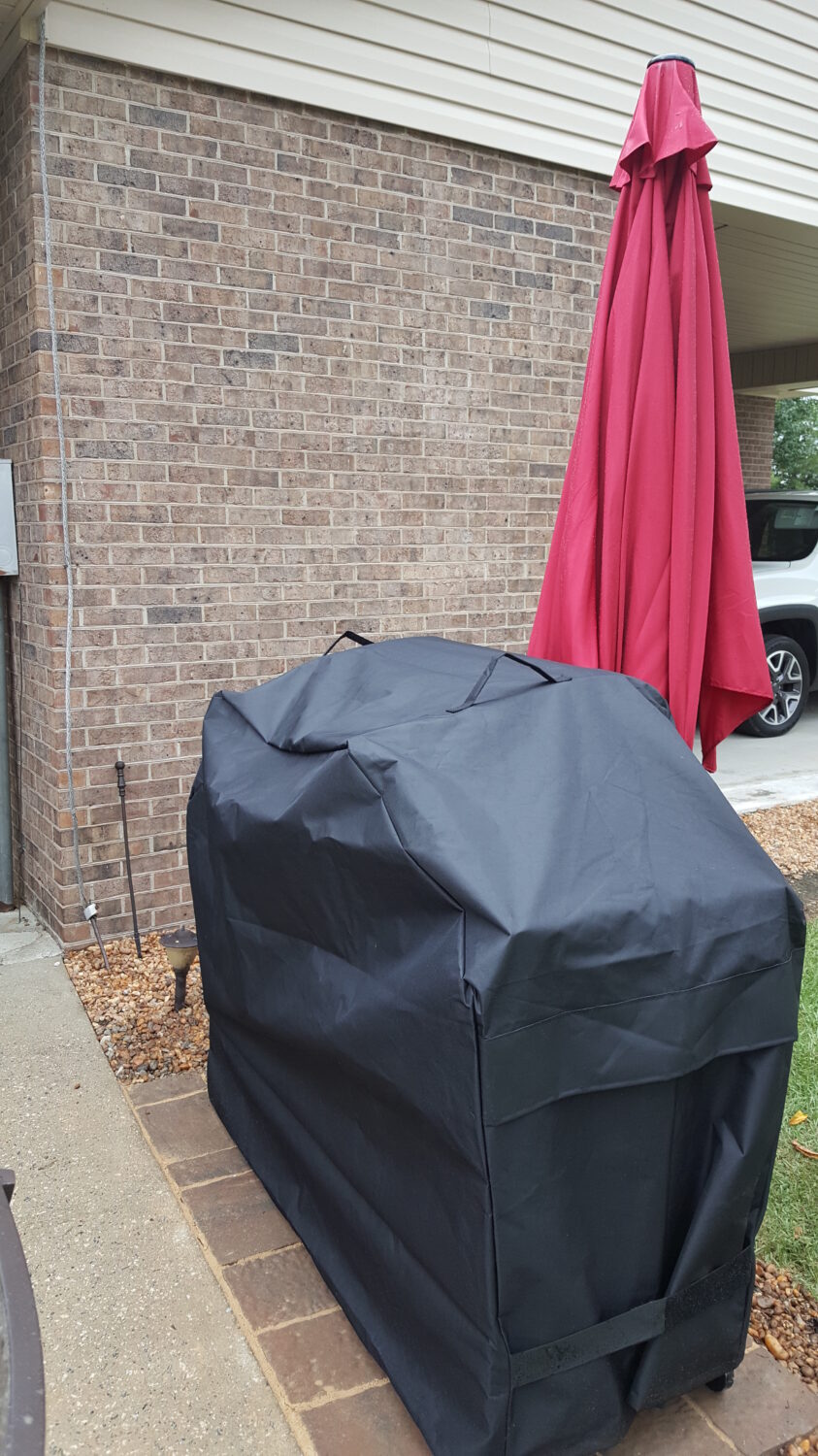 We finished this project fairly quick. Moreover, we were able to complete it despite some rain showers. By the time we were done with the grilling zone, the skies had cleared. And yes. We did throw a couple of steaks on the grill as a reward for our hard work!
As always, please comment with your feedback! We love hearing from you.
Have a happy DIY day!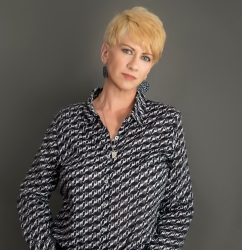 Latest posts by Deborah T
(see all)