Are you curious to know the hot 2020 home decor trends?
That makes perfect sense…
What better time is there to decorate your home other than the start of a new decade. Stylish and lavish homes have always been a vogue. However, the specific decors that are implemented to achieve this extraordinary look keep changing with time.
With the advent of the new year, unique styles and designs are gearing up to make a grand debut; moreover, interior design experts are also ready to release their picks for the best home designs on the year. Here is a list of similar modern trends that can be quite useful for anyone who is trying to redefine the appearance of their home.
7 up and coming 2020 home decor trends
Take a look at what to expect this year.
1 – Colorful and lively kitchens: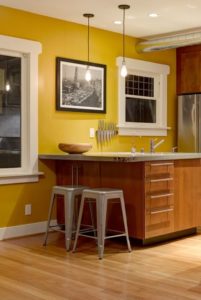 For a long time, white was the most commonly used color for the kitchen. White and similar shades are great for kitchens. They make the kitchen look bigger and give it a clean, classic and timeless look.
However, this year's trends are diverting from the pattern. According to Houzz, which is one of the most influential online platforms regarding interior design and architecture, though white cabinets are still considered typical, there has been a significant increase in the number of people looking for alternative hues.
To achieve the best look, you should opt for some soft shades, like light grey, and light blue. You will also see an increase in ash undertones when it comes to the interior design of kitchens. Adding some open shelving, wooden countertops, or polished wood cabinets can add a lot to the design of your kitchen this year.
2 – Upscale and lavish bathrooms: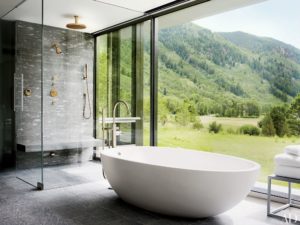 Over the last decade, people have started to put significant effort into the design and decor of their bathrooms. Bathrooms are becoming more like lavish spas, and this home trend is going to continue in 2020.
Therefore, if you are renovating your home, you should put some extra effort to make your bathrooms look exquisite. According to the trend of this year, lavish bathrooms should have places to sit other than the actual toilet. Stools, benches, and window seats are making a more prominent presence this year.
These stools can also be quite beneficial, as you can use them while you are applying your makeup in the morning, or you should place them near the bathtub to place towels, soaps, candles and other items.
3 – Accents of nature: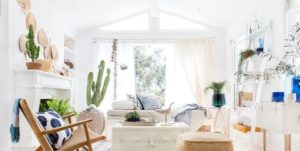 This year, you will see a rapid increase in plants and other elements of nature in interior design. Bringing nature into your home can have many advantages. It can make your home look airier and more spacious. Plants can also contribute towards the decreasing stress and anxiety in the residents of the house.
Moreover, according to a report by Pinterest, a massive increase in search keywords related to the incorporation of nature into interior design was noticed in recent months. This increase leads many experts to believe that the trend of indoor plants will be as popular as ever this year.
Therefore, look for some ornamental plants and fresh flower vases, as that's one of the 2020 home decor trends you'll see everywhere.
4 – Functional and stylish laundry rooms: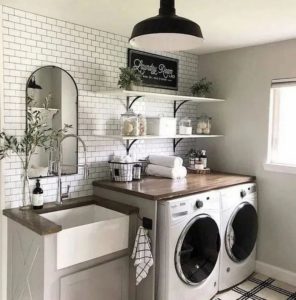 For a long time, people only focused on the main parts of the home, like the living room and bedrooms when it came to elegant design. However, this trend has been changing for a while. These days people want every aspect of their home to look lavish.
This year, an increase in style and functionality is expected in laundry rooms as well. Homeowners are trying to make home maintenance more comfortable and cheerful by adding a colorful and lively palette to the laundry room and other hard-working parts of the home.
When it comes to the decoration of places like the laundry room or the garage, functionality is the primary concern of interior stylists. For a modern laundry, you should focus on creating functional storage solutions. It would be best if you visit Home Addons to learn more about some creative storage solutions.
5 – The return of dedicated and formal dining rooms: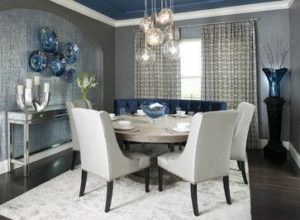 These days most people are preoccupied with their busy schedules. In most homes, having dinner is not as much of a family event as it is a necessity. People rarely have time to sit down and share meals, and even if they do, the arrangement is usually quite informal.
However, a dedicated dining room or area can have a lot of advantages. It can help the family come together and connect. Moreover, it presents the perfect platform for the display of elegant china and decorative utensils.
A dining table can add a significant design element to your home, and this year, a noticeable increase in their popularity is expected.
According to Houzz, you will see a wide range of design elements being added to dining areas this year. You should especially keep an eye out for striking and conspicuous lighting fixtures, bold colored table cloths, and floral wallpaper.
6 – Ornamental furniture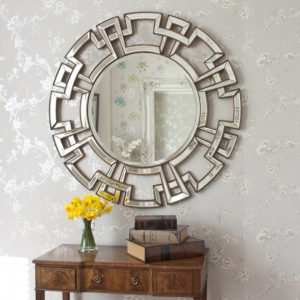 The artworks and decoration pieces aren't the only way to add style and elegance to your home. On the contrary, people are opting for more minimalistic themes when it comes to interior design.
According to interior design experts, you can expect to see a noteworthy elevation in the use of accent furniture pieces to increase the elegance of a space. It would help if you kept an eye out for some voguish rattan and wicker furniture pieces. These affordable and sleek furniture pieces fit perfectly with the minimalistic theme of modern homes, and they can make the entire room stand out.
7 – Metallics
This year an increase in the popularity of sleek metallic furniture is also expected.
Overall, no matter what material your furniture is made off, it should be slim and functional. You can be certain that the style of bulky and large furniture pieces is long gone.
Finally, to conclude the discussion, there isn't going to be some super dramatic change in the trends of interior design; however, you can expect to see existing trends reach higher and more polished level. If you are aiming to renovate your home this year, or you are building a new one, these are some of the top 2020 home decor trends and styles you need to consider. We hope that this article can be advantageous for you.
Author Bio:
Meet contributor Andrea Smith. She loves traveling, home decorating and hanging out with her friends. Andrea is currently a student of Interior Designing at the California Arts School. She regularly writes blogs at https://homeaddons.com/.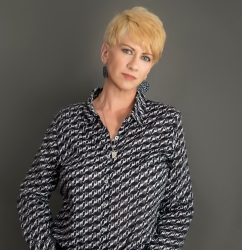 Latest posts by Deborah T
(see all)