Are you cramped and continuously stuffing your things into every nook and cranny? Have you considered taking advantage of vertical space for storing your items?
Today we will look at how you can create quick and easy vertical storage space in your home. While most of us daydream of living in a large home with huge walk-in closets, that's not the reality for most. The number of people who reside in apartments or homes of modest size is enormous! While most are content with their snug space, they have one common complaint: lack of storage space.
I live in a small ranch home built in the 1960s. I love the small space. It takes very little time to keep clean, it's well-built, the brick exterior needs almost no maintenance, and it feels warm and cozy.
However, I am in the same boat as apartment renters. My home was built before walk-in closets became trend. My home has only two bedrooms, and both have wall closets on the smaller side.  Therefore, stealing closet space from a third bedroom isn't in the cards. With such a small house, clutter becomes overwhelming…and fast!
After a couple of years of trying to find things I had lost, I decided to think about new ways to store things. First, I took a very honest look at all my possessions. I went one room at a time cleaning out and organizing every closet. I donated a lot of clothes that didn't fit to a great charity. In fact, I even made a few dollars selling some higher-end items that I no longer needed on eBay.
Once the big clean-out was completed, I made it a point to find creative new storage solutions. After pondering my situation and looking up ideas on Pinterest, the solution was clear.
I obviously needed to take advantage of vertical storage space to store all my things. Vertical space is the area up the walls, over the doorways, under existing furniture. This is where you can find sneaky storage space in the most challenging areas of your home.
THE BATHROOM:
Full disclosure. This idea is not mine, although I agree it is brilliant! Secretly, I'm jealous that I never thought of this!
Small bathrooms present a particular challenge. Of course, we all want a sleek, neat, clutter-free bathroom. We want to get showered and groomed in a serene feeling. But when you have a tiny bathroom, that may sound impossible!
Add shelving that adds charm while providing valuable storage space.
Some people have etageres above their toilets. That has never been my personal favorite as I find that dust collects around the feet. Installing shelving off the floor above the toilet adds character, and I find it easier to keep clean. I installed shelving to display my extensive collection of fine fragrances and select one to wear daily. Also, if your hot water tank lives inside the bathroom closet, you can save space by installing a tankless water heater.
The trick is to keep the items all alike (like my fragrances) or in baskets to keep the look neat. Otherwise, you will certainly end up with clutter!
Adding shelving above the bathroom door is a sneaky way to add storage that I loved. However, I sadly haven't taken the time to build shelves yet. Perhaps that's another project that I can post…
Crafty and creative touches like mason jars mounted on an upcycled piece of scrap wood or a basket turned on its side can also provide charming and practical solutions.
Finally, don't neglect your linen closet. Use judgment in discarding faded, ratty towels and keep the nice ones. Clear all clutter. Also, take advantage of the vertical space inside the linen closet door by adding a wire rack shelving unit or even a hanging shoe bag to store extra toiletry items.
THE BEDROOM:
The bedroom is another space where we need more storage.
First, take advantage of furniture that does double-duty. A bed with storage underneath makes smart use of wasted space under the bed. It looks far more stylish than pushing plastic storage boxes under there!
Add vertical storage inside your closet using a number of sneaky tricks. Double or triple your vertical shoe storage space by using shoe racks. You can build one or purchase them at your local superstore.  Or, add hanging shoe bags to the back of your closet door. I went with a sturdy shoe rack because I have so many shoes. It's an issue.
These clear hanging shoe racks are also fantastic for organizing small items like scarves, jewelry, or even lingerie. Because they are clear, selecting your items and returning them to the correct place is easy.
Also, it may be worth stealing one of the bathroom storage ideas…add a shelf above the bedroom door and put pretty baskets up to hold less-used items out of sight but neatly stored.
KITCHEN:
Of course, the kitchen is an area of special concern for all of us! However, I am going to skip a long discussion. Instead, I am sharing the link to a recent post by Peculiar Erhis who did an in-depth look at how to maximize storage space in a small kitchen.
In fact, after reading Peculiar's post, I decided to use one of her suggestions and hang some things inside the kitchen cabinet doors. I opened the cabinet door…only to find that somebody before me had already added some hooks to hang things on. I had truly overlooked it for the three years that I lived here!
Derp!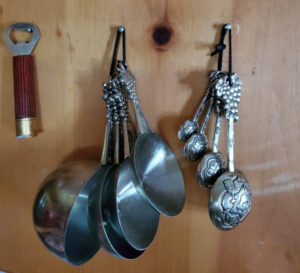 HOME OFFICE:
The home office is an area that collects considerable clutter in many homes. This is my Achilles Heel. Therefore, I saved this space for last.
Because I have very little storage space in my office it becomes an unsightly mess. I need two distinct areas, an office space where I write blog posts and do my freelance writing assignments. And then I need a second spot where I can create crafts to share with you and it doubles as a photo studio, there I take images for recipes and such.
I had a very messy office, with two printer stands and a desk, along with that crafting counter area.
Do you remember when I pulled an old metal kitchen cart out of the trash heap and recycled it for a patio bar cart? I decided to move it to my office. The three-shelf unit is perfect for everything I need it to hold. And, I was able to clear out one of the extra printer stands. Sometimes, you just need to consider how to repurpose the things you already have!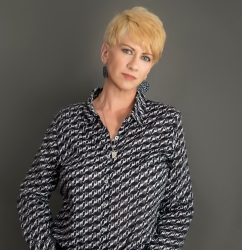 Latest posts by Deborah T
(see all)