2019 kitchen design trends promise to be stunning.
Kitchens are debatably the most important rooms in any house. Although you can find arguments about every room being one of the most important parts of your home, kitchens really do rank close to the top, and the reasons for that are very logical.
The kitchen is the center of your family; it's the place where the whole family spends a lot of time. From the first morning coffee to energize you, to all those late-night snacking kind-of-days, you surely need a functional kitchen that has a nice appearance too.
It doesn't matter if you're thinking about doing a whole remodel on your kitchen, or you just want to freshen it up with a few new additions, the following kitchen trends for this year might come in handy.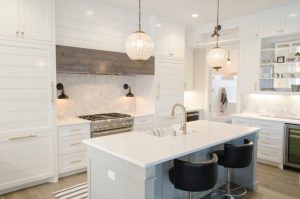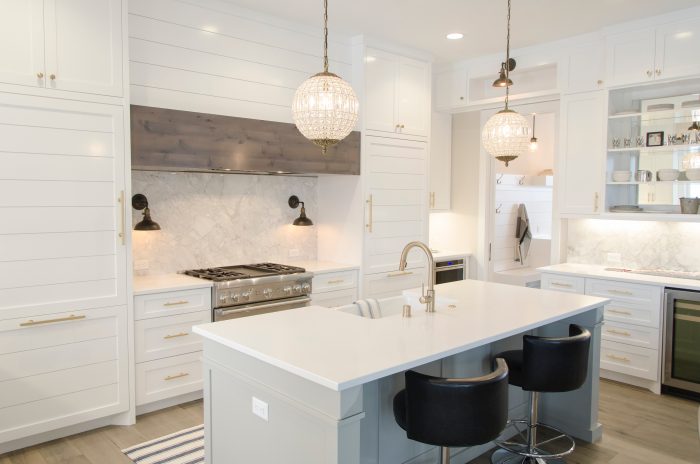 Smart kitchens
In this day and age, technology has entered every sphere of our living, and kitchens are not excluded.
According to Kitchens International in their Loving the linear look- The latest trends in kitchen design for 2018's article "Smart appliances are developing at a rapid pace and anyone considering installing a new kitchen in 2018 should really not do without boiling water tap – seen as a necessity in today's living, wifi ready appliances – allowing us to control our kitchens from afar, steam ovens and vacuum drawers – this makes cooking quicker, easier and contains the flavour in the food."
These smart features continue to trend as we turn the corner into 2019
You can either smartly build the whole kitchen, or you can add to your old kitchen some smart appliances, sensors, and other smart gadgets. Experimenting with these concepts is one of the most popular kitchen trend for this year, and probably the following years too.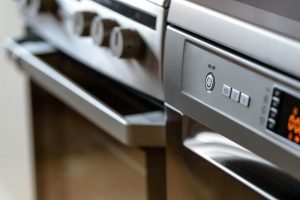 Bold colors
This year the bold colors are getting used more in home design in general. The same will hold true for 2019.
The kitchens are also getting more colorful as a response to this. Although, the classic colors used in kitchens such as white and gray are still a big thing, shades of violet, emerald green, navy blue, plum, and even black, can give your kitchen a lot of character and elegance.
People are either painting the ceiling in a bold color, or painting only certain surfaces such as an island, or the cabinets. However, you have to be careful with these bold colors since they can easily overpower the whole room making it visually smaller or crowded.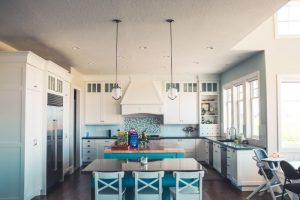 Kitchen islands
Kitchen islands continue to be "in" this upcoming year as well. They have been at the center of large kitchens for many years, and they still are. The islands are most often accompanied by a bar and seating for the purpose of dining.
The big islands are made to be multipurpose; they include storage space cabinets and some built-in appliances. As a result, the other cabinets from the kitchens are less used in combination with a big island. Some kitchens even extend the island to their living rooms to compensate for the increased size.
This way, you can have more seating spaces for house parties, and the huge surface of the island can serve as a place where all the family can help out with the preparation of the meals.
Open shelving
A look at 2019 kitchen design trends wouldn't be complete without a discussion of open shelving.
If you want to add some personality to your kitchen, along with more place to store things, you should think about open shelving. It's one of those trends that is more used among the kitchen renovations. The main reason, other than the practical use, is that you will be able to dig deep into your creative side. You can put some unique dishes on display, some plants, or your spice collection. It gives the kitchen that cozy, homey look. Another argument is that they are easy and practical to use since you can see where you put your things.
Although open shelving can be just a design preference, if you have a smaller kitchen that you want to open up- open shelving can come in handy. By getting rid of all those huge cabinets that take a lot of space, you can visually make the place bigger.
Pet-friendly features
In recent years, we started to perceive pets very differently than in the past. Nowadays, we consider our fur-babies to be a part of our families, and we deeply care about them. The man's best friend is at the top of the most loved house pets, and we all know how dogs can ruin a kitchen! Cats are not better either, so you need to both protect the pets from the kitchen and the kitchen from the pets.
From this love, comes the newest trend that includes pet-friendly features in the kitchen. Some of the things that you can include in your kitchen design if you own a pet are:
No handles design: this will make it harder for your pet to open the cabinets and possibly eat something toxic for them.

Induction stove: this feature is not only efficient for you and safe for children, but it's also a pet-friendly feature since it will prevent them from accidentally burning themselves.

Feeding stations

: it's great for storing the food for your pet, their toys, treats, and more.

A

hidden gate

: if you have a hyperactive dog that you can't keep out of the kitchen when you need it, you can install a gate that will block the entrance to the kitchen.
In conclusion, the thing that is the most important when you're thinking about remodeling your kitchen is your preferences and needs. As previously stated, the kitchen is a room that you will use quite a lot- so investing in the right kind of 2019 kitchen design trends for you, personally, is a wise thing.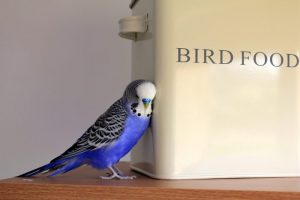 ---
Author Bio: Nicole Andrews is the marketing manager for Euro Marble in Sydney, Australia. With a background in interior design, she enjoys writing about the latest industry trends. In her spare time, she walks her dog Rusco down at Bondi Beach.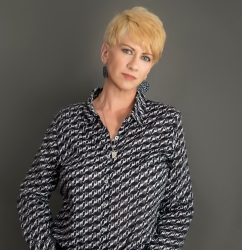 Latest posts by Deborah T
(see all)