Spread some holiday cheer when you create a chandelier wreath to add warmth to your dining room. Your dining room is an important gathering spot during the holiday season. In fact, it's where you join with your family and friends to dine, share stories, and stuff yourself with pumpkin pie! So adding a chandelier wreath will add a touch of elegant holiday decor.
RELATED POST: Fall for This Autumn Wreath: How To Make A Fall Wreath
But I can't take credit for this idea. I took inspiration for this from Biltmore, the exquisite Vanderbilt estate in the mountains of North Carolina. On a visit there, I saw photos of the estate decorated at Christmas. One of their decorations was a marvelous display of wreaths draped around the grand chandeliers in the ballroom.
While my little house certainly doesn't have the scale of their chandeliers…in fact, one of their chandeliers can fit inside my dining room…I wanted to bring a touch of that elegance to my little country home.
Care to make one? Here's how:
MEASURE:
Measure your chandelier. Make sure your wreath will fit over your chandelier and purchase a wreath of the correct size. I purchased a plain, cheap wreath with nothing but the greenery.
CUT A SLIT IN THE WREATH:
You will need to get the wreath around your chandelier. Cut a slit so that your wreath will slide onto the chandelier and close back up discreetly. In full disclosure, I made this wreath last year so these photos may be out of order just a bit.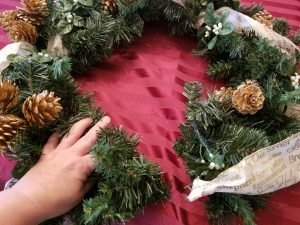 GRAB YOUR GLUE GUN:
Decorate your wreath. Grab a hot glue gun and add ribbons, ornaments, bows, pinecones, or whatever you'd like to add to your wreath. I kept mine simple with cream ribbon with elegant script imprinted on it, gold pine cones, and white berry picks.
I kept mine neutral to pair with my variety of Christmas dishware. Yes, I have more than one set. Please, no judgment!
However, feel free to go crazy with colors and patterns to suit your own decorating taste. One caution is to go easy with the glitter. You don't want a glitter bomb exploding into the eggnog, do you?
PLACE THE WREATH:
Place the wreath upside down (so that you're looking up at it) on your chandelier. Make sure it sets level and fluff your ribbon and greenery until it looks pretty.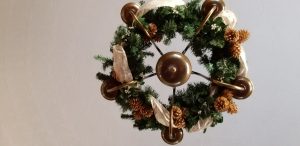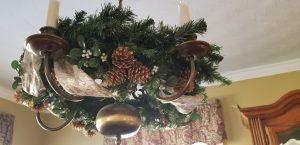 FLUFF IT:
You will see that after you've placed the wreath on the chandelier, you've probably smashed in the greenery. It takes a little finagling to get it set just right, so that's ok. Take a few minutes and fluff back out your decorations and the greenery, and arrange them artfully around the chandelier.
Also, bear in mind that you have a slit in the wreath to cover. I used ribbon to cover that slit, then hid the end of the ribbon in the greenery.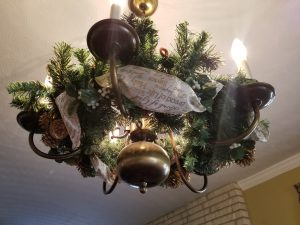 Have fun with this wreath, and share your photos with me on Facebook. I'd love to see your wreath!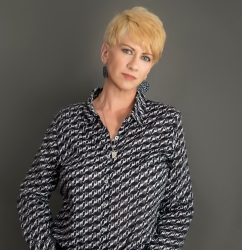 Latest posts by Deborah T
(see all)