Creamer bottles are an item we can easily overlook. How many times have you emptied one, observed how sturdy it was, then had no idea how to use it? You are not alone if you have thrown out many of these plastic containers without knowing what to do.
Do you ask yourself: What can I do with old creamer bottles?
If you have ever asked this question, this article is for you!
Let's take a look at how to recycle creamer bottles. You will have fun getting organized and making some simple crafts–and you might even save some money you'd spend on purchasing storage containers.
Are Creamer Bottles Recyclable?
Absolutely, yes! We will talk about many ways you can reuse a coffee creamer bottle.
By the end of this article, you will know how to recycle used creamer containers to:
How to clean creamer bottles to recycle them.
Organize your home using creamer bottles.
Store pantry items in these sturdy containers to keep foods fresher.
Reuse creamer bottles to make your travels easier.
Make cute creamer bottle crafts, saving money on crafting supplies.
Two Types of Creamer Bottles You Can Recycle or Reuse
Liquid creamers from the store's dairy section come in a tall, sturdy bottle with a flip cap lid and a little lid with a pour spout. This shape and small opening make them excellent for storing smaller items or finely-textured things or liquids.
However, you will find that dry creamers come in a slightly shorter bottle with an excellent large opening and shaker lid. This top makes them ideal for anything you want to shake out. Also, the wider space allows you to store more oversized items inside them.
How to Clean the Creamer Bottle for Recycling
When you finish off your next container, go ahead and clean it out. Why should you clean them? Because the sweet fragrance of the creamer can linger in the plastic. So if you are recycling it into pantry storage (especially), you don't want your foods to pick up the odor. Also, the remaining creamer can get sticky and messy.
Because they are difficult to dry manually, you don't want to wait on air-drying. So it's best to get them ready and store them away until you need them.
Use a craft knife or scissors to gently lift under the branded label and make a small slit. It will pull right off with a gentle tug, unspooling from the bottle as it goes.
Pour out any remaining contents and give it a swish or water–empty again.
Add a tablespoon or so of white vinegar. You can eyeball this, no need for measurements. Add about 1/2 cup of hot water from your sink. Replace the lid and shake the liquid vigorously, coating all sides. Pour out the water.
Use hot water to rinse the inside of the container, the lid, under the flip cap, etc., until all runs clear and the odor is gone.
Flick out as much moisture as you can. You can get a towel inside the dry creamer container, but usually not the liquid container. Dry the outside of the bottle and the lid. Allow the inside to air dry. I like to place it with the opening facing "up" to allow the air to circulate. Also, I find running my kitchen ceiling fan helps speed up the drying process.
Once it's dry, it is clean. You may proceed with your projects.
Why white vinegar instead of dish soap? It does not create the residual, bubbly build-up of liquid soap. Besides that, white vinegar has natural antibacterial properties, killing any germs the plastic has harbored.
What Can I Do With Coffee Creamer Bottles?
Here are thirty fantastic ways that you can reuse these plastic bottles.
How to use coffee creamer bottles in your travels
If you love to travel, you know how expensive "small-sized" items are to purchase when you arrive at your destination. Also, you see the challenge of the dreaded crushed snacks and the expense of bottled beverages along the way. These containers can help you out.
1 – Use coffee creamer bottles as snack containers
Say no to crushed pretzels, goldfish crackers, and peanuts. Pour your goodies into these sturdy containers. This Pinterest user even labeled the bottle with her children's names. No more arguing over who touched whose snacks!
2 – Take laundry detergent with you to your vacation rental home
If you rent a house to save cash on your trip, then you know how costly it is to purchase all your supplies upon arrival. Instead, take a portion from your big jug at the house along with you. This image shows liquid detergent. However, you can also take a powdered creamer bottle if you happen to use powdered detergent.
3 – Travel with your dog treats
Crushed dog treats can be messy to clean out of your purse or from under the floormats later. Like the children, Fido or Fluffy would prefer uncrushed treats. Fill a container with dog treats for the ride. You will have the creamer bottle snack container accessible at every potty break. That's because the container slides into any cup holder for easy access. A wider-topped dry creamer container might be most manageable, especially for larger dog treats.
4 – Tote a disposable water bottle along with you
If you sip cold drinks or water, you can fill a liquid creamer bottle with your favorite sports beverage before you leave home. It saves money on the cost of convenience store beverages…and once you finish, you don't need to worry about losing it or forgetting to bring it home at the end of your trip.
5 – Make homemade ice packs for your cooler
Better than making water bottles reuse creamer bottles as ice packs for your cooler on your next road trip. Fill them 3/4 way full with filtered water from home, cap them, and freeze them overnight. On the day of your road trip, put them into the cooler. As they defrost, you can sip a nice cold beverage.
How to use creamer bottles to organize your pantry
Bits of odds and ends foods left in a large pantry take up extra space in the pantry. Also, they are no longer airtight. Of course, this can cause spoilage and attract unwanted critters. Here are a few suggestions for using creamer bottles to help organize.
6 – Store small amounts of cereal
Cereal boxes are huge and bulky. Besides that, once you open the bag, you find that you actually have very little product in the box–it's a lot of air in the bag. Keep cereal fresh by putting it into creamer bottles. This parent put o-shaped cereal into the creamer bottle, but it works for any brand you might have. I prefer to recycle dry creamer bottles for cereals due to the wider top.
7 – Keep baking mix or pancake mix fresh
Like cereal, baking mix, and pancake mix come in a box with little product inside once you open the bag. Use a permanent marker to note the ingredient measurements you'll need to prepare your next batch and chunk the bulky box. Does anyone else hate scooping out of that narrow box? Instead, you will be able to pour into your dry measuring cup. Ditto for flour, sugar, or other dry baking ingredients.
8 – Store dehydrated foods in creamer bottles
Anyone who follows DIY Home & Garden regularly knows I am crazy about dehydrating foods. Dehydration means that preserved foods take up far less space, perfect for my small country kitchen. I often recycle creamer containers for storing my dehydrated carrots, cabbage, or other veggies, labeling the bottom with the date. When it's time to add the veggies to a soup or stew, I just shake out as much as I need. Humidity can spoil your home-dehydrated foods, so make sure bottles are completely dry before drying this upcycling idea.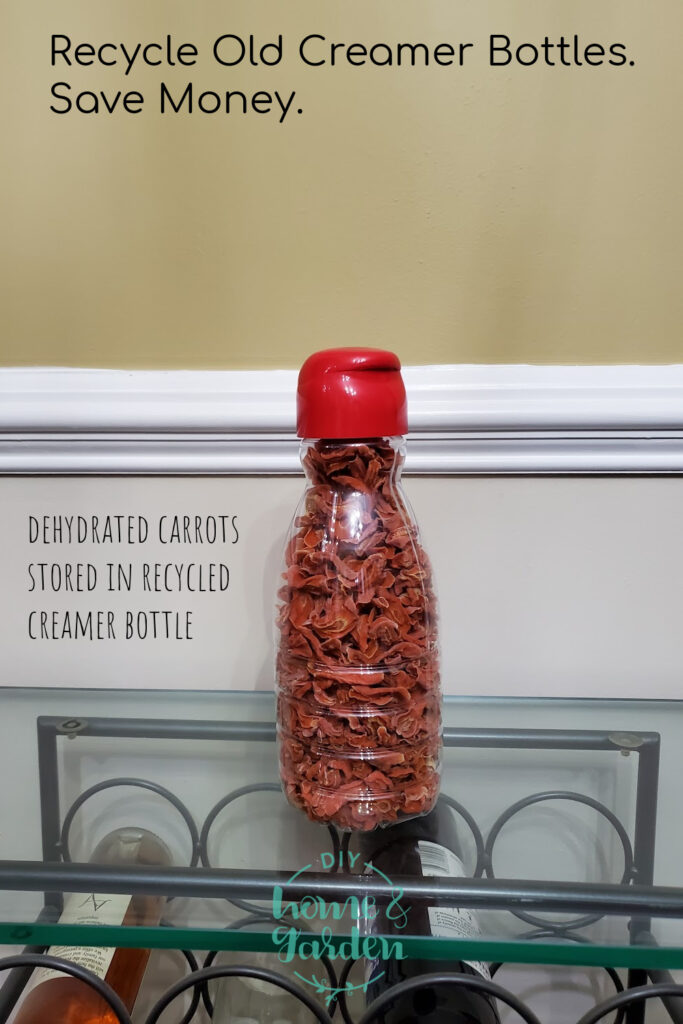 9 – Store baking chips in a recycled creamer bottle
Chocolate chips and other baking chips come in flimsy bags that split and tear easily. It's so annoying to need only a cup of chips to store a half-used pack. Instead, save money by purchasing a bulk bag and keeping them nice and fresh in a recycled plastic bottle. You can also use this storage method to organize your mini-marshmallows, candy sprinkles, and other essential ingredients.
10 – Store rice, pasta, popcorn, and dried beans
Dried pantry staples like rice, pasta, popcorn, and dried beans keep beautifully in these containers. You probably have some of these goods in bags and others in boxes, making storage a challenge. When you put all of them into a plastic bottle, you can keep everything neat.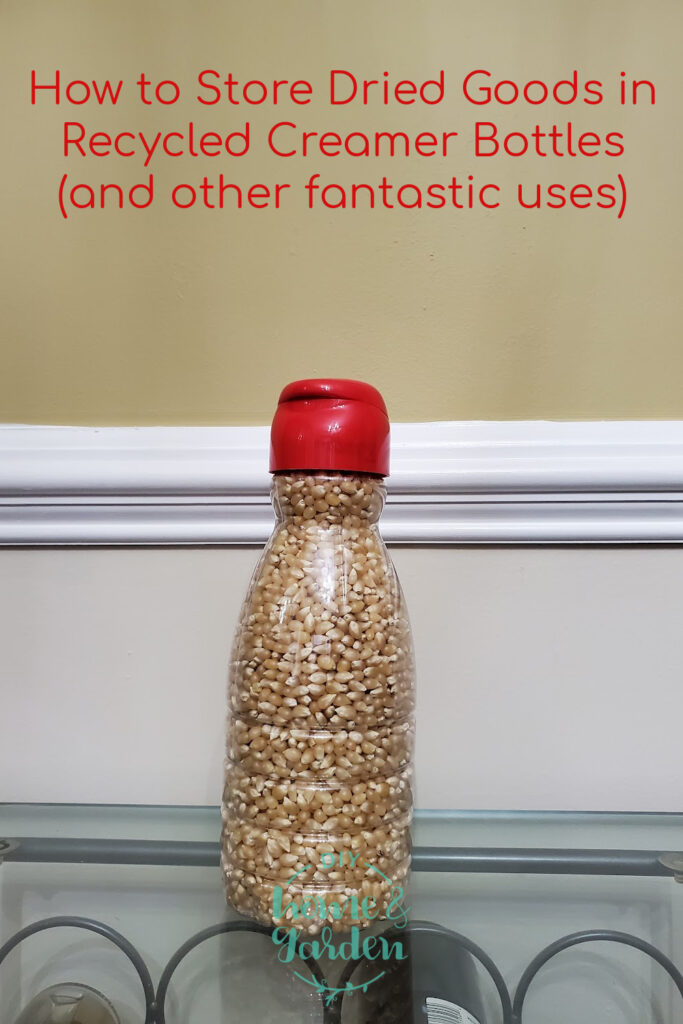 How to use recycled plastic bottles to organize your fridge
Not only will your dried pantry and baking staples benefit from storing in plastic bottles, so will your fridge. Try these tips.
11 – Prep eggs ahead of time
Doing meal prepping ahead of time can make breakfast a breeze! Fix scrambled eggs and store them in plastic containers to use on the go in the morning. Like this Pinterest user, you can even take them on a camping trip. One note: Use the eggs quickly once you crack them open!
12 – Cut up veggies to stay on track for quick salads
I love eating salads, but I hate making them. I often clean and prep any vegetables I need all at one time. THIS HACK IS EPIC whether I'm making a vegetable soup, chili, or a nice healthy salad.
13 – Store homemade salad dressing
I make zero points salad dressing for my WW lifestyle, often using non-fat Greek yogurt as the basis. I used to store them in a bowl with a lid and spoon the dressing onto my greens until I realized that I could keep it in recycled plastic bottles instead. One catch: It can get messy putting the dressing into the bottle unless you use a funnel.
14 – Store homemade iced coffee concentrate in a recycled bottle
Do you save by making homemade iced coffee concentrate instead of purchasing it in the dairy aisle? This bottle is the perfect fridge container. If you need a recipe to make DIY iced coffee concentrate, click here for the recipe.
How to use recycled plastic bottles to make crafts
Keeping yourself or the kiddos occupied with crafting can be relaxing and spark creative thinking. However, craft supplies can be costly. So whenever I can find a fun way to recycle an old product, I always find it very exciting.
15 – Make craft storage solutions
Plastic creamer bottles make incredible crafts storage solutions. Decorate the containers and put them to use to organize all your essential supplies.
16 – Craft a free birdfeeder
With a drill, epoxy, and the lid from a coffee can, you can make a free bird feeder. How cute is this?
17 – Organize ribbon or small bits of yarn
It becomes challenging to keep them spooled when you get down to the last bit of yarn or ribbon. Instead, try converting a powdered creamer bottle into a ribbon dispenser.
18 – Make sweet gifts for any holiday, occasion, or event
Do you like to give away sweet treats for special occasions or holidays? Whether Christmas, Halloween, Valentine's Day, or a birthday, you can decorate a creamer bottle for the season and give this heartfelt gift.
19 – Put together a mini sewing kit for on the go
Use a wide-lid powdered creamer bottle to assemble a small sewing kit to keep in your car or at the office. Fill the container with one or two small bits of thread, a few spare buttons, a needle, and a foldable pair of scissors. You'll be prepared for any minor wardrobe emergency.
20 – Make and store homemade bathing salts
Finally, you can use your favorite essential oils to make homemade bathing salts or foot soaks. It's cheaper to make them at home than to buy them, and you can customize the fragrances to suit your preference. However, they require a humidity-free storage option–like your hand recycled creamer bottles!
The Takeaway: Don't Toss Your Next Empty Creamer Bottle, Recycle It
What can you do with old creamer bottles? Well, it looks like the possibilities for recycling and upcycling are almost limitless. You can organize your car for a road trip, keep foods fresh in your pantry and fridge, or use them to craft new things. They are easy, fun, and you can literally find hundreds of ideas on Pinterest. So have fun, and please let us know how these ideas work for you on social media. Until the next time, have a happy DIY day.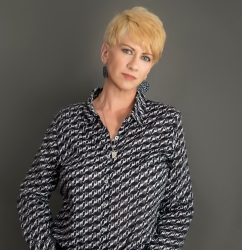 Latest posts by Deborah T
(see all)