This Cranberry Pecan Coffee Cake Recipe empowers you to bake a scratch-made, delicious cake in under an hour.
No kidding.
From start to finish, you prep and bake a scrumptious, home-baked, and mouth-watering treat in less time than it takes to go to the local coffee shop for your favorite cup of Joe and a pastry.
About This Cranberry Pecan Coffee Cake Recipe
This cake does not require any special widgets or tools.
Some baking recipes require you to have all the bells and whistles or a chef's kitchen.
Not this one.
It is very simple to prepare. No muss. And definitely no fuss.
In the coffee cake tradition, you don't need to ice the cake, unless you get ambitious. You can serve it plain without fear of it being dry, but it's also yummy with a nice plop of whipped topping if you wish.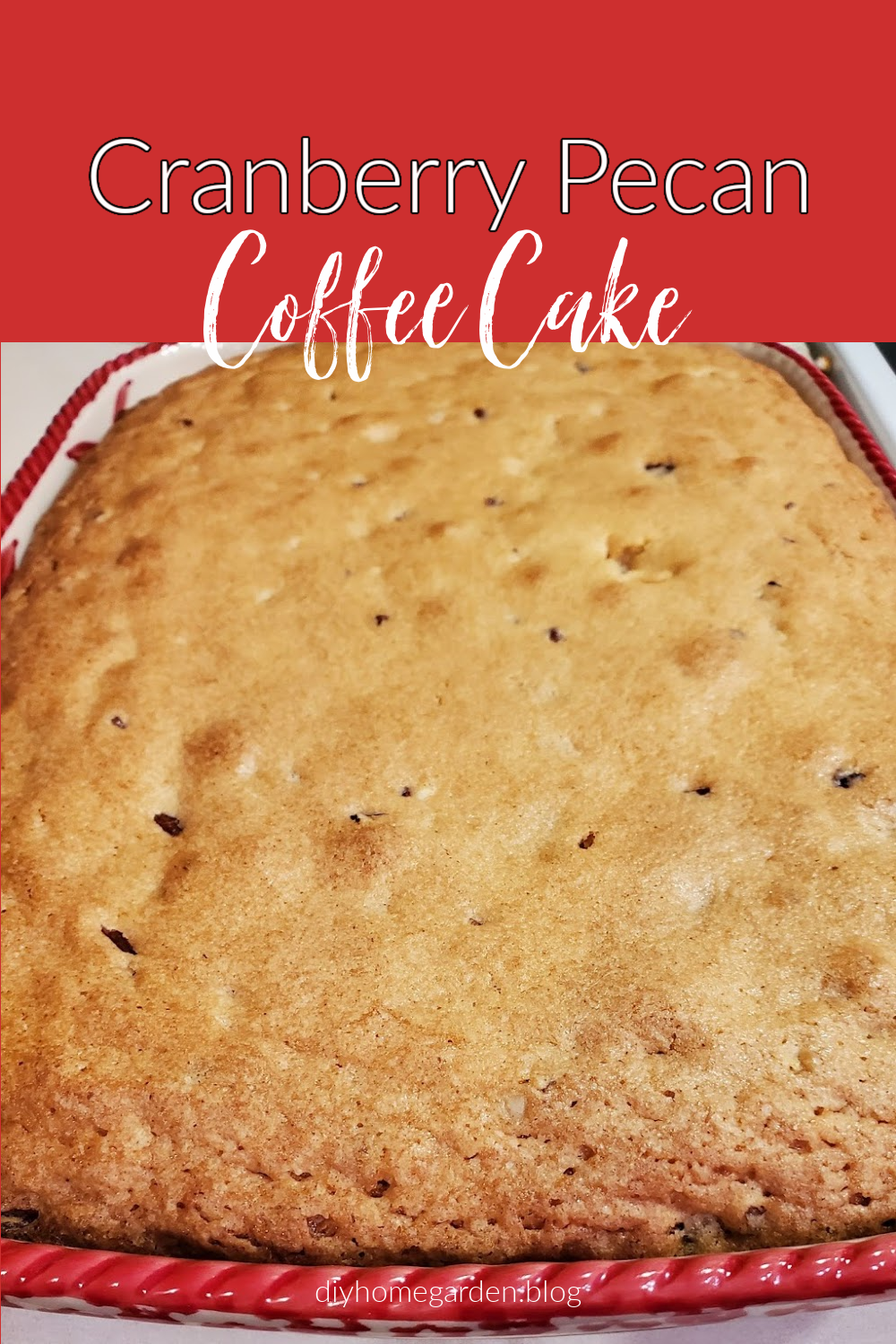 What is Coffee Cake?
Coffee cake is any cake or sweet bread that's specifically balanced to pair with coffee or tea.
It is typically very moist and sweet enough to stand on its own. As mentioned earlier, you don't need to ice it.
Many such creations receive a streusel topping, although this one does not.
The choice to be unfussy is an intentional one.
And that simplicity is why, precisely, this Cranberry Pecan Coffee Cake recipe is ideal for someone who is new to baking–of for when you're short on time.
The Flavors
The ingredients are everyday pantry staples, but don't let the simplicity trick you.
The sugar caramelizes ever so slightly as it bakes, giving your a fragile crust at the top and bottom of each bite. In between those crunchy layers, the it keeps moist and slightly crumbly in texture.
The pecans provide a lightly nutty flavor, sweet but not overly so. And the cranberries offer little gems of sweetness as you eat.
What You Will Need to Make Cranberry Pecan Coffee Cake
This cake requires very little in the way of kitchen tools.
7×11 glass or ceramic baking pan
A sturdy whisk (I actually use a wooden spurtle)
One large mixing bowl
One medium-sized mixing bowl
Cake ingredients (see recipe card)
Non-stick cooking spray
If you prefer an electric mixer or stand mixer, you may also use that. I find that this mixes so easily that it's not worth my time to lug it out from its cabinet. That is your choice, entirely.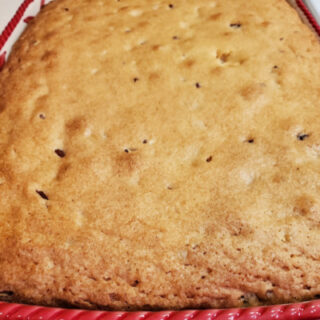 Cranberry Pecan Coffee Cake
Cranberry Pecan Coffee Cake will delight your senses and pairs beautifully with a hot cup of your favorite medium roasted coffee, like a nice Colombian bean.
Ingredients
1 1/3 cup of sugar
2/3 cup of brown sugar
4 eggs, lightly beaten
1 cup of vegetable oil
2 1/2 cup of self rising flour
1 1/2 teaspoons of pure vanilla extract
One cup of dried cranberries
One cup of finely chopped pecans
Instructions
Preheat the oven to 350. Generously grease a 7x11 baking pan.
Mix the two sugars and self-rising flour in a large mixing bowl.
In a separate mixing bowl, combine the wet ingredients: the eggs, vegetable oil, and vanilla extract. Slowly whisk them into the bowl of dry ingredients.
Fold in the pecans and cranberries
Bake for 45 minutes, or until a toothpick comes out clean. The baking time might vary, depending on your altitude.
Notes
These ingredients are easy to mix. You may use an electric mixer or stand mixer. But if you prefer, you can hand-mix the entire recipe with a sturdy whisk or wooden spoon.
One Note: Substituting Self-Rising Flour
If you don't have self-rising flour on hand, no worry. You can use regular flour by making the following adjustment:
2 cups of all-purpose flour
3 teaspoons of baking powder (not baking soda)
1/2 teaspoon of salt
The self-rising flour is a convenience, and what I happened to have on hand on the day I created the Cranberry Pecan Coffee Cake recipe.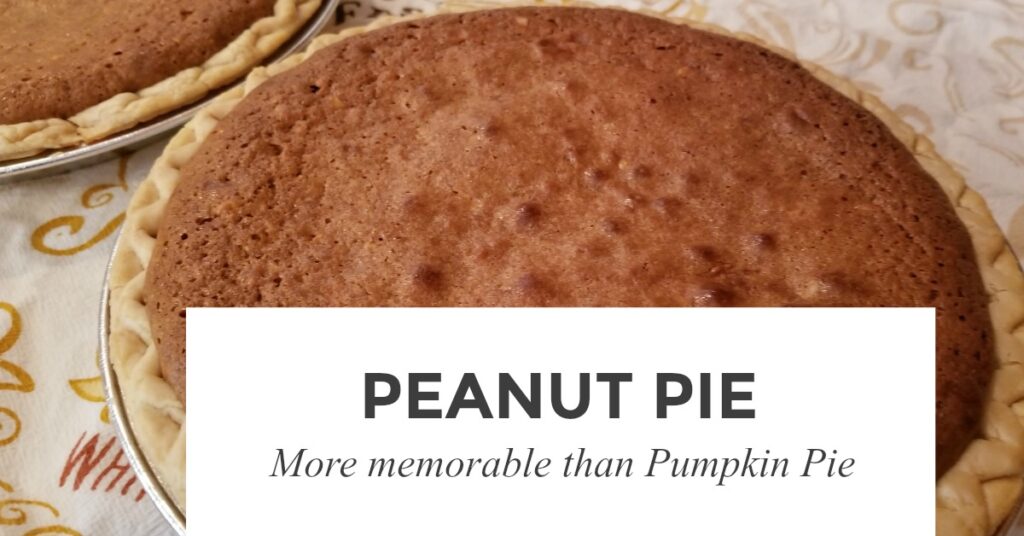 The Bottom Line: You Will Love This Cranberry Pecan Coffee Cake Recipe
Pair this with to balance out the bitter flavor of espresso or with a medium to a rich coffee blend.
Give this Cranberry Pecan Coffee Cake Recipe a try! It's especially easy for a beginner baker or someone who never baked from scratch in the past. It's easy and so very scrumptious.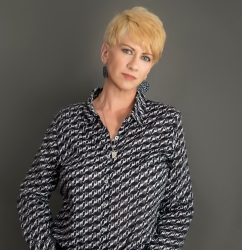 Latest posts by Deborah T
(see all)