Chrysanthemums are a lovely way to decorate your entire home and garden in the autumn.
Fall is a season of colorful, beautiful flowers, and chrysanthemums (commonly referred to as mums) remain the season's most popular blossom. Mums feature in almost every fall decor, whether you're decorating your patio, porch or even the dining table! That's why we're all about the mums today. Here are eight inspiring ways you can decorate with chrysanthemums in the fall:
Mums in traditional planters
This decoration idea is actually very common and can be found on every porch in fall. But it does come with several container options. In fact, you could use several traditional planters. For example, terracotta pots and vases, ceramic bowls, wooden buckets, or metallic planters.
You can decide to be unique and go for rustic containers like charming and rustic buckets
As you can see from these pictures, it's possible to be very creative while decorating with mums. Their beautiful colors and hues give you the freedom to combine them with other fall flowers, plants, and grasses and achieve an overall spectacular effect. So explore several options to find out which works best for your patio or porch.
Mums in pumpkins
The mums-and-pumpkin-duo is a standard fall decoration. So it would be a serious crime not to include it on our list. As a cool and eye-catching variation of the mums-in-a-planter idea, your mums can be planted in hollowed-out pumpkins. You can then use them to create amazing curb appeal for your patios, porches, and borders.
Unconventional mums-pumpkin design
There are times you feel the urge to do something different from the norm. This time around, you're tired of the same old, same old, put-your-mums-in-a-pumpkin style. Well, let's get radical: why don't you place your mums AROUND the pumpkin? "Say what?" Yeah, someone got inventive and found a way to decorate the body of a pumpkin with chrysanthemums, adding a different spin to the traditional holiday decoration.
Mums and a chalkboard display
If you love having a welcoming handwritten display on your porch, then this idea can come in very handy. Firstly, get a used plastic candy container and paint it matte black. When it's dry, write whatever fall message you want on it using chalk. Then place a pot of mums into the container, and there you have it: a warm, flowery chalkboard display. Even better, the plastic container looks like a pumpkin, and your visitors would wonder how you accomplished such an appealing mums-and-chalkboard-pumpkin display on earth. But the secret is ours!
Mums-wreath for doors
With a foam wreath, mum flowers, and twine, you can create a beautiful and welcoming wreath for your doors. For simplicity, stick with a particular mum flower in the overall wreath design. If you're aiming for a more dazzling effect, then use several mums having different hues.
Mums-wreath for tabletop
Wreaths are not restricted to doors alone. Give your table an autumnal look with appealing fall wreaths made from mums using a waterproof container, a decorative basket, and of course, a floral foam wreath.
Organizing Tip: The wreath can be made to function as a candle holder. Simply place a candle in the middle.
Go for light-colored mums
This year, abandon the usual bright colors of red, orange, and yellow. Instead, embrace something way more relaxing. Decorate your porch with pale mums. For instance, those with white or light-blue color. This decor is unique and wonderfully represents fall. Plus, it reminds me of snowy days ahead!
Mum centerpieces
Bring autumn indoors with beautiful centerpieces for your tables. Combining different-colored chrysanthemums with sunflowers, asters, or other fall favorite blooms, is recommended for a masterful and striking look. You can also include other fall flowers to increase the diversity of your centerpiece.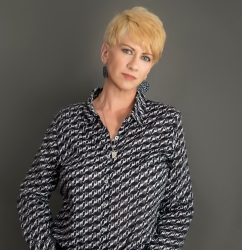 Latest posts by Deborah T
(see all)