The last year made it abundantly clear that having relaxing and rejuvenating spaces in our homes is absolutely essential to relieve stress and add a touch of domestic luxury to our lives. As the sun begins to come out and bring with it a ripple of optimism for the rest of 2021, it's time to renovate our homes – and what better place to start than the master bathroom?
The master bath remains one of the most popular rooms to update, but can also be one of the most expensive. Some may prefer to leave the job to the professionals, but this doesn't have to be the case. With a bit of know-how and the endless online resources on hand, there are plenty of parts of a bathroom renovation that can be tackled yourself, saving money as well as providing a fun, rewarding, and sometimes creative project to focus on at home.
Here are some tips and DIY ideas to consider for your master bathroom makeover.
Before You Start on These Five Master Bathroom Projects
Planning is an essential part of any big renovation project – and the more thorough, the better.
You should begin by establishing what exactly you intend to change and should reflect your budget, time, and skill level.
Then you can move on to the design concept development stage. This stage can be a fun, creative part of the process, but try to keep things realistic, especially if it is your first time doing it yourself.
We mentioned budgeting and time management; the former must be as detailed and realistic as possible. Your design concept should help you source and cost materials, and if you are using contractors for some of the more fiddly bits, then you'll need to get quotes. However, thorough your budget, leave a bit aside for those bumps in the road – there will be some!
1 – Walls
One of the simplest DIY tasks (but also easy to get wrong) is giving a room a fresh coat of paint. You'd be surprised how much of a difference such a small job can make.
Make sure that you have good brushes, and familiarise yourself with applying paint with a roller. Neat edges are a must as well – drip-free and evenly coated. If your bathroom has that awful, outdated wall texture, start by smoothing that out. Painting is the most popular choice for bathroom walls, although wallpaper – especially with retro, art deco-inspired patterns – is making a comeback.
Most designers agree that bright, warm colors are best for the bathroom, making the room feel bigger. Some people do prefer to opt for bold, deeper colors such as dark red or a lush, forest green. Of course, these can work well in larger bathrooms. If your space is compact, but you can't resist bold colors, consider a feature wall.
2 – Floors
Vinyl flooring is inexpensive, easy to put in, and durable. But tiling a bathroom floor is also much more affordable than it once was and is now the go-to option for most remodels. You can find tiles in all shapes and sizes, and materials to suit your design concept.
If you want a low maintenance floor, then choose glazed or porcelain tiles.
Because of the humidity, avoid porous, natural stone options like limestone – unless thoroughly sealed, they absorb water very easily.
For safety, non-slip options are available, tiles with a textured or matte finish or sand-based glazes. Using smaller tiles and lots of grout also contributes to a non-slip floor. Grouting is straightforward for the seasoned DIY-er. But if it's your first time, there are plenty of helpful video resources online.
For added luxury, installing an underfloor electric mat to heat your tiles is reasonably easy to do, though they can take a long time to heat up. Before you lay tiles, make sure you draw some reference lines in with mason's chalk – mark out the longest continuous line to help you lay all the rest of the floor straight.
3 – Tubs and Showers
Installing a new shower or bathtub can seem like a daunting prospect, and while many choose to seek the help of a professional, it is possible to do it yourself.
For showers, building up your shower pan and tiling is very difficult. But installing a prefabricated shower unit is within the range of most DIY-ers' abilities.
It is definitely best to call a contractor for wet room style walk-in showers – beyond tiling and fixtures, there is drainage to think about. You may also consider whether to reglaze your tub or shower – the finish can make all the difference and breathe a new lease of life into it.
Before you install a new tub or shower, be sure to check the flooring beneath it for leaks that may have caused rotting – this will need to be replaced before you do anything else.
4 – Faucet and Fittings
Some bathroom designers insist on new sinks, vanities, and countertops. But for the more budget-conscious (or if you are happy with your sinks and surfaces), a new faucet or updated fixtures can give your bathroom a fresh feel and make a big difference without costing the earth.
Faucets can be a DIY job, but only if your plumbing lines in and out are already installed. Don't try to install them yourself – call a plumber in. It's a small job but worthy of a pro. Fittings are easy to update and put up, but you'll need to get the right tools. A good electric drill/screwdriver is essential. Remember, you may be drilling through tiles, and special bits will be required. Choosing fittings to suit your design concept is fun, and it is possible to get the look that you want on a smaller budget if you shop around.
5 – Adding More Storage
Open shelving is on-trend and hot right now. In the master bathroom, it looks great and easy accessibility is also a big plus. Putting up a shelf is easy; again, you'll need a decent drill and screwdriver, and a spirit level will come in handy to get it just right. When it comes to choosing storage solutions, you will find that many double pieces of furniture can be part of your design. There are storage solutions out there to suit a bathroom of any size and style.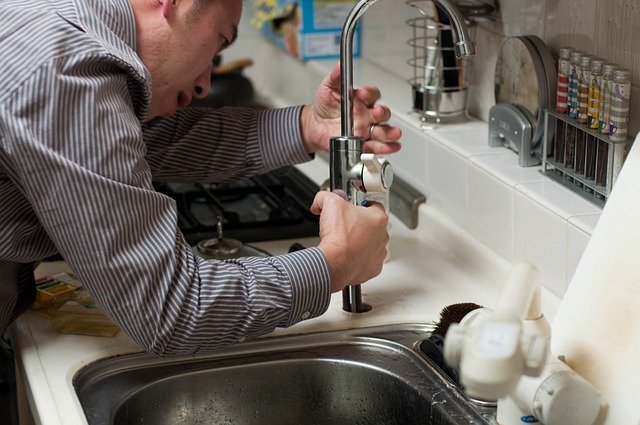 The Takeaway on Trying These DIY Master Bathroom Renovations
Doing DIY in the master bathroom takes a degree of confidence, a bit of knowledge, and the right tools for the job. There is a wealth of information out there to get you on the right track, so roll those sleeves up and start planning today.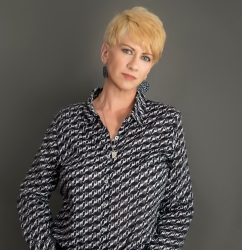 Latest posts by Deborah T
(see all)