Trimmer lines that help create a nicely edged lawn are a vital component of a sharp-looking yard. Sadly, most homeowners either don't know the importance of their trimmer lines or don't know who to ask. Today, we will address the seven questions you probably never asked.
In fact, choosing the right trimmer line for your edger can make a world of difference in your outcome.
An artificial lawn installation is highly convenient since it doesn't need regular maintenance. However, if you prefer having natural grass, a string trimmer is a multifunctional beast when maintaining a yard clean. There are a variety of uses for this equipment, including trimming vegetation that a lawnmower can't get to, clearing away heavier brush, and edging out borders to create a more aesthetically pleasing landscape.
As a result, it might be challenging to agree on a single set-up because of the wide range of attachments and applications available to suit them. It's time to figure out what kind of string trimmer line you should buy.
1 – Is a Thicker Trimmer Line Better?
Although this might not come as a surprise to most people, the trimmer line general rule is that if your situation is challenging, you will need a thicker line. A larger diameter will immediately increase the line's power and durability, meaning less wear-out and breakage.
If you often use cordless string trimmers, keep this in mind: using thicker strings will eventually affect your run time and power. As the line thickness boosts up, you will also have more wind resistance, which affects the cutting head and slows down the engine's rotating power speed. Generally speaking, it's always best to refer to the manufacturer's recommendation.
2 – How Do I Choose a Trimmer Line?
Trimmer lines have all their flaws, and none of them are equal. Before leaving your garden to purchase a trimmer line strand, you will need to consider a few things. The first thing to take note of is your yard size. A relatively small yard will get you by with light-duty and thin trimmer lines. For larger yards, you will most likely need thick and heavy-duty lines.
Remember also to consider the weed thickness in your yard. If you use a light trimmer line on them, you can guarantee it is not getting through thicker weeds efficiently. It will also have a shorter wear-down, forcing you to replace it often, costing you both time and money.
3 – Does Trimmer Line Size Matter?
You can switch out the cutting lines and heads to accommodate various line gauges on most models. Of course, you must always check the width of inches fit for your cutting head. Still, it may also depend on what job you have ahead, giving you many options.
Thicker pre-cut line, thinner spooled line, squared and zigzagged lines, or you can sometimes use blades or chains. Trimmer lines also come in different thicknesses and shapes; they are made from multiple quality materials.
4 – What is a Mow Curb?
You can cut your flowers while mowing the grass to compensate when you don't install added edging around the flower beds. A concrete mow curb can help avoid this issue since it functions as a cushion between the lawn and the flower bed. You can also incorporate curves or have a straight curb installed using elastic hardwood plywood panels as forms.
5 – How Do You Edge Your Lawn by Hand?
Edging your lawn is one of the most high-impact projects to improve your property appearance. It catches people's eyes and also gives your home the appearance of neatness and tidiness. If you have not edged your lawn, try to do it once, and you can ensure it won't be the last time! The usual process goes on like this:
Moss removal or dethatching if required
Aerate the lawn
Mow it
Add some fertilizer
Edge the lawn
Tidy visible debris/cuttings by using a leaf blower or a vacuum
You can also edge your lawn with a robust powered tool such as a string trimmer or a manual edging tool. However, edging by hand interprets to the latter.
6 – How Do You Keep the Grass from Growing in Mulch?
Caring for your lawn that might surround a mulched bed proves challenging since weed trimmers and mowers can blow a lot out of place. You may now immediately mow along the mulched area sans disturbing it thanks to a trench dug in between mulch and lawn.
Trench edging, otherwise known as Victorian edge, offers a barrier to prevent grass from having to spread in flower beds. You can create a trench edge without using only a spade and a half-moon edger without any required materials. You better expect to cut the edging a couple of times a year for line redefinition as soil erodes.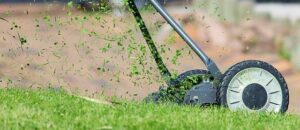 7 – How Does a Grass Trimmer and Brush Cutter Differ?
When it comes to heavy-duty equipment, a brush cutter is the better option. You can easily remove woody vegetation and heavy foliage like thickets and brambles using brush cutters' round grooved blades, which rotate in place, making it a more suitable choice.
Line trimmers, whether double or single nylon, are the most common type of grass cutters. Most homeowners often use grass trimmers to remove overgrown grass and plants like thistles because of their efficiency. A line trimmer is the best choice for cutting close to trees, fences, and walls.
So, which trimmer line is best to use? Most likely, the thick and sharp line that your trimmer can spin without a decrease in power due to wind resistance is the simplest solution to this question.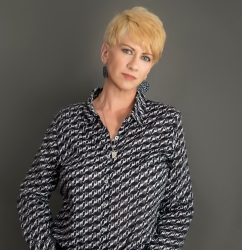 Latest posts by Deborah T
(see all)