The stock tank swimming pool trend seems to remain in hot demand. All across the country, DIY enthusiasts continue to embrace the idea of taking a literal stock tank out of the local farm store and into the backyard.
The transformation from a cattle or pig trough to a convenient family oasis is remarkable. These swimming holes are popping up everywhere, from super-femme pink or coral tanks to host girls' night out to galvanized tubs at the weekend fishing camp.
And why not?
The stock tank swimming pool concept is a new variation of an old tradition from the days before indoor plumbing. Once a week, usually on Saturday, a small stock tank would appear in the kitchen, filled with hot water from the stovetop. Family members would bathe to prepare for Sunday church.
The old tradition was this.
First, the man of the house bathed. Mom had the next chance to clean up for church. The children would wash in birth order, with the baby getting the last bath. In a large family, the bathwater was pretty dirty by then. Hence, the saying, "Don't throw the baby out with the bathwater."
I am wholly grateful that we are past those days and have indoor amenities and enlightened gentlemen today.
What Is a Stock Tank Pool?
A stock tank is a galvanized tub used by farmers and ranchers to feed or water this stock. Today, DIY enthusiasts and homeowners find them helpful in converting into swimming pools for far less investment than installing a traditional pool.
If you shop around, the shapes you'll find include an oval and, more commonly, circular pools.
How Can You Use a Stock Tank as a Pool?
Setting up a stock tank pool is a DIY-doable project. However, it does take careful preparation work and budgeting for more than just the galvanized tub.
You must select a location that can hold the tank's weight, water, filtration pump, and people. You'll also need to prepare the site before installing, clearing away tree roots, stumps, or rocks. Finally, you need to ensure the pool surface is level.
How Long Will a Stock Tank Swimming Pool Last?
Manufacturers make these metal tubs from galvanized steel, so they are very durable and meant to last for years. They resist rust and punctures (unlike vinyl pool liners.) If you take care of your stock tank swimming pool, it could last about ten years.
How Deep Is a Stock Tank Swimming Pool?
Most tanks are approximately 24″ to 36″ deep. You will find it challenging to find a deeper tank, as they are designed for livestock to drink water safely.
Are Stock Tank Pools Above Ground or In-Ground?
Most homeowners put their galvanized tub above ground, building stairs and decking up and around it. However, some people prefer to excavate the land and sink in the pool–it comes down to personal preference and budget.
Is a Stock Tank Pool Worth It?
If you take the time to set up your stock tank pool correctly, keep it in good repair, and winterize it in the off-season, you will have it for several years. The longer you have enjoyment from it, the more value you will reap.
We will not even begin to guess or advise on costs, as this year is a year of remarkably fast-rising inflation, and expenses for the equipment you need are changing from one day to the next.
What is the Biggest Stock Tank Pool?
The largest diameter currently available is a ten-foot diameter.
How Do You Install a Stock Tank Swimming Pool?
Here are the critical steps to setting up a stock tank pool:
Site preparation: As mentioned earlier, you need to make a site level. Then you must free it of rocks and debris. Use a level to ensure that you have this perfectly prepared before setting the tub.
Plan your access: Building on top of an existing deck is a terrible idea due to the weight of your new rig. Instead, plan for a ladder or steps or build up decking for pool access.
Safety considerations: Don't let the low water depth of this set-up make you complacent. Regardless of the shallow water, children or pets can drown. Consider a gate or another way to restrict access and save lives.
Install the filter pump. You can purchase a basic Intex pump–the same thing you see attached to above-ground pool kits. Choose the correct pump based on how many gallons of water your tank will contain.
Accessorize: Pick out a leaf skimmer, stock up on pool chemicals, and get a pedicure–it's time to stick your toes in the water!
How Do You Paint a Stock Tank Pool?
First, note that galvanized steel does not require painting. However, once you paint it, you'll want to keep it looking fresh. Also, the galvanizing comes from a coat of zinc–which also has some "slip" when you paint it.
You can paint this pool…but you do not have to do so. Assuming you do want to move forward, here are the steps you will take:
Don your eye protection, mask, and gloves. Wipe down the outside of the tub with paint thinner. This removes a protective layer of rust-resistant oil.
Using only fine-grit sandpaper, give the galvanized steel a light scuffing. You do not want to go heavy-handed, or you could wreck the galvanizing and cause rust to form.
Remove the sanding debris with a rag dampened with water.
Wipe down the outside of the tub with white vinegar. The acidity of vinegar helps make the final preparation before you start to paint the surface.
Apply a latex metal primer. A good household brand is Rustoleum Latex Aluminum primer. Roll on the primer as the rolling action lightly pushes the paint down the metal's surface. Follow the instructions on the can of whatever brand you choose to check the curing time before you proceed to paint the stock tank swimming pool.
Apply latex paint. Have fun and choose your favorite playful color! Again, you want to roll the paint on and let it cure 24 to 48 hours before you make any other modifications to the pool. You will bloop your paint job in your eagerness. Remember, it's worth the outcome to be patient!
Finally, you should paint only the outside of your galvanized tub, not the inside, as the chlorine is less likely to damage the zinc coating than paint. Don't overdo the chlorine tablets. Follow the guidelines based on the size of your tub–you do not need extra.
Stock Tank Swimming Pool: Transformations From Utility Tub to Backyard Oasis
This homeowner set the tub on the ground and built a charming brick patio.
1 – In-ground stock tank swimming pool (unpainted)
2 – Above-ground stock tank swimming pool (unpainted)
Conversely, this designer chose an unpainted, above-ground model with a fun "hang-out" space, i.e., hammocks for lounging.
3 – Above-ground, unpainted with a water feature
This clever person used an oval tank to spill into the stock tank pool for a fun twist on his project. Also notice the pool noodle padding to give a stripe of color along the top edge. This foam padding prevents burns on the hot metal as you enter the pool. How cute (and practical) is this entire rig?
4 – Stock tank pool, leveled in a steep yard
This homeowner leveled a spot in her steep backyard, using the "high side" to spot some rocks to sit on and enter the pool. She also added a blue pool liner for color. This is so natural and lovely looking.
5 – This pool proves that less is more
The stock tank swimming pool serves as the focal point and gathering spot in this backyard. Clean, simple lines make it the star of the show.
6 – Is the patio too sunny? Add instant shade
This homeowner added a large sunshade to protect her pool from the sunshine as she splashes around with her sons.
7 – Custom cover made with pool noodles from the dollar store (err… 1.25 store, that is)
https://www.pinterest.com/pin/6473993206544548/
8 – How about transforming a galvanized tub into a hot tub?
Like this cactus-themed oasis, you can level up from a swimming pool to a hot tub with the correct mechanics.
9 – Stairway to stock tank swimming pool heaven
This simple stairway invites one to slip into the pool and cool off after a long, hot day. Love the shady umbrella and simple gazebo for good conversation after a dip.
10 – Safety first!
This stock tank swimming pool is painted white and features a hand-painted "no diving" safety reminder. How adorable! (I sure do hope the paint lasts with the wear of pool chemicals!)
11 – A larger model stock tank swimming pool
The 10-foot pool accommodates a pool float for sunning your buns for a higher price tag. Love the natural stone patio.
12 – Tiffany blue (my fave color!)
So exciting to see a Tiffany blue pool–it's my favorite color. I'm obsessed with this pool. The sunny yellow and cool blue in the pillows promise fun for all!
13 – Pretty in blush pink
This pretty pink pool and inviting hammocks look like a winning combo! Who wouldn't want to spend a Saturday afternoon there?
14 – Some privacy, please!
These homeowners installed an attractive privacy fence to enhance their enjoyment of their backyard. Love the chair-height rail to perch some cold drinks on a hot day!
15 – Convenient hideaway
Whoever designed this is a genius! They hid the pool pump filter with a convenient access hatch under the deck. Clever.
The Takeaway: A Stock Tank Swimming Pool Is a More Affordable Alternative
Installing a galvanized pool is far more affordable than a conventional pool. While the costs of construction materials are ever-climbing, they remain less costly than building a traditional model. Plus, you can install the pool and work on the improvements a little at a time, according to your budget.
Remember to keep safety at the top of your mind, both as you decide to invest in a stock tank swimming pool and when you entertain your family and friends.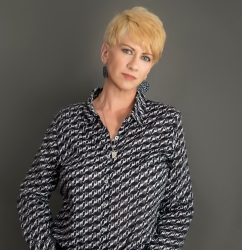 Latest posts by Deborah T
(see all)