Today is a double game day. My Pittsburgh Steelers are playing the Miami Dolphins in the AFC Wild Card Game and the UNC Tarheels are playing NC State. It's freezing cold outside. In fact, the temperature is the lowest it's been all winter thus far. It's a great day to take it easy, kick back, stay curled up inside, and enjoy a day of relaxation! Time for some nine point nachos!
Not only do my husband and I enjoy gardening. In addition, he is an avid hunter. Better yet, he's a good hunter so we always have abundant venison. We have both learned to cook venison and work this lean protein into our diets.
RELATED POST: Venison in Savory Onion Gravy (Deer Meat From Pressure Cooker)
In fact, we have even learned to butcher our own meat. He dresses the meat, and we have both become adept at the butchering. Each deer breaks down into a couple beautiful roasts, tenderloin cuts, medallion cuts for frying, stew pieces, and ground venison. Naturally, how much we get depends on the size of the deer.
He calls this dish "Nine Point Nachos" because he came up with it and used ground meat we harvested from a nine-point buck. It is a quick, easy, and delicious take on a traditional nacho plate.
This dish is unpretentious. He used a packet of mild taco mix, shredded cheese, and Rotel. But that just means he was able to get back to the couch, and back to game day, more quickly!
Gourmet, no. Comfort food, yes!
NINE POINT NACHOS (VENISON NACHOS):
1 lb ground venison
1/2 lb of 80/20 ground chuck (we freeze it this way when we put up the venison)
can of Rotel
1 envelope Mild Taco Seasoning
1/2 tsp cumin
1 tsp. garlic powder
2 tsp. black pepper
15 oz can of black beans
1 small bag of shredded Mexican cheese
bag of nacho chips
Brown the ground venison and ground chuck, breaking into fine pieces with a spatula as you cook it. You can drain the fat if you like, my husband didn't do so, it was actually fairly lean. Use your judgement. Add the packet of taco seasoning and about 3/4 cup of water and Rotel. Simmer for about 5 minutes.
While the meat simmers, heat the black beans in a small sauce pan.
Arrange nachos on a plate and top with the Mexican cheese. Spoon taco meat mixture over the nachos. Top with black beans and more cheese.
You can also add your own favorite toppings. Salsa, sour cream, or guacamole would be fantastic. We didn't have it on hand today. Meh.
This is a game day favorite!
#venison #deer #hunting #meat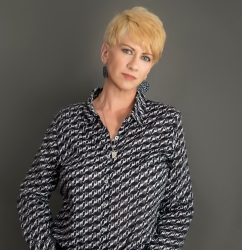 Latest posts by Deborah T
(see all)