After taking a break from our "Meet Our Team Monday" series due to the Labor Day holiday last week, we pick back up with an introduction to our newest contributor, Maureen Abuor.
RELATED POST: Meet Our Team Mondays: Caroline Kahingo
Maureen is a prolific young writer. She helps me out here on DIY Home & Garden and also on numerous projects in my freelance writing business. She's the mother of two and a balances writing between chasing toddlers. Quite frankly, I don't know where she gets the energy from.
I know y'all will love getting to know a little more about Maureen. Enjoy.
MEET OUR TEAM: MAUREEN ABUOR
What's the best job you've ever had (other than writing for DIY Home & Garden)?
To be honest, writing for DIY Home & Garden is the best job I've ever done in my life considering the flexibility that comes with it. No one desires the obviously tight working conditions and schedules always laid out by most employers, and so peace of mind in your work and of course flexibility, play a major role in your overall productivity.
This is what I get from working with DIY Home & Garden—peace of mind and work flexibility.
What is your favorite childhood memory?
I really laugh about it sometimes, but…. that's me. I used to wake up early in the morning (before my elder brother would get up)—his school uniform was my target. I'd put it on, carry his bag and set off for school, though I was still very young. Anyway, this was a way to shout out loudly to mum and dad that I longed to be in school despite my young age.
If you could imagine a dream vacation, what would it be?
I would breathe my heart out to see the land and the most-spoken of people in the Bible—the Israelites. I'd love to visit and see all the places mentioned in the Holy Book where our Lord Jesus Christ carried out His ministry.
Seeing the desert part of this land would be one of my major achievements.
Which is your favorite color, and why?
I love red simply because it compliments my dark skin color. Although I always throw in some blue color as well, brown and white also satisfy my color needs. I'm kind of torn in between these beautiful and charming colors but red remains my favorite.
What is your favorite splurge of a meal?
I love chapatis. I can feed on this delicious meal without considering a meal break—you know what I mean? I can comfortably take it for breakfast, lunch, and supper. But of course, a balanced diet is mandatory. So I'd simply opt for a different dish to ensure my body stays healthy.
How about your childhood best friend?
I am an introvert, and so socialization was my biggest problem since my childhood days. However, I had this one best friend who understood me and as a result, we got along very fast. Her name was Melvin. Sadly, we separated after our primary level education and I've never set my eyes on her again—but I hope to see her one day.
Have you ever had a super-embarrassing moment, and what was it?
I got to work late one day (back then when I used to work as a direct sales representative at a local micro-finance company) and bumped into an ongoing meeting in the office's boardroom. Because am an introvert (and don't like addressing multitudes), I sat on the farthest seat (behind) praying that the manager doesn't notice me—but he did and made me address the congregation.
I freaked out but managed to give out some speech with a shaky voice.
How do you unwind at the end of a long day?
I love my family and being with them. Chatting and laughing is my best way of unwinding after a long day's work. As you know, just sitting and conversing with your computer for the better part of the day can actually get boring (in most cases).
My children, of course, keep me yelling and running all around the house—which is a good way to exercise, you know!
What's the best thing about your hometown?
I feel proud of the fact that it's rich in Agricultural products ranging from sugar cane to cassava to sweet potatoes. Though small, the country's ever-growing population depends on Kisumu town for food. Note that this small town also produces fish—which is from the popular Lake Victoria.
Is there any other quirky information that you can share?
I wouldn't take this to mean weird…. of course, I also exhibit unique characters (as it is the case with any other human being), but I do believe they're good for my well-being as well as that of others. I speak less often, and if I do speak a lot, I end up feeling sick—a trait that always leaves me wondering.
---
I hope you all enjoyed learning more about Maureen from behind the scene. Oh, and for my American readers, I looked up what the food "chapatis" is–we would call it flatbread. Yum! I hope you all have a happy DIY day!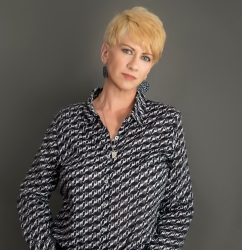 Latest posts by Deborah T
(see all)