Mac and cheese might be the ultimate comfort food. But that does not mean that it must be difficult to make! In fact, this is a go-to recipe on those days when I forget to take something out of the freezer.
With the help of your Instant Pot and some pantry ingredients, you can serve up a dreamy, creamy, and delicious mac and cheese. In fact, once you make this recipe, you will want to keep these items on hand, always. It's going to be a favorite of your family, I promise.
Many Consumers Have a Love-Hate Relationship with Canned Foods
Canned foods get a bad rap. Are canned meats, veggies, and soups as healthy as their fresh counterparts?
Nope. Of course not.
But when you compare the option of whipping up a quick meal from pantry staples like canned foods against stopping to pick up fried chicken or other fast food items, the canned foods win. Every time.
I always prefer fresh ingredients. But I do stock my pantry with these types of convenience items for two main reasons:
I often forget to plan meals in advance. I know, I'm a full-time writer and work from home. But I have days where I get so caught up in writing that I simply forget to pull out whatever or prep ahead. No excuses. lol.
We live in a hurricane-prone area of North Carolina where we see wild weather. From tropical storms and hurricanes in the summer to blustery ice storms in the winter months, we plan for power outages.
The main things to look out for when you select shelf-stable items are the calories and the sodium content. Food manufacturers add lots of fat and salt for one reason–to improve the flavor and make you want to re-purchase the items.
The United States Food and Drug Administration (USFDA) warns that Americans receive over 70% of their daily recommended amount of salt intake in packaged or prepared foods. But if you usually do choose fresh foods, you can enjoy this yummy mac and cheese occasionally–and without guilt. Of course, if you are on a special salt-free diet, check with your doctor before you eat packaged or canned items.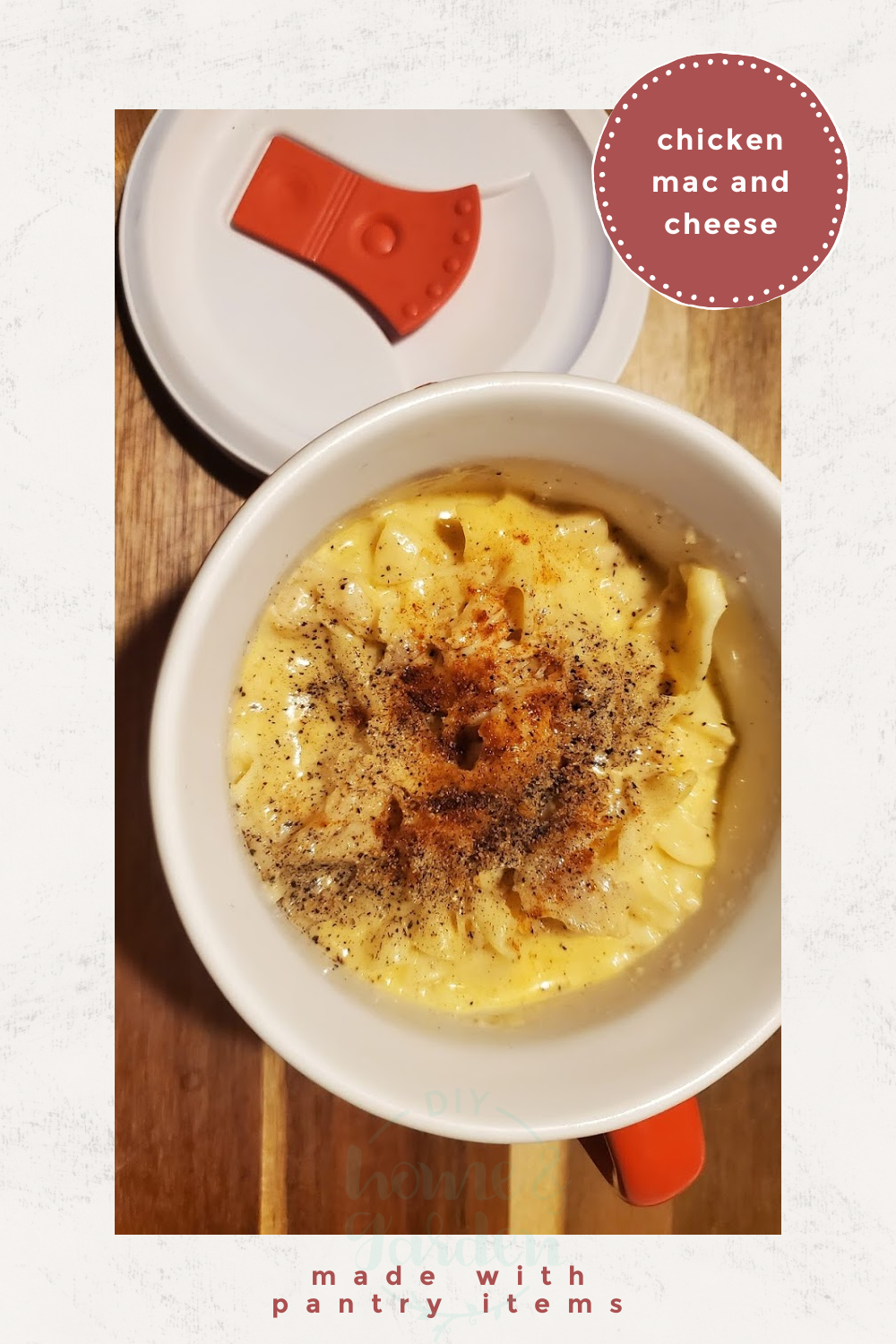 Why Shop for Low Sodium Pantry Staples?
Sodium is an essential mineral, and most of us need it in small quantities. The exception to this is a person who has a health condition requiring a totally salt-free diet.
However, science proves that too high a salt intake can cause narrowing of the arteries. This dangerous condition leads to the following possible outcomes:
High blood pressure (hypertension)
Increased risk of heart attack
Water retention and bloating
Higher likelihood of suffering a stroke.
As you shop, look for shelf-stable items marked "reduced sodium," "lightly salted," or "sodium-free."
But what do those terms mean?
Reading the label is sometimes a game of verbal gymnastics on the part of the food manufacturing industry. Let's look at the standard American definitions of each.
Reduced sodium:
This verbiage on a food label indicates that the contents have a minimum of 25 percent less sodium than their brand's fully salted version.
Lightly salted:
If you see the label marked "lightly salted" or "light in sodium" it means the manufacturer lowered the salt content by 50 percent than their brand's original product.
Sodium free:
Foods deemed sodium-free have less than 5 milligrams of sodium in each serving. Plus, it contains zero sodium chloride.
I've enjoyed a reduced-salt diet for several years, as I had a TIA (mini-stroke) when I was only 45 years old. Adjusting to the lower salt was not that difficult, and I learned one thing. You can always add salt to suit your taste when you cook.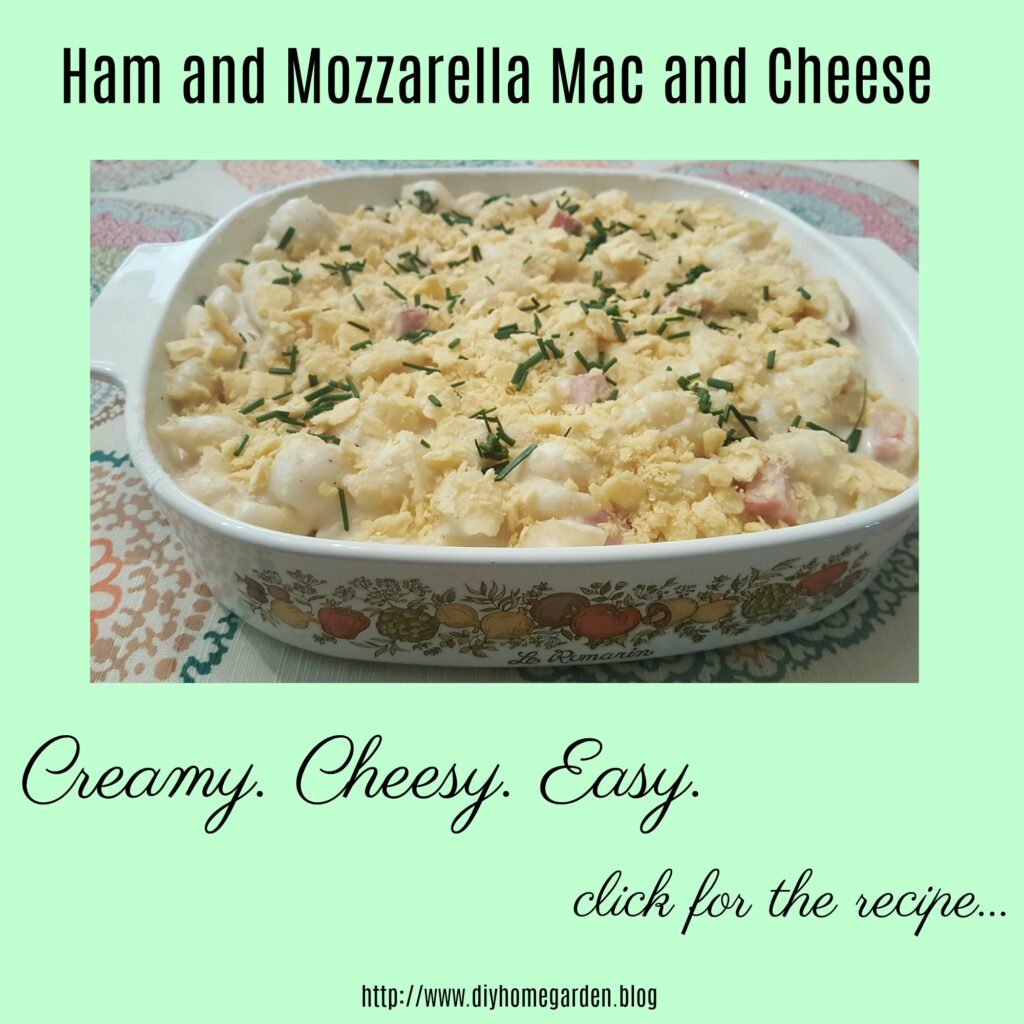 How to Make Chicken Mac and Cheese (in your InstaPot)
Here's how to make this delicious recipe after a long day.
Gather these few kitchen tools:
Your InstaPot, InstantPot or another multi-cooker unit
A large spoon
Can opener, I like the Pampered Chef one that makes clean edges. You don't need this if the pantry items have pull-tab tops.
Kitchen knife
Recipe for Chicken Mac and Cheese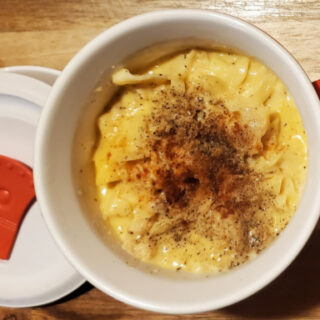 InstaPot Chicken Mac and Cheese (using pantry ingredient)
Additional Time:
8 minutes
This creamy, dreamy chicken mac and cheese cooks up in just minutes in your electric pressure cooker unit. Better yet, you make it from the pantry ingredients you probably already have on hand.
Ingredients
16 ounces of pasta
12 ounce can of white chicken meat, packed in water
14 ounce can of chicken broth
16 ounces of water
8 ounces of Velveeta, cubed
2 tablespoons of milk or cream (I used 2%)
paprika
black pepper
One teaspoon of salt, if desired
Instructions
Open the can of chicken and put it in the bottom of the pot. Use the spoon to break up the meat into smaller pieces.
Add the pasta to the pot, then pour the can of chicken broth and water over the pasta. Add the teaspoon of salt, if desired. Remember that the canned chicken broth has some salt, so you decide how salty you like it.
Set the lid and close the valve on the InstaPot. Set it to manual pressure or high for a two-minute cooking cycle. When the time's up, let the pasta manually release the steam for five minutes. After five minutes, you may release any remaining steam.
Stir the pasta. You don't need to drain it.
Put the cubed Velveeta and milk into the pot, stir it into the pasta. Replace the lid on the Instant pot and let it sit for three minutes. The heat of the pasta will melt the cheese.
Give the pasta one last stir. It will be very creamy and "loose" in texture. If you prefer a thicker cheese sauce, skip the milk! Also, know that it will thicken as the cheese cools. Dust with paprika and black pepper, to taste.
Make Your Own Variations of Chicken Mac and Cheese
Once you learn how to cook pasta–especially macaroni and cheese–in your multi-cooker, you will find yourself wanting to try new recipes. Some fun ideas could be:
Cajun-seasoned cheesy pasta, for a New Orleans spicy kick
Leftover taco meat stirred in to stretch your budget
Crab au gratin over pasta in the multi-cooker
Really, the possibilities are endless once you figure master the technique. The pressure cooker makes this meal possible in just minutes!
Finally, this recipe reheats in the microwave or oven beautifully, making it a yummy, packable meal. As you see in the photos, I packed some to-go–my husband says this is his favorite lunch.
One thing is for sure. Making this chicken mac and cheese is less expensive and takes less time than waiting in the drive-thru lane of your local fast food place. Plus, it is a healthier quick meal alternative. Please share with us on social media once you give it a try!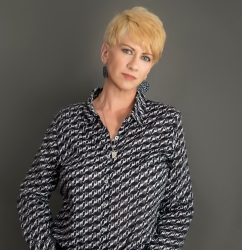 Latest posts by Deborah T
(see all)