I had the opportunity to receive a Giraffe Tools wall-mounted hose reel and write a product review. I accepted the challenge, and boy I am glad that I did this!
Many long-time subscribers know that we covered hose reels once or twice previously. Those product research round-ups resulted from my long-standing struggle with hose reels. They typically win the battle, leaving me frustrated!
I've had freestanding models that tip over, refuse to release the hose, and are a struggle to re-roll. Eventually, all the snatching on the hose caused every last one to spring leaks. We also tried a decorative stand that allowed us to loop the hose around it. However, we need about 150 feet of hose due to the larger size of our yard. That product was a no go for me. The last thing to try was a wall-mounted unit.
But before I was willing to commit to drilling permanent holes into my home, I had to do a lot of homework and feel confident in the product. This product was it.
Giraffe Tools Product Review
Legal Disclaimer: Before listing the pros and cons of the Giraffe Tools Hose Reel, I must give a legal disclaimer. I received this product from the manufacturer to write a product review. However, my opinion of the product is my own, both the pros and cons I list are my express opinion.
Features of the Giraffe Tools Wall-Mounted Hose Reel
Accommodates 5/8″ hose
Holds up to 150 feet of hose
Stainless steel drum
Brass water fittings
Speedy shipping (direct from the manufacturer or Amazon Prime)
Two-year limited manufacturer's warranty
Assembly parts provided (you'll also need several additional tools)
Leader hose provided (of course, you provide the rest of the lengths you need)
Here are the four main pros:
In my opinion, the following things are the pros of this product:
Fast shipping: The company website promises three to seven day shipping time. I received mine in on day three. If you are in a hurry to replace a faulty hose reel, it appears you will get this quickly.
Stainless steel drum: Many competitors construct their products out of plastic which cracks over time or aluminum that corrodes. The stainless steel should last for many years.
Brass water fittings: The water fittings are brass, not cheaper metal or plastic. They will resist corrosion for a long time and without splitting.
Two-year limited warranty: Giraffe Tools backs the unit with a two year limited warranty. That gives you peace of mind to order with less risk.
Hose rolls out and retracts easily: After installing this hose reel, I was shocked at how easily the hose glides as you release it from the reel or recoil it around the drum. No more wrestling match to water your garden!
What about the cons?
Here is my opinion on a couple of cons:
Only works with 5/8″ hoses: If you have any other hose size, this set-up will not work for you.
The installation guide could make something more clear: While the instructions are good, you do need to have reasonably decent tool skills to install this. I found it frustrating that the set-up guide does not provide an up-front list of the tools you need. We stopped to go look for tools several times during installation. This added about ten to fifteen minutes to the installation time. This would not prevent me from purchasing the Giraffe Tools Hose Reel, but it would be a nice touch!
How to Install, Step by Step
As my hubby did the install of this reel, I captured images for a how-to video to show you how to install the Giraffe Tools Wall-mounted Hose Reel, step by step.
How to Purchase the Giraffe Tools Wall-Mounted Hose Reel
You can purchase this product at several online retailers.
The Takeaway
Before you commit to drilling a permanent fixture into your house, do your research to ensure you are investing in a long-lasting, quality product. I was confident enough in this product to install the Giraffe Tools Hose Reel, and I am so glad I did.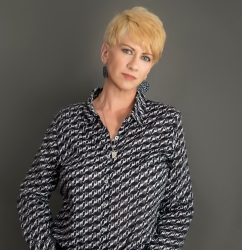 Latest posts by Deborah T
(see all)