For every garden, there are hoses for irrigation purposes. But keeping this hose in a muddy and wet ground can make it wear out quickly. Therefore, the garden hose reel is essential. Apart from the fact that it protects the hose from stains, it also serves as a storage unit. Also, garden hoses are long and heavy, and would need some extra power to pull; a wall-mounted hose reel will make it all easy for you.
Buying a garden hose reel can be devious at times because there are many varieties of reels. In this guide, we will discuss a few tips for getting the right one for your garden. Also, we will review some of the best garden hoses that will not just work for you but also pocket friendly.
The Best Value Garden Hose Reels
1 – Suncast Aquawinder (With Automatic Rewind)
This hose reel is capable of housing a hose as long as 100-foot. It is also equipped with an automatic rewind feature. Ensure your water is turned on and flip the lever on the hose reel. The reel uses a recrhargeable battery and charger unit to propel the automatic rewind feature. The box, as manufactured in the United States, is equipped with both the leader hose and the drain hose and has a three years warranty.
2 – Suncast Resin Swivel Hideaway
This hose reel box is a unique one. It revolves around, which makes it easy for you to move around while unreeling the hose. And as soon as you're done, it calmly wraps up the hose back into its housing by just turning the crank. Holds up to 225 feet of hose, so it is great for yards of any size. The box is constructed with a strong resin composite which makes it durable and equipped with an anchor that helps hold the box firmly to the ground.
3 – Birdrock Home Copper Holder
This is a storage pot and an alternative for hose reels. The storage pot is generally easy to use, but they are only suitable for smaller, flexible hoses. The container can coil up to a 100-foot of the hose and is equipped with a removable center post, which makes it easy to coil the hose. It also has some holes at the base of the pot, which drains out any excess of water that the hose might hold.
4 – Yard Tuff Cart
This wall-mounted hose reel is a heavy-duty unit made of heavy metal and is capable of housing as long as 260 feet of hose. It is also equipped with wheels and a metal handle, which makes it easy to push around the garden, even or on uneven ground. On its handle, a basket is attached, with which you can use to carry along with you other tools in the garden. Although most reels are made of plastic, they won't have the same capacity and ruggedness as the metal ones like this.
5 – Suncast Hosemobile
For those that have a more extensive garden, this garden reel is enough for the whole garden. It has a 225-foot housing capacity. Although that can be too tight, it can still conveniently house 225 feet long hose. It is equipped with two rugged wheels and a handle. All you need to do to wind up the hose is to simply pull out the stem and turn. Also, it is equipped with an anchor that helps it to hold its stand while in use. It comes fully assembled and with a three-year warranty.
6 – Suncast Hose Hangout HH150
This hose reel provides higher value for a lesser price. Notwithstanding, it also provides a shelf for storing other gardening tools. It can conveniently house a hose as long as 150 feet and is easy to mount. A manual isn't included in its package, but this shouldn't bother you, more especially considering its price. It is built of molded resin and manufactured in the United States.
7 – Liberty Garden Wall Mounted Reel (Liberty Basics 512)
This hose reel is a gorgeous and rugged one that can hold up to 125 feet long of the hose. It is built of heavy and anti-rust aluminum and is equipped with a shelf at the top to give you space for keeping nozzles and other garden tools. It is well designed with a brass wheel that turns and moves around the garden with you. Unlike other devices, it is not easy to set up; you will need some tools to set it up. It arrives with wood mounting screws, a 6′ leader hose, and anchors. It features a top storage shelf for you to place gardening essentials while you work outdoors.
Useful Guidelines for Buying A Garden Hose Reel
Keep these purchase factors in mind when you shop.
Types
The type of product you need for your garden dramatically depends on the following factors;
Where you want to store the hose
The space available
Can you wind up the hose back to its reel by yourself?
Other Tips on Choosing a Garden Hose Reel
When buying a hose reel, make sure you purchase the ones with larger handles because they are easier to use and also wind up the hose evenly
Wall Mounted: The wall-mounted reels help make winding up easier for you.
Storage Pots: Storage pots are more suitable for smaller and more flexible hoses.
Leader Hoses: Reels with leader hose can be used at their full length without twisting the hose. Its length varies from 3 feet to 10 feet.
Capacity
Before buying a wall-mounted hose reel, make sure you know its capacity. It ranges from 100 feet to 250 feet. However, many claim that what's written in manuals usually differs from its actual size. While some claim that it is generally too tight if fully winded up and can require a little more effort to wind up the last few unwounded hosen.
The Bottom Line on Choosing a Wall Mounted Garden Hose Reel
A garden hose reel is essential for your garden as it makes things look neat and prevents stains and dirt from your hose. It also makes rolling up easier when you're not using it. Buying a garden hose reel leads you to make choices that work best for you! Selecting the right reel for your garden will contribute to the pleasure you derive from your garden. With this guide, we believe your growing hobby has a good head start.
CONTENT UPDATE: 07.26.2021: I settled on a product not featured here, the Giraffe Tools Wall-Mounted Hose Reel – please check out our product review!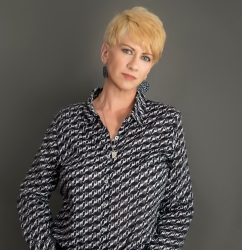 Latest posts by Deborah T
(see all)