If you're someone that doesn't really use their garden too much, then you may have realized that it can quickly get messy. Indeed, it usually takes a lot of work to start cleaning up. For instance, many people will use their garden shed as a spot for general storage. Their shed might be full of junk. Or you might find loads of DIY equipment and materials left around from when they last tried to perform some kind of renovation.
Three Tips to Help you Start a Garden Renovation with a Clean Slate
If this is the case for you, then you may want to consider starting a home garden from a blank slate. Perhaps you want to just clear up everything and start from a fresh canvas. Or maybe you want a bit of assistance cleaning everything up so you can start seeing the potential in your garden. Regardless of the situation, here are some tips for how you can start a garden renovation from scratch.
Tip #1 – To get rid of plants or keep them?
It can be difficult deciding if you want to strip your garden clean of all existing plant life or if you should try to keep them healthy. You can always dig up plants with the soil they're in and plant them in your new garden later if you want. However, some people might find it easier to start completely from scratch and choose new flowers that are better suited for the soil conditions and their personal preferences.
Tip #2 – Dealing with large trees
There may be some cases where the trees in your garden have gotten a little too big and disruptive. For example, the branches may be poking at your roof or it might be providing a little too much shade, making it hard for you to get any sunlight into your garden. If this is the case, then you may want to consider a tree removal service to help you get rid of them. It can be a little sad getting rid of a large tree that you've grown used to. But you will find out there are numerous benefits that often outweigh the sentimentality. For instance, it can stop critters and pests from climbing onto your roof, and it can open up more natural light because there's no longer a huge tree blocking it.
Tip #3 – Hire a yard waste bin to help you clear up the garden
One of the first things you should do is consider hiring a waste bin. These huge bins are perfect for helping you get rid of large amounts of rubbish and debris. You can simply place all of the junk into the skip and the company you hired it from will help you deal with the rest. Just make sure that you let them know what kind of items you'll be putting in there.
The Bottom Line: Start a Garden Renovation with a Clean Slate
There are many different benefits to gardening and it can be a surprisingly effective way to get fit, keep yourself active, and even protect your joints and muscles from getting old and tired. However, getting to a point where you can maintain your garden at a leisurely pace can be difficult if you've been neglecting it. As such, we hope that these tips have given you a good idea of how you can clear up your backyard so you can start from a fresh clean slate.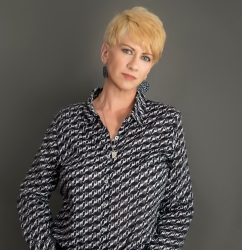 Latest posts by Deborah T
(see all)