Do you have a veritable jungle that you want to transform into a garden paradise?
We all have different expectations and ideas for our dream gardens. Some of us want something that's low maintenance. Just some grass or a nice deck where we can relax; one that only requires a little cleaning now and then to look its best. Other people love to grow. They want their gardens to be filled with pretty flowers and even fruit and veg. Some people want more than that. They want a garden where they can eat and entertain friends.
They dream of an outdoor kitchen and a large covered area to sit with friends late into the night. Some have dreams of a delicate garden with plenty of fine details, colors and maybe even a water feature. Just like our home decor, the choices that we make for our gardens are highly personal. No two people have precisely the same vision, and it often takes a long time and a lot of hard work to bring those visions (even the simple ones) to reality.
How Does Once a Garden Paradise Become An Overgrown Jungle, to Begin With?
However, one thing that few people want is a messy and overgrown garden that's no use to anyone. Even the people with simple needs that don't intend to do much with their yards would rather a beautiful patio or lawn, instead of a wild and overgrown jungle.
But, it's very easy for your garden to get this way. If you've just moved into a new house that's been empty for a while or was previously owned by someone who couldn't give it the care that it needed, you might find yourself left with a jungle of weeds, overgrown bushes and shrubs, and dead grass and plants.
If you've been unable to get outdoors much yourself, or you've just let things go a little you might find that things quickly creep up and grow out of hand.
It's all too easy to find yourself suddenly looking out of your window or backdoor unable to even imagine your dream garden because the space is so out of control. When this happens, it is easy to feel overwhelmed. When it looks like such a mess, it's hard to know where to start and easy to think that your dream garden is never going to be realized. But, it can be. Here are ten simple steps to turning your garden around.
1 – Clear the Jungle
The very first thing that you need to do is clear the mess. Until you've really got stuck in and cleared away as much as possible, it's impossible to know what you've got to work with and how much work you need to put in. Find the right skip bin hire, get out there and clear any loosen debris like rubbish and old furniture, and then start cutting things back, throwing the cutoffs straight into the bin or taking them to a garden disposal center.
This is often the hardest and most time-consuming part of carving out a garden paradise. However, it will make the rest possible.
2 – Assess the Damage
Now that the space is clear of rubbish, take a good look. Get out there and fully assess the damage. How does your lawn look? Does it need digging out and relaying, or just weeding? How's the fencing? Are any repairs required? Or could you just clean, paint and varnish? Does furniture need replacing, or could it be used again? This is the time to make a list of everything that you need to do.
3 – Save What You Can Use in Your Garden Paradise
Take a look at your list, and start working on what you can salvage before starting on anything else. If your lawn is patchy start by applying a good weed and moss killer and dig out any more rooted weeds. Then, treat the grass with a feed. After that, you'll be able to see where you need to add some seed or any patches that might need relaying. Tackle any repairs and get stuck in with anything that you think you can fix.
Sometimes, during this stage, you'll realize that things can't be saved. It can be tough giving up on something, but most of the time, it's best to let it go before the damage spreads.
4 – Clear Some More Jungle
Once you've weeded your lawn and moved things about a bit, things can look worse. It's very much a things have got to get worse before they get better type of situation. It'll look a mess, but a good clear out will make things look much better.
5 – Get Planning the Ultimate Garden Paradise
Now you can really sit down and make a plan. Your garden is clear of mess, weeds and overgrown plants. You've spent a little time giving it a bit of TLC. Chances are, it's still nowhere near your dream garden, but at least you can see what space you've got to work with. Take a look online for some garden design ideas, do a little window shopping, and make some sketches of the kind of things that you want. This is the perfect time to take some measurements too.
6 – Add the Bigger Features
If there are any more prominent features in your garden paradise, get them done early, before you think about cleaning up properly or planting flowers.
7 – Do a Deep Clean
Clearing the rubbish probably isn't all that you need to do to get things clean. Consider hiring or buying a jet wash to clean your decking, fences, and walls. Give furniture that you are keeping a thorough clean and even clean your shed out. You'll need to keep the cleaning moving along as you go, but a deep clean in the beginning is a big help.
8 – Get Planting
If you are relaying lawn, get this out of the way early in the year, once the frost has passed but before it's too hot. Most flowers, shrubs, and trees are best planted in early spring too. Take a look at your designs and start planting a bit at a time.
9 – Start Painting
Planting and laying a lawn is a messy business so you might want to leave painting any woodwork or furniture until it's done to ensure fresh, dust-free paint.
10 – Plan for the Future to Avoid a Future Jungle
At all stages, it's important to think ahead. You want your garden to last. You don't want to spend every spring clearing a jungle. So, take your time to think about how much work you want to put in and how much time you can commit each week to tend to your garden. This habit helps you turn keep the garden paradise you worked so hard to create. Make sure you make it as easy as you need and don't forget to weatherproof. You can also use this to get started for a possible future garden party!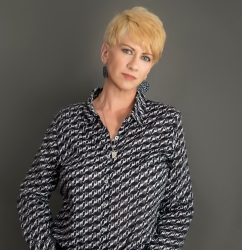 Latest posts by Deborah T
(see all)