If your home feels lackluster and you want to find a way to bring it back to life, you've come to the right place. You don't need to spend a fortune or spend weeks transforming your home into something brand new – there are many things you can do quickly and easily, even affordably! Read on for 12 essential ways to bring your home back to life and give it a new, fresh look.
Give Your Home a Fresh Look: 12 Transformative Hacks
1 – Get Rid Of All Of Your Clutter
Start by going on a mission to get rid of all of your clutter. Most homeowners have a ton of clutter that they just haven't got around to removing or sorting through yet. Procrastination is easy as it's usually such a boring and time-consuming task, but it's so worth it once complete. Get rid of documents you no longer need, items you no longer use, and anything else just sitting there being ignored. When you make space in your home like this, you make space for new things that you actually love and will use to come in.
The easiest way to do this is to be vigilant and to develop a Marie Kondo mindset. If something doesn't bring you joy, and it's not essential, then get rid! You'll feel so much better giving it to charity or even selling it on.
2 – Scrub Your Floors
Scrubbing your floors is a great way to quickly perk up your home, give it a cleaner look, and make it look so much better. If you have hardwood floors, look for a DIY hardwood floor cleaner so you can save some money and get amazing results. If you have carpets, this may be a little harder as they tend to hold on to smells more readily.
3 – Replace Old Carpets and Materials
If there are any super old materials in your home, see if you can get rid of them. Your carpets may have cost a fortune years back, but they are one of the least hygienic things you can have in your home. They tend to hold on to things like dirt, dust, and allergens more readily. They also tend to smell, so if you have pets or have smoked in the house, there's a chance that these smells are still present and you just don't know because you're so used to spending time in your home. By replacing these materials with those that are easier to clean, you'll have a much fresher home.
4 – Get The Paint Out
Paint can work wonders, whether it's on your ceilings, walls, cabinets, or everything. Giving everything a fresh coat of paint can make your home look almost new without even having to pick a brand new color. This is usually easy to do yourself, and there are tutorials online you can follow if you've never done the painting alone before.
5 – Invest In Plants and Flowers
Plants and flowers are a great way to bring your home back to life. They make us happier when we look at them, according to studies, and they purify the air. Not only that, they help to bring the outdoors inside and can help those who feel like they spend a little too much time inside. You'll never beat actually getting outside and having some fresh air, but incorporating these into your home can be a great idea.
6 – Use an Essential Oil Diffuser
Essential oils have all kinds of benefits. They won't cure serious illness (so don't fall down that rabbit hole), however, they are a great way to make your home smell amazing and perk up your mood. They tend to be healthier than candles, too, as many candles are made with toxic ingredients. Orange oil, for example, is great for feeling uplifted, while lavender is great for those who struggle to sleep at night.
You can also buy ready mixed essential oils for your specific needs. You could mix them yourself, but there are certain oils you shouldn't mix as they don't go too well together, and you need to be aware of which oils aren't good for pregnancy.
This sensory experience further enhances the fresh look you create.
7 – Revamp Your Soft Furnishings
You don't need to swap out your main furniture pieces to bring your home back to life. Simply focus on those smaller details, such as new cushions or a textured rug. Adding in these things will help you to revamp your home without making a huge commitment. See if you can bring in a brand new color, texture, or pattern that you love. It'll definitely help your home to appear more interesting!
8 – Refresh Your Door
You want to feel good before you step into your home, so make sure you also look at the curb appeal. Refresh your door and it'll make you smile, even if you're returning home after a long day! You could look at shades such as forest green, deep blue, or millennial pink. Those shades are extremely popular, but you can choose one more suited to your individual tastes.
9 – Show Off Things That Mean Something To You
Don't be afraid to show off things in your home that actually mean something to you. Do you want to live in a home that looks like it belongs in a catalog without a personality, or do you want to live in a home that shows off your tastes and personality perfectly? Show off family photographs, artwork from your relatives, souvenirs, and more. Have fun!
10 – Don't Forget Your Artwork
Artwork is essential, so if you don't have any, now is the time to go looking. If you love eclectic home decor, look for a few pieces you can position on the same wall.
11 – Crack A Window
Get some air flowing through your home. Cracking a window will let some fresh air in and old, stale air out. It makes for good feng shui!
12 – Add A New Mirror
A fabulous mirror will reflect light around your home and make it appear bigger. Don't be scared to choose something large that takes up most of a wall. It'll pay off!
The Bottom Line on Giving Your House a Fresh Look
How will you bring your home back to life? Try one or two of these hacks, and you will be on your way!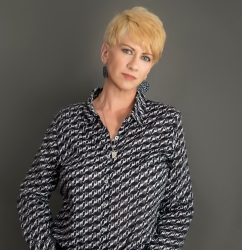 Latest posts by Deborah T
(see all)