For those who love to cook–or those who rent out rooms on AirBnB, specifically those near the beaches, one of the fun activities is to have an outdoor grill or cookout. Having an outdoor kitchen design worked into your establishment, by the poolside, or the beachfront area is definitely an attraction.
Since the intention is to attract tourists and visitors, the outdoor kitchen should not just be functional. You should provide high aesthetic value as well.
In order to combine all the elements of being a full-service kitchen that doubles up as a great Instagram venue without breaking the bank, read on for expert advice. These come from professionals who provide commercial landscaping services in Weston and other cities.
Choose the right flooring during the outdoor kitchen design phase
For the outdoor kitchen to maintain an outdoorsy feel that keeps you in tune with the natural environment, it is best to identify which areas should be paved. Functional areas where food preparation and actual cooking will take place should have specialized flooring.
For areas near the grill and cooking area, grease should be a consideration. When grease builds up, the floors will become slippery. Thus, the floor materials should be grease resistant.
Don't scrimp on the grill
Outdoor cookouts are primarily about grilled food and barbeques. The centerpiece of outdoor kitchens should have the best features: high-quality stainless steel and seamless metalwork. Cheaper grills will have thinner steel pans and uneven corners. These are signs that the durability could be compromised.
Depending on the layout of your kitchen, you might find an electric grill, natural gas or propane grills, and the old-fashioned charcoal grill.
For high-endtaste, a gas or electric grill is more appropriate in your outdoor kitchen design, especially if the clientele are families with small children or seniors. Electric grills are better for confined spaces with limited ventilation.
For resorts that have more adventurous visitors, the charcoal grill could offer more candid moments, not to mention learning a new skill.
Decide on other necessary appliances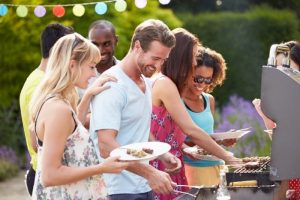 Do you want to have a full refrigerator in the outdoors or just chillers for drinks? Should there be a full set-up for stoves and ovens or just the grill? These should be primary considerations for your layout, along with the required provisions for electricity and gas.
Provide ample space and supplies for sanitation
Where people will cook and eat, they are likely to make a mess. Even if you have just the grill, dining and drinking will require repeated washing. Consider provisions for the sinks, drainage, and ample water supply.
If the outdoor kitchen is situated near the pool or beach, it would be more convenient to provide a bathroom and shower room near the area. It would be inconvenient to have the revelers entering the covered premises while drenched in pool or saltwater.
An outdoor kitchen could be a centerpiece by itself. When carefully constructed, it can provide memorable experiences for the guests and visitors of an establishment. These are the essentials, but there are many more ideas to have the best outdoor kitchen design as part of the commercial landscape of your dreams.
What does your dream outdoor kitchen design look like? Weigh in below, in the comments. Or better yet, join us on social media. And best wishes getting started leasing out the spare space in your home.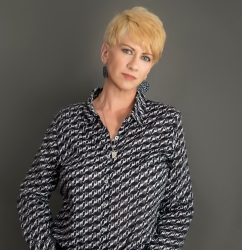 Latest posts by Deborah T
(see all)