Corn is one of the most versatile and delicious vegetables around. It can be used in appetizers, main courses, side dishes, and desserts. In this blog post, we will discuss several tasty ways you can enjoy eating corn during the upcoming season. From soups to salads to casseroles, there is something for everyone. So get ready to explore the amazing world of corn cuisine!
Photo by Robert Krčmar on Unsplash
Eating Corn Idea #1 – Raw Goodness
Eat it straight up! Corn is delicious on its own and a great source of fiber. Just add a little salt, and you're good to go. Grilling corn is a summertime tradition for a reason! It's simple, quick, and so delicious. Just shuck the corn, brush with oil, and grill over medium-high heat for about fifteen minutes. Don't forget to rotate the ears, so they cook evenly! Once they're nice and charred, season with salt, pepper, and your favorite herbs or spices. Then enjoy!
Eating Corn Idea #2 – Mix it Fresh
Eating it raw is great, but why not mix it up a bit? If you want something a little more exciting, try one of these recipes:
Spicy Mexican Street Corn: This dish is simple but oh-so-flavorful. All you need is some fresh corn, mayo, chili powder, cotija cheese, and lime juice. Yum!
Corn and Black Bean Salad: This salad is hearty and filling but still light and refreshing. It's perfect for a summer BBQ or potluck. And it's easy to make ahead of time too!
Roasted chili corn salsa: This salsa is smoky, spicy, and sweet. It's perfect for topping tacos, nachos, or just eating with a spoon!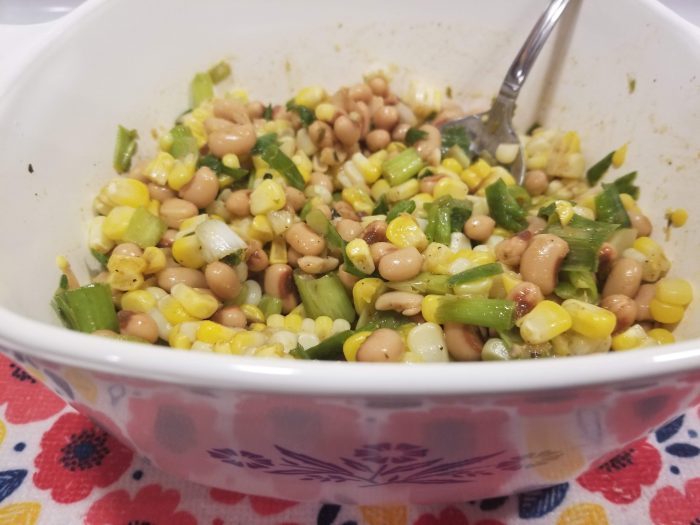 Eating Corn Idea #3 – Bake it, Baby
There's nothing quite like fresh, homemade cornbread. And it's so easy to make! Just mix together some cornmeal, flour, sugar, baking powder, salt, butter, eggs, and milk. Then bake at 425 degrees for about twenty to twenty-five minutes. Serve warm with honey butter or your favorite jam.
Or try something a little different and make Cornbread Waffles! Just add a few extra ingredients to your cornbread batter (baking soda, vinegar, and vanilla extract), and then cook in a waffle iron. So good!
You can also use cornmeal to make crusts for pies and tarts. It adds a lovely sweetness and wonderful texture. Trust us, your guests will be impressed!
And for a real showstopper, try this Corn and Crab Soufflé. It's light and airy but still packed with flavor. Just be sure to save room for dessert!
Eating Corn Idea #4 – Fry it up
Crispy, salty, and oh-so-good. What's not to love about fried food? If you're feeling adventurous, try your hand at Fried Corn. It's a southern classic for a reason!
Just mix together some cornmeal, flour, salt, pepper, and baking powder. Then add milk and an egg to make a batter. Next, fold in some whole kernel corn and shredded cheese. Then fry in hot oil until golden brown. Serve with ranch dressing or your favorite dipping sauce.
You can also use the batter to make Fried Corn Fritters! Just add small spoonfuls of batter to the hot oil and cook until golden brown on both sides. These little bites are perfect for appetizers or snacking.
Photo by Daria Nepriakhina ?? on Unsplash
Serve with a dipping sauce, or enjoy them plain. Either way, they're sure to be a hit!
Eating Corn Idea #5 – Stir it into your soups, stews, and casseroles
Eating corn in your soups, casseroles, and stews is an excellent way to add it to your diet in a delightful way. The tender pop of the kernels and slightly sweet flavor lends a nice texture to the other veggies in these dishes.
So there you have it! Numerous different ways to incorporate corn into your diet. We hope you enjoyed this blog post and that you'll be inspired to try something new. Happy cooking!
Latest posts by Shashika N.
(see all)