Does your home need a decor makeover to transform it into a fresh, new environment without having strip down everything and starting again?
With a mix of swapping different items or upcycling, your current furniture can be done effortlessly while being a quick method for making your house a home. Using different colors that complement each other for a clean, elegant look or maybe you love shades that go against each other to brighten and make the room stand out, giving you motivation and inspiration for your day.
Finding a way of giving a decor makeover to each room could make you fall in love with your home again can be easier with these top tips.
Decor Makeover with Impact
Foyer
Starting with the hallway, the first place that your guests will see when they come to visit. Introducing a stair runner with a strong pattern can convert your staircase from a grey area to a place where it draws the eye. You could pair this with a complimenting Aztec tile flooring at the bottom walkway to give a modern vintage look. A great option if you have dogs with muddy paws. Finish it off with a photo wall that starts from the bottom, all the way to the top to give the illusion of a more extended, more significant wall area.
Bathroom
Bathrooms are often a place we forget about, but it's a room that you and your guests will spend a lot of time. Adding Acrylic Clawfoot Bathtubs to make your bathtub a luxurious place to stretch out and relax after a hard day at work. Acrylic makes it durable yet modern looking, going with every bathroom style.
If you are looking to brighten it up, adding some floor to ceiling tiles add color as well as protecting your walls from damp and smudges.
Posh textiles throughout
One way to make your home look put together so that there a theme throughout the whole house is picking a certain fabric, color or pattern which you will use for an accessory or main feature wall for every room. Whether that's going for a couple pillows on the sofa, towels in the bathroom or even a blanket holder or basket, having something small or something larger like wallpaper can link them, rather than having a mismatched style for every room.
Lawn & garden
Treat your outdoor space as a "room."
Lastly, your garden can be easily neglected as it's a hard job that needs maintaining regularly due to mess or the weather. Swapping grass for a type of plastic grass or using stone tiles to keep weeds and dirt away while being able to sweep up with ease. Avoid plants from spreading further afield, overtaking the garden by placing them in plant boxes. It makes them look tidy, but you can paint the wood box with vintage paint to upcycle it, so it looks rustic, and you don't have to keep maintaining them.
The Takeaway: An Impactful Decor Makeover Won't Break the Bank
Hopefully, with these top tips to transforming your home into a luxurious, homely place without using too much energy or having to strip the whole room and starting again.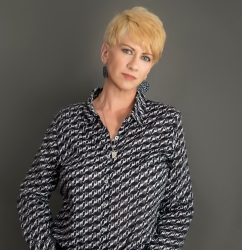 Latest posts by Deborah T
(see all)