Unless you are moving into a new build house, the chances are the home you bought requires a top-down scrubbing. Below are a few cleaning tips on where to begin. This is your chance to make your home your own ready for you (and your family) to live in.
Keep in mind, for some of the places we can't reach, or could cause more damage than good if we attempted to clean ourselves. in that case, to hire a professional for some of the cleaning jobs for your new home. These jobs include carpet cleaning or cleaning the chimney (you can contact a company such as Capitol Chimney Sweeping,) or jobs such as deep cleaning the oven and washing the windows. All of these are essential as part of your spring cleaning process to make your new home your own.
Easy Cleaning Tips for Your New Home
While your house is empty, give it a good scrubbing. Here's how to start.
Start From The Top
With your cleaning box in hand, start on the top floor and work your way down, this will prevent you from running up and downstairs to pick up cleaning products you've forgotten saving you from burning out. Cleaning is physically demanding and provides you really get stuck in there, so move through all of your homes taking all of your products, hoover and so forth with you.
When you first arrive at your home open all of the windows, the kitchen, the bathrooms, even the basements window if you have one to push some fresh air through the property and this will help sweep away any cleaning product smells, unless you're opting for safer natural products, that are better for the air in your home and your health.
Ceilings and walls
Grab a long duster to reach high places and extract the cobwebs and debris from the ceilings. If the family prior had children, the likelihood is sticky fingerprints, crayon marks, and general knocks and bangs shall be present on all of the walls. For houses with pets such as dogs, equally hair, and debris may be scuffed on the wall and could be apart of the odor of the house. This requires a cloth and soapy water to wash away the dirt.
Flooring
With years of people and pets walking back and forth on the flooring, it's bound to take a toll on the quality of the carpet. You might notice a drab appearance. However this is not beyond repair, there are plenty of remedies to bring some life back into your floor. For instance, you could choose to buy, borrow, rent or hire a professional carpet cleaner. Using a carpet cleaner will revert the color of the rug back to what it once was and also add some volume back into what might now be a flat pile.
Once the carpet dries, you may wish to sprinkle bicarbonate soda over the flooring. The soda will draw out any odors from the carpet, the longer you can leave it (usually overnight) the better. The following day you simply hoover away the crystals.
Kitchen
The heart of the home so to speak is where you should focus a lot of your efforts. Try to to restore and revive any old appliances and kitchen furniture (cupboards and counters). With some hot soapy water filling up the sink, spritz your cupboards with an antibacterial kitchen spray. Following this use your cloth and work in circular motions on and inside the cupboard doors, the handles, the shelving and so on to remove any cooking stains, grease, and sticky fingerprints.
After you soak it for a few minutes, wash this off with clean water and buff dry with a tea towel to make your cupboards shine. You can do the same for your kitchen worktops and tiles. For the sink area, the following spritzing and scrubbing the sink with bleach to eliminate bacteria. If you see coffee or tea stains, apply some of your soda crystals to the area (usually around the plug hole) and use your cloth to work the crystals into the stain.
To remove a build up of limescale, spray white vinegar over the sink and leave to sit for a few minutes. Then wash off with water and buff dry to reveal a shiny new sink. Also, remember to pour crystals down the plughole to move debris in the places you can't reach. And follow this down with boiling hot water from the kettle. This will also help to get rid of any odors that may be lingering in the kitchen.
The Bottom Line on Cleaning Tips for a New House
With a few tips on how to begin your spring clean by preparing to schedule in experts, preparing your own cleaning tools, starting from the top to save your energy levels and using a few tips and tricks to remove stubborn stains and odors, your new place will look and smell divine ready for you and your family to move in.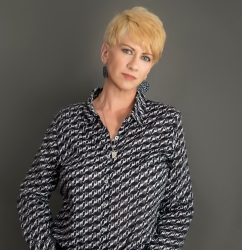 Latest posts by Deborah T
(see all)