Cereal bars are a wonderfully versatile dessert to make when you want a quick sweet treat. They don't require baking. Even better, you probably have all the ingredients you need in your pantry. So you can feed your sweet tooth in just a few short minutes. Don't have the usual puffed rice cereal available? Not to worry! You can get creative and use that giant box of Cheerios™ instead.
In fact, you might decide that you prefer the o-shaped cereal over the puffed rice for the impressively satisfying crunch of these cereal bars.
This recipe follows the same basic principles. But the addition of creamy peanut butter and semi-dark chocolate chips gives this recipe a decadent, sinfully rich flavor that's hard to beat.
You will often find Cheerios™ or a similar store brand of o-shaped cereal on sale at your local grocery store. Take advantage of the savings and plan a dessert around any bargain that you might find. Actually, I often buy them in bulk and dry can them for later use. While they don't dry-can for indefinite periods, they stay fresh this way for about six months. So I typically have o-shaped cereals on hand.
Kitchen Tools and Supplies You Need to Make Cereal Bars
Before you make your cereal bars, have everything ready and prepped. Once you begin the process of melting the marshmallows, you need to stir continuously to prevent the sugars from scorching. Also, they start to seize up fast once you remove them from the burner. Preparation is key.
Also before we get to the method, you can try this in a microwave. I do not own a microwave oven. But I imagine you could melt the butter and marshmallows in a glass bowl on medium heat. If you do try, please share your outcome with us on Facebook. I would love to hear how it works out for you.
All the ingredients you need display on the recipe card below. Besides those pantry items, you need just a few more things:
A 9×13 pan, sprayed with non-stick cooking spray. Have this ready before you begin.
Non-stick or silicone spoon. I use my favorite kitchen tool–my spurtle, also coating it with non-stick spray.
Aluminum foil or plastic wrap for covering and storage.
Sharp knife for cutting the squares.
A heavy pot for melting the ingredients–too thin a metal pot could scorch the sugar. Adjust down the heat, if needed.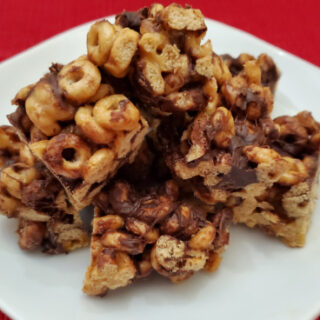 Chocolate Peanut Butter No Bake Cereal Bars
Additional Time:
20 minutes
Use pantry staples like o-shaped cereal, peanut butter, and chocolate chips to make a quick, no-bake sweet treat. They are perfect for sharing.
Ingredients
5 cups of Cheerios, or your store brand O-shaped cereal
10 ounce bag of miniature marshmallows
One full cup of semi-sweet chocolate chips
1/3 cup of creamy peanut butter
Three tablespoons of salted butter
Instructions
Gather your ingredients before you start to make the cereal bars. Prepare a 9x13" pan with non-stick cooking spray. Melting the marshmallows requires close attention to avoid burning.
Put the butter into a heavy pot on your stove top, and begin to melt it at medium heat.
Add the marshmallows and peanut butter. Use a spoon coated with non-stick spray to stir these items around to avoid scorching. This takes about five minutes; you may adjust the heat up just a notch if you find they aren't melting for you.
After the marshmallow, butter, and peanut butter mixture is smooth, stir in the Cheerios™
Turn off the stove. Stir in the chocolate chips and fold them in until evenly distributed.
Turn into the prepared 13x9" pan and smooth out the mixture. Cover and put the cereal bars in the fridge for about twenty minutes; they will become firm enough to cut. use a sharp knife to cut into cereal bar squares and serve.
Notes
If you happen to have unsalted butter on hand, add a small pinch of salt to the ingredients. It really sets off the flavors.
Feel free to be creative, this recipe is very forgiving! For instance, you can try milk chocolate chips or white chocolate if you prefer them.
Store these in a tightly-capped storage container. These cereal bars keep well for several days. Ideal for sharing with friends and co-workers.
Variations of These Cereal Bars
Get creative, and feel free to add the stir-ins that you love. This method is very basic–and forgiving. These might be some delicious substitutions or stir-ins you might try:
White chocolate, milk chocolate, or peanut butter chips instead of semi-sweet dark chocolate chips
Chopped pecans or walnuts
Toasted shredded coconut
Roasted almonds
Cranberries
Raisins
Chocolate Cheerios™ instead of the plain variety
The possibilities are limited only by your taste buds. So make up a batch of cereal bars that best suits your taste.
Please remember to sign up for our newsletter for DIY tips, gardening advice, and recipes like these cereal bars delivered straight to your in-box. As always, have a happy DIY day.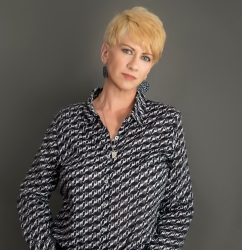 Latest posts by Deborah T
(see all)