In Las Vegas, Nevada's largest city, the weather is usually cold in winter but very hot in summers. However, the nights are freezing cold. The town is near the Mojave Desert, the westernmost desert in the United States. It is in the same region where the Death Valley is based.
Summer days are extremely hot with blazing sunlight, and a hint of dry wind blowing in gusts in Las Vegas. Usually, you will experience the sun shining bright with a temperature that typically goes higher than 40 °C (104 °F), particularly in summers.
If you think that Las Vegas has hot weather, then you are in for a surprise; Las Vegas has freezing cold weather at night times.
Find below a few handpicked packing tips that will be a lifesaver for you if you are facing a packing crisis.
How to Pack for the Weather in Las Vegas
Here are some packing tips–one thing is for sure, you can expect the unexpected! Take a look at these hints before you pack up that suitcase!
1. Sunscreen
The summer days in Las Vegas can easily hit the 100 degrees Fahrenheit mark. It means that at times, you will find the sun right above your head with blazing sunlight. Walking the Las Vegas Strip in that weather would give you a severe sunburn if you're not wearing sunscreen all the time. Sunscreen must be the first thing you should pack when you decide to go to Las Vegas.
The American Academy of Dermatology suggests that you must use a sunscreen that is at least SPF 30, resistant to water, and has wide-spectrum coverage. Don't forget to reapply it on your skin after every 2 hours or when you get wet.
2. Clubbing Outfit
You'll certainly want to look your best at the Las Vegas night clubs. So, if you have some blingy dresses that you were never sure where to wear them, then Vegas is the right place to wear them. You must ensure that you are aware of the dress codes in Nevada. There are many places that might not let you enter if your dressing is not proper.
Usually, it's easier for women since they can dress as they wish. However, men will have to take note of the dress code. Most night clubs in Las Vegas will not let you enter if you are wearing jeans, baggy pants, caps, t-shirts or jerseys. The best thing to do is do your research before you go and keep a formal attire with you to be on the safe side. Who would not want to go to the world-famous night clubs in Vegas?
3. Sunglasses and Hats
On most days in Las Vegas, the sun is out, and the sky is blue. But the sunlight can get uncomfortable if you're sunbathing or driving. Make sure that you cover your eyes with a pair of wooden sunglasses. They will protect your eyes and add more character to your outfit. Hats are yet another way of protecting your face from a bad sunburn. It's particularly necessary to wear a hat if you're hiking in the Red Rock Canyon, where there are no shelters that can protect you from the sunlight.
4. Winter Coat or Jacket
Even though many people perceive Las Vegas as a very hot city, but contrary to popular belief, the nights here can get cold. The temperatures at night in summers may fall as low as 50-degree Fahrenheit. Ensure that you pack jackets, coats, and other layers of clothing to stay warm when heading from one place to another.
Not just the night, but even in the day time when you hit the club, hotels or casinos, usually the air conditioners are on a very low temperature that can make you feel very cold. Do not let the desert location fool you. It's good to have a warm sweater or scarf with you all the time in Las Vegas.
5. Comfortable Shoes
Wearing heels and oxford shoes is not the ideal footwear choice, especially when you plan on exploring Las Vegas on your feet. While you may look outstanding, your feet will hate you for a long, long time. The Las Vegas Strip is about three miles starting from the Mandalay Bay to Encore.
Walking on the Las Vegas Strip usually takes about one hour–at a minimum. This is the time if you don't make any breaks (which is very difficult to do with all of the pleasant distractions). You must pack at least one comfortable pair of shoes, preferably trainers, for your Las Vegas trip this summer. If you still wish to wear heels or other fashionable footwear, pack them just in case. Plus, don't forget to pack your flip-flops in your backpack so you can rescue your feet when needed.
Remember to pack a pair of hiking shoes to hike through the rocky trails if you plan on going to the Red Rock Canyon or other hiking spots.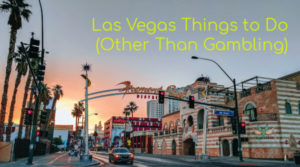 6. Vegas Day Outfits
You don't have to worry about the day outfits in Vegas. You can wear pretty much anything that you like. Don't forget that Las Vegas is hot during the day, so its best if you pack a few jeans, pants, and skirts. For tops, you can keep some cool, summery shirts that are not too warm. It would be great to pack some full sleeve shirts if you don't plan on getting tanned, it would also save you from the sunburns.
Las Vegas is a great place to visit; it has everything. You can make your trip even better if you pack wisely, so you have everything you need in Las Vegas.
Bonus Tip: Swimwear!
Las Vegas has some of the best beaches in the world. The Mandalay Bay Beach and Laguna Beach are an attraction loved by many. If you go to Las Vegas and do not visit these fantastic "beaches," did you even go to Vegas? Make sure that you pack a swimsuit or a bathing suit that you feel comfortable in, so you can enjoy the beaches to the fullest.
Many hotels in Las Vegas have amazing pools where you can swim or relax. It would be a good idea to enquire whether the hotel you are staying in is providing pool towels or not. If not, it's best to pack one with you as it would come handy at the beaches too.

The Bottom Line of Packing for the Las Vegas Weather
When it comes to planning for the desert climate, know that you may see two temperature extremes. Pack accordingly! You'll ensure that you have all that you need. And, if you do forget something…well, that just gives you an excellent reason to indulge in some of the hottest shopping spots in the country.
Latest posts by Shahzad Khan
(see all)