Stop complaining about your limited bathroom space! There are several storage measures you can consider to create that much-needed extra space. And the good thing is that they're simple, easy to do and in most cases, don't require money.
Here are a few bathroom hacks to make your bathroom even more impressive and spacious: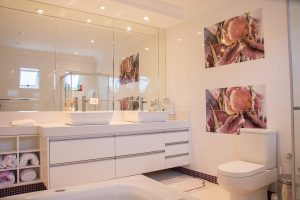 Photo by Pixabay on Pexels.com
Organize your bathroom toiletries and have them in easy-to-access locations
Consider having small storage units in your drawer space. Because this will help declutter your bathroom counters.
Additionally, this will make it easy to locate items. If you don't have drawers, then place your toiletries contained in shallow trays (of course stored in glasses such as mason jars) on top of your bathroom counter.
This will not only save you space but also simplify the cleaning process.
And if you're a creative state of mind, then you may opt for hanging some decorative containers on your walls to help store other toiletries such as toothbrushes and toothpaste.
Use baskets or shelves to display and neatly store towels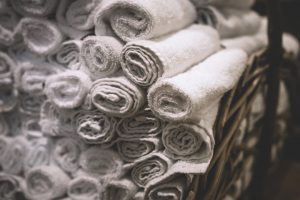 You can make this by yourself—simply have a line of shelves on your bathroom wall to help hold your rolled towels. Why roll them? To save space.
However, you may also opt to keep your towels folded if you have abundant space to store your towels. Use either the baskets or stack them directly onto the shelves
Add a tension rod to your under-sink cabinet
Here you can hang your cleaning detergents and the cleaning towels. In fact, you might even create and utilize enough extra space to keep your cleaning bucket. This will make your bathroom free of messy-looking cleaning supplies.
Use a small rod in your medicine cabinet
Remember you can also add a short rod to your medicine cabinet, and have some of your jewelry hang there. This tip keeps your jewelry a lot easier to access and keeps it tangle-free.
Consider adhesive hooks or self-adhesive magnets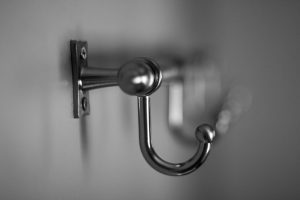 Place adhesive hooks or self-adhesive magnets inside cabinet doors. This will make it easier when it comes to locating the seemingly tiny items like hairpins and lip balm. You may as well have removable hooks on the side of your cabinet and use them to hang your precious jewelry like necklaces.
Mount wire baskets for toilet paper storage
Bulky rolls of toilet paper taking over your linen closet? No worries. Simply use wire baskets (installed as your floating shelves) to neatly hold your tissue paper.
All you need is drywall anchor(s), washers, and some screws, and you'll be ready to anchor your baskets on the wall and use them.
Conclusion
Getting that extra space in your bathroom calls for a small dose of creative thinking! Plus, you'll only spend a few dollars on the supplies you'll need to make these little tweaks in your bathroom. Obviously, it's one of the vital areas of your home because it's where you spend time preparing yourself for the day.
Without a doubt, an organized bathroom enhances your preparation process by saving you time because you can easily locate everything you need. Additionally, a less-cluttered bathroom is also easier to clean.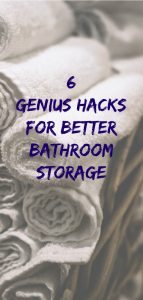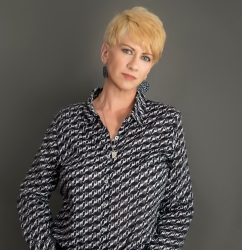 Latest posts by Deborah T
(see all)