It is a classic solution: cream carpet. Developers choose it to show off warm but bright interiors. Interior designers regard it as a fairly cheap and generic option that causes zero offense. The only problem is that it only takes one spilled coffee/ wine/ juice and you have a big stain to get rid of! We are sharing 3 flooring solutions that will serve you better than that old standard cream carpet.
Cream carpet might be the perfect neutral but it certainly isn't ideal for real life. Instead, you should look at a few different options to see what might be a little more practical. Plus, you can bring a little more character to your home.
Wood Flooring
Wood flooring is often found in historic buildings and with some simple wood floor refinishing is all you need to make the most of its natural characteristics. Hardwoods are usually the best choice as they will last a long time with proper care, but this doesn't mean that you need to have a dark color.
Wood floors can be treated in all kinds of ways and there's no reason that you can't paint it the color of your choice – as long as you choose the right kind of paint! White paint is often a popular choice as it makes the room feel brighter but choosing off-whites, grays or even soft greens and browns might be slightly kinder to the eyes. Bamboo is a grass with a lower price tag than wood. It's a fast-renewing eco-friendly source.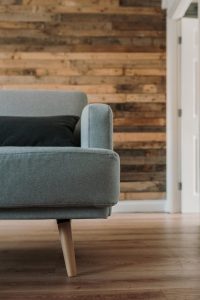 Floor Tiles
Don't confine tiling only to the kitchen and mud room!
Floor tiles have a reputation for being cold. But if you are prepared to go the whole hog and get underfloor heating, this won't be a problem. The best thing about tiles is that they add instant character. Fortunately, they are easy to keep clean and pretty difficult to stain. Plus, tiles are often cheap to install and last a long time.
In 2018, tiles finally escaped the bathroom and have become features in living rooms and kitchens alike. Part of the reason for this is that tiles now come in all kinds of different colors and looks. So if you like the idea of a wooden floor but can't afford it and don't want the maintenance, choose lookalike tiles instead.
Poured Concrete
If you want to brighten your interior, you might think that poured concrete would be the last thing on your mind. However, with all the different colors and finishes available, poured concrete is actually a great way to create a shiny floor. And you'll be able to complete the job without too much expense. Again, underfloor heating is your friend and you could always warm up the room with an area rug!
The versatility and easy-care nature of concrete are the main positives but it can be quite hard underfoot which isn't for everyone. The other thing to consider is the environmental effect of concrete. This is quite controversial because on the one hand concrete production is basically terrible. But on the other hand, it will last for a ridiculously long time.
However you choose to finish your home, the floor you select must be a sensible choice for you and your family. Break the mold! Go for something a little different is always the best way to show your taste and personality. Plus, you can almost guarantee that cream carpet won't be found anywhere!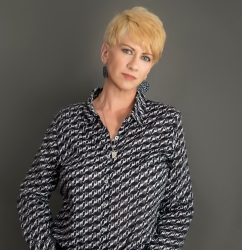 Latest posts by Deborah T
(see all)