"For I know the plans I have for you," declares the Lord, "plans to prosper you and not to harm you, plans to give you hope and a future." Jeremiah 29:11. The roasters at Sweet Mae's Coffee Co. stamp this verse on the label of packaging of their aromatic, hand-crafted coffee products.
Without a doubt, He does have giant plans for this fledgling boutique roastery.
I am fortunate enough to live near Sweet Mae's Coffee Co., a roaster near Ahoskie, North Carolina. While the business does not have a sit-in cafe (yet), you can purchase bags of their bespoke coffee beans. They also roast to order and ship quickly.
User Reviews of Sweet Mae's Coffee
Buyers who tried Sweet Mae's Coffee had these comments (on their Facebook page–give this small business a follow).
"This coffee is AMAZING!!! It's the freshest coffee I've ever bought! Made to perfection! You're going to love it! It's sooo good! You are going to want more. "
and then there's this review:
"Holy cup of goodness!!! Just one sip and I'm in love Big PaPa is hands down one of the smoothest coffees I've ever tried. No bitterness and just overall perfect!! Thank you so much!! I need this on auto ship"
Anyone who followed DIY Home & Garden for more than ten minutes knows that we have an ongoing love affair with coffee around here. After seeing these reviews, I had to try Sweet Mae's Coffee for myself.
Sampling Sweet Mae's Coffee
First, let me assure you that I do NOT need to give a legal disclosure of monetary gain. I did NOT receive compensation, nor am I a paid spokesperson for Sweet Mae's Coffee Co. My opinions and views are my own. I tried it on my own because I love and support small businesses.
It's also worth mentioning that the roaster started to offer K-Cups as an option in the couple of weeks since I sampled these delicious coffee products. So if you love single-serve coffee in a Keurig, don't let the photos of bagged coffee dissuade you.
When I sample coffee for reviews, I prepare each pot precisely the same:
Starting with cold water
Professionally ground by the roastery
The exact number scoops into the cone filter
Heating water just to a rolling simmer, removing it before it reaches a full boil
Using my large Mellita Pour-Over Coffeemaker (My favorite coffeemaker for over twenty years. Literally the same one! It's old-fashioned, but no electronics means it never breaks down!)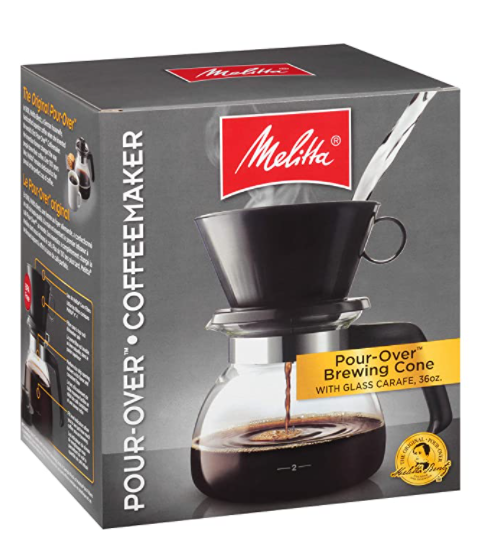 Following the same steps with each coffee, review ensures fair, apple-to-apple comparisons and flavor consistency. I.e., I'm not making a "bad" pot of coffee.
Now that we have the business out of the way let's sample that coffee!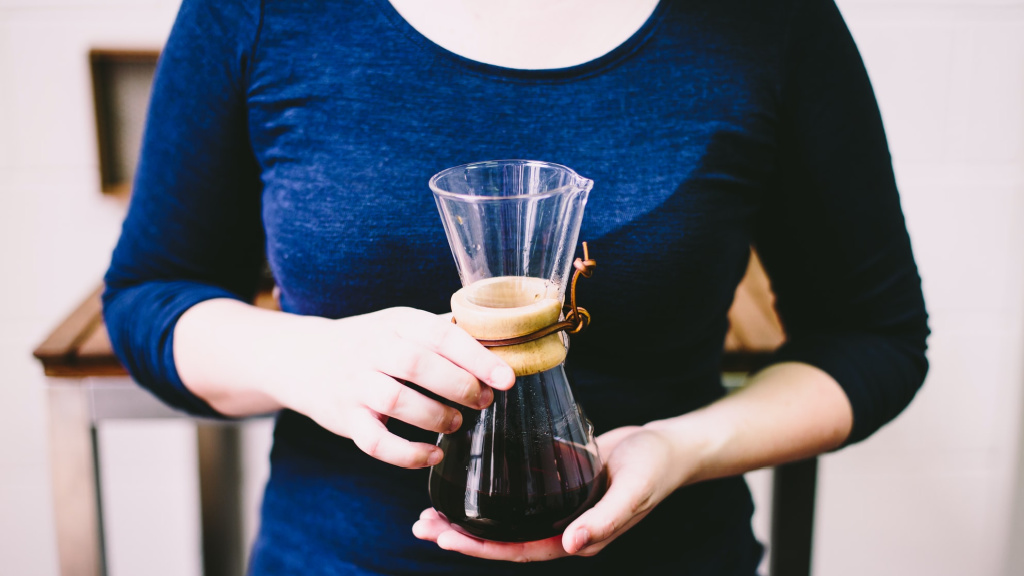 Mae's Mocha:
Do you love an excellent mocha java in the morning? Mae's Mocha is the perfect base for concocting your favorite coffee drinks. It has a fragrant, rich bloom–as soon as I started pouring the hot water over the coffee, I got the full fragrance.
The taste is rich and complete, but it has no hint of bitterness (like other more robust Arabica roasts often have). The finish is smooth and luxurious with a creamy bite. I could not stop at one cup, despite taste-testing in the afternoon.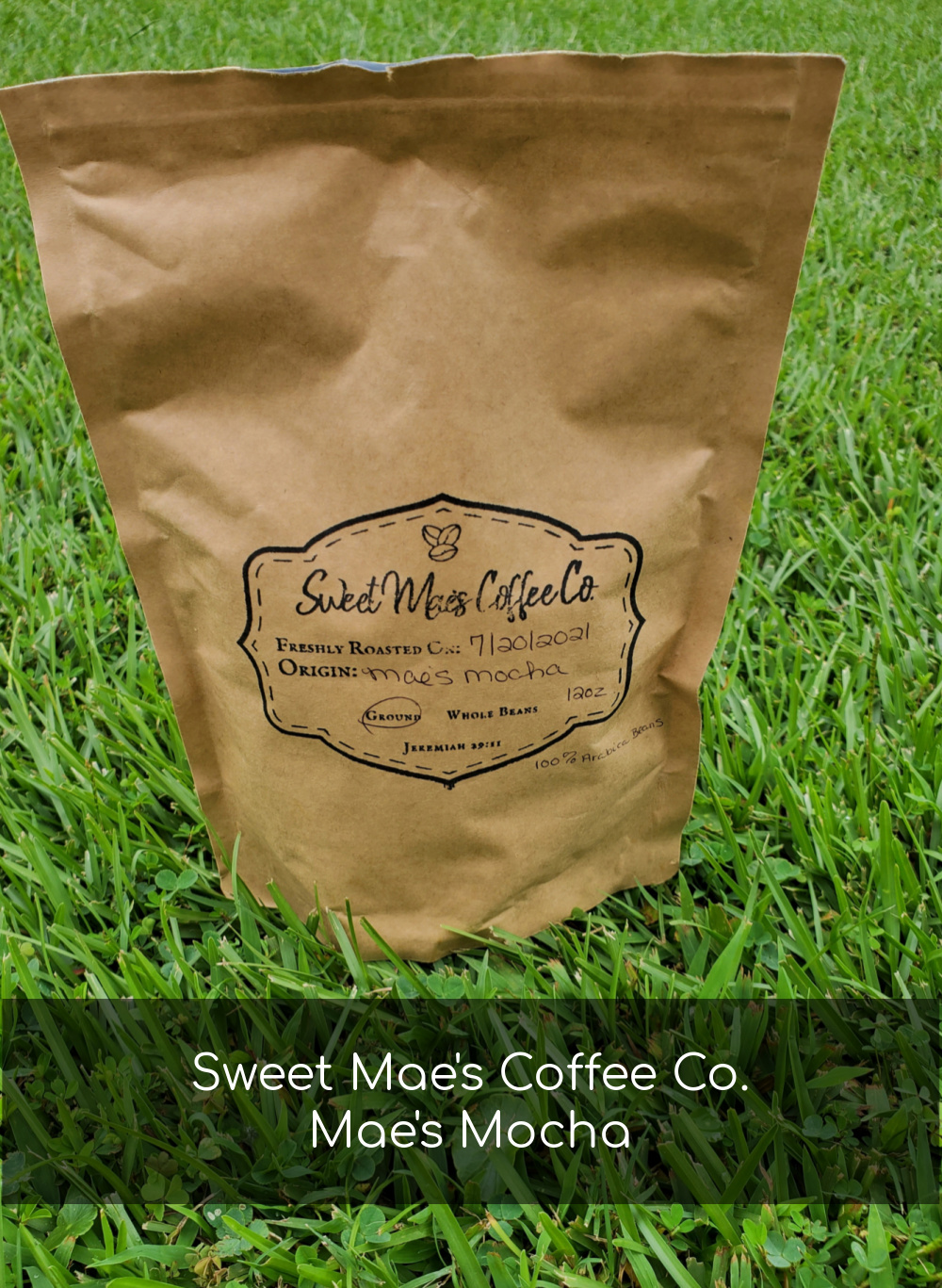 El's Roast
What do you get when you cross a medium roast with 100% El Salvadoran Arabica beans? Sweet Mae's Coffee Company's El's Roast!
As the name implies, Mae sources these beans from El Salvador. And that's important because El Salvador provides a climate ideal for coffee farms. The high altitude, warm climate, and fertile volcanic soil make the country one of the world's largest coffee exporters. Besides that, most of the farms grow in cooperative groups that work together to sustain local economies.
But back to that El's Roast…
As I poured the water over the coffee, I smelled a definite sweet aroma. And when I tasted it, it did not disappoint!
El's Roast tastes slightly nutty with a slight hint of chocolate. The medium roast blend perfectly complements your favorite breakfast or afternoon cookie break!
Back the Blu
The Back the Blu blend starts with a special bean–the Brazilian Jazblu. This exotic Arabica bean hails from the exotic Brazilian peaberry.
What's a peaberry? It's a mutation within a coffee bean that many coffee experts believe intensifies the flavor. Quick explanation. Coffee is a fruit similar in size to a cherry. Each bean usually has two seeds within a rounder-shaped fruit.
On the other hand, a peaberry has an oval, flatter shape and only a single seed. Growers often claim that because the fruit is only nourishing one seed and not two, that the flavors intensify. This "peaberry" mutation occurs in approximately ten percent of coffee beans, making them relatively rare.
Okay. Okay. Science lesson over.
So how does Back the Blu coffee taste?
When I first poured the water into the pour-over, I did not get as strong a coffee fragrance as most varieties. It was pleasant, just not as pungent as I expected. However, the excellent flavor of the coffee became apparent at first taste. And it was enjoyable.
Mae blends this to a medium roast, I believe on the lighter end of the medium range.
The coffee tastes slightly sweet with a smooth and nutty flavor. Despite the less fragrant start, the flavors were surprisingly complex, and it finished without bitterness. I plan to purchase more of this for sipping on cool afternoons on the porch this fall and winter.
Big Papa (my personal favorite of the Sweet Mae's Coffee varieties)
Papua New Guinea is a tiny island Indo-Pacific country located about 95 miles off of the northeastern tip of Queensland, Australia. There, the location is just south of the equator, where high, volcanic mountains with fertile soil. Of course, that location means excellent coffee growing conditions. To draw a more familiar comparison, consider Indonesian-grown java beans (they are relatively nearby neighbors!)
Of the several Sweet Mae's Coffee Co products I purchased, this bean is my hands-down favorite! Mae roasts this to a medium-dark flavor for the bold and complex flavor that such a spectacular bean deserves. The fragrance bloomed as soon as the hot water hit the coffee, making me hardly able to wait for my first sip.
The flavor is luscious with slight notes of chocolate and a sweet hint of caramel goodness. The ever-so-slightly acidic finish is my personal idea of the perfect cup of coffee.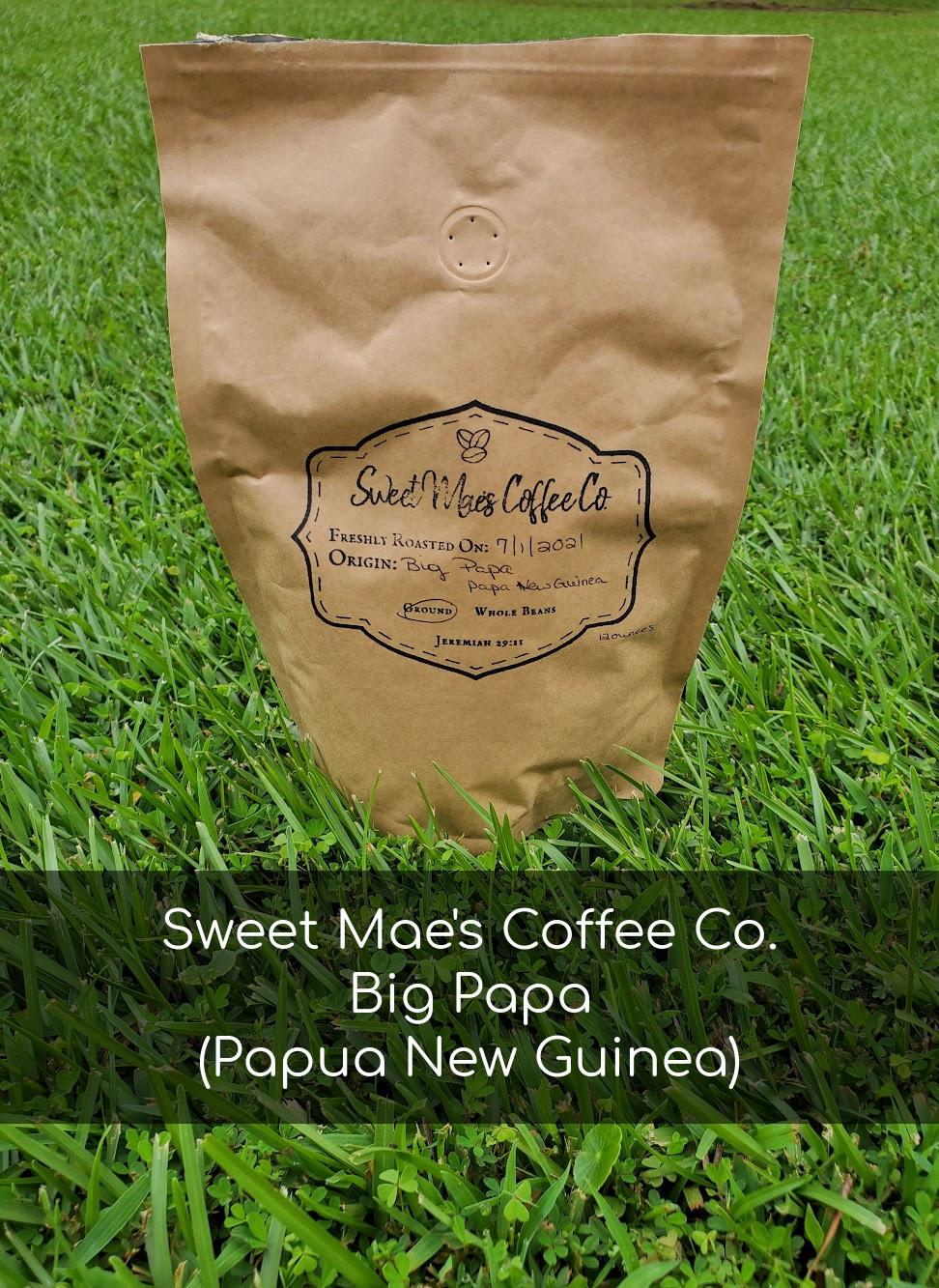 Little Papa
Little Papa is a light roast variation of the Big Papa roast. It comes from the same Papua New Guinea bean, but Mae brings this to a lightly roasted finish. The same aroma emerges as the water drips through the coffee, but it is ever-so-slightly less aromatic.
You still pick the sweet caramel and chocolate flavors, but it is more subtle. The roasting is masterful, and the flavors remain complex. Mae just roasts it in a "lighter" finish.
Sugared Columbia Decaf
As you probably guessed from its name, Mae starts with a Colombian bean when she roasts this bean.
Colombian coffee farms enjoy prominence throughout the world. The farms there perfected coffee-growing almost two hundred years ago. Plus, the java bean is one of its most important exports, accounting for about 15% of its GDP. This industry employs over 2 million Colombian people, lifting people out of poverty in most rural parts of the nation. Colombia is the world's third-largest coffee exporter (following Indonesia and Vietnam).
Full disclosure. Decaffeinated coffee is not my thing. However, I fully understand that many people cannot consume caffeine, so I always try to include a decaf blend in all my coffee brand reviews.
Despite not having an affinity for decaf blends, this Arabica medium-roast impressed me. The pure coffee fragrance rose from the pot as soon as the first splash of water hit the coffee. The aroma was surprisingly pleasant.
The tastes is pure coffee goodness, unfussy, and simple. I picked up a light hint of sugar–perhaps cross-pollination with Colombia's sugar cane crops? It was very refreshing with a relatively smooth finish with a pleasant bite at the end. This decaf might be the one that I start to keep on hand for my friends who can't have caffeine!
Even if you do not prefer decaf, this coffee is well worth a try!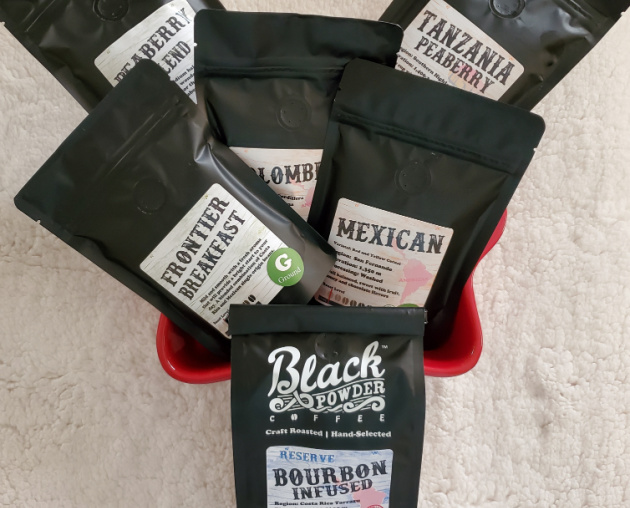 The Takeaway: High Marks for Sweet Mae's Coffee Co
Sweet Mae's Coffee Co is relatively new on the coffee scene. But despite their recent entry into the boutique roasting industry, I give them high marks for both taste and customer service. Give this up-and-coming coffee company a try. They won't disappoint you!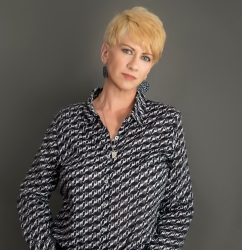 Latest posts by Deborah T
(see all)