Is your home ready for hot weather ahead this summer? With only a few months left before temperatures start to soar, it could be worth it to spend some time preparing your home for the summer heat.
6 Tasks to Help You Prepare for the Upcoming Summer Heat
1 – Tidy up your backyard
As the temperature rises, you could find yourself wanting to spend more time outdoors. Make sure that your backyard is clean and tidy so that you can enjoy it to its full extent.
Take the time to get your lawn into shape – this could include getting rid of weeds and trimming it. If you've got a patio or decking, you may also want to give this a jet-wash so that it's nice and clean.
Now could also be a time to repaint fencing and wooden/iron furniture if it's peeling and looking shabby. Try looking into weatherproof paint options that will last so that you don't have to apply new paint as often.
2 – Make sure your air conditioning is working to beat the summer heat
You also don't want to be entering summer with weak or faulty air conditioning. Before the heatwave arrives, make sure to turn on the air conditioning to check that it's working correctly. Make sure that it's adequately cooling your home and that there aren't any strange noises or strange smells.
If your AC is broken or you don't have a cooling system in place, now might be the perfect time to consider AC installation. Take the time to compare the various AC systems that are out there – some systems will have more cooling capacity making them better for bigger homes, while others may be more energy-efficient, helping to save you money.
3 – Guard your home against pests
Summer can be a popular time for pests to come out. This could include ants, termites, wasps, or mosquitoes. By taking various preventive measures now, you can keep these creepy crawlies away from your home.
You may want to start by checking the area for nests and getting these removed by professional pest control services. Wasps often nest in trees or in attics – check these areas for nests. Ant and termite may be a little harder to pinpoint.
After getting rid of nests, you can look into methods of repelling pests such as hanging fake wasps nests or using citronella candles. Insect traps may also be useful for catching insects.
You could also try checking your home for holes and cracks that could serve as an entrance – these could be sealed up with caulk.
4 – Clear out the freezer
You may want to use your freezer during the summer for storing ice creams and meat for the barbecue. If it's already full of food, now could be the time to get through some of these food items.
Take a look through these frozen foods and start planning out meals that incorporate them. If you've only got a small freezer, you could even use this time to buy a new freezer so that you've got more storage space.
5 – Change your bedding
To stop yourself from getting hot at night, it could be worth changing your bedding.
If you've currently got a thick duvet on the bed, you may want to consider buying a thinner blanket that you can switch to when it's too hot to cover yourself with a duvet. There are lots of lightweight summer quilts that you can look into.
As for your bedsheets, consider switching to cotton if you don't already use cotton sheets. Cotton is very breathable and could stop you from getting as sweaty during the night.
6 – Buy extra fans
It may be worth buying a few portable fans to provide some extra cooling in your home and to prevent you from relying on the air conditioning as much. There are plenty of cheap and effective tabletop fans on the market that can rotate to help cool an entire room.
Position these fans in the right places to get the best out of them. Most people direct fans so that they're facing into the room, but actually, it can sometimes be more useful to have them facing an open window on a hot day so that they stop the hot air coming in. Positioning multiple fans in a room can meanwhile help to circulate air around the whole room.
With these easy tips, you'll be sure to beat that looming summer heat.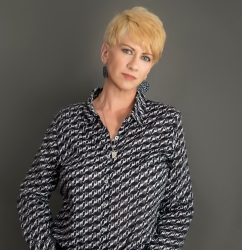 Latest posts by Deborah T
(see all)