Refrigerator pickles are an easy way to "put up" some of those fresh cucumbers pulled right off the vine for short-term consumption.
And this recipe uses pantry items you have on hand in a tangy and delicious ranch dill flavor that you are sure to enjoy. The tang of the dill is noticeable without overpowering the taste buds. It's delightful!
Every gardener knows the dilemma. You have a bunch of pickling cucumbers ready–and you don't want to waste them. But you don't have a batch large enough to can an enormous batch of canning. You've already shared your bounty with the neighbors.
But you still need to do something.
These refrigerator pickles don't require tons of cucumbers or effort. But they taste like they did! They last for about four to six weeks in the fridge. Pickling extends the short life of the unpickled cucumber but without the effort of canning.
As with all home food reservation methods, check with your local ag extension office if you have any questions or concerns. Recipes and methods sometimes vary based on altitude and other factors.
Good compromise.
How Long Do Refrigerator Pickles Keep?
Keeping your refrigerator pickles tightly capped between uses and the fridge, they will last you for about four to six weeks. You cannot store them on the countertop or they will turn bad. Moreover, they develop bacteria that can make you sick if you do not store them lidded and refrigerated. Like any refrigerated food, keep them nice and cold.
You will likely find that you eat them much faster, this recipe is so good you might even call them addictive.
How Do You Use Refrigerator Pickles?
You can pile these ranch dill pickles on sandwiches, in your favorite wraps, as a vegetable side dish, or even bread and air fry them for a tangy snack.
In short, you use the output from this recipe the same way you use any other pickles.
What's the Difference Between Refrigerator Pickles and Canned Pickles?
The key difference between canned pickles and refrigerated is that canned pickles process in a boiling water canner, making them perfect for long-term storage and shelf stability. This processing time also means that it takes more time and effort to make them.
On the other hand, you do not can refrigerator pickles in a boiling water bath. Thus, you must consume (or share) them within the four to six-week time frame mentioned previously. However, they are quick and easy to prepare, perfect for smaller harvests of pickling cucumbers.
Are Refrigerator Pickles Healthy?
Refrigerator pickles are super low in calories, making them ideal for adding flavor without calories. However, they contain canning salt which is fairly significant in terms of sodium. As with any food, eat them in moderation.
How Should I Cut the Pickling Cucumbers?
As you wish–thin spears or sliced into dill pickle chips! I like making thin slices. My husband piles them on his homemade cheeseburgers and I like them in the turkey and veggie wrap I make for lunch most days. So if you prefer spears, go for it.
One note on cutting–do not remove the cucumber peels, they help the refrigerator pickles hold their structure and add healthy fiber, too!
How to Make Ranch Dill Refrigerator Pickles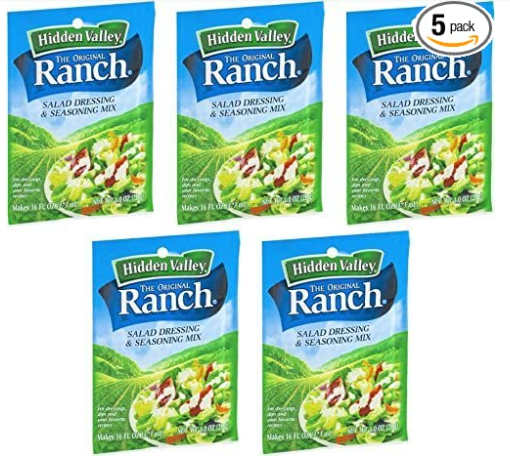 Before you start making, make sure you have easy access to the following kitchen items:
Large saucepan
2 – one-quart canning jars
2 – canning lids and rings (sized to fit the jars)
Canning funnel
Pot holders
Kitchen towels
Ladle
Kitchen knife
Cutting board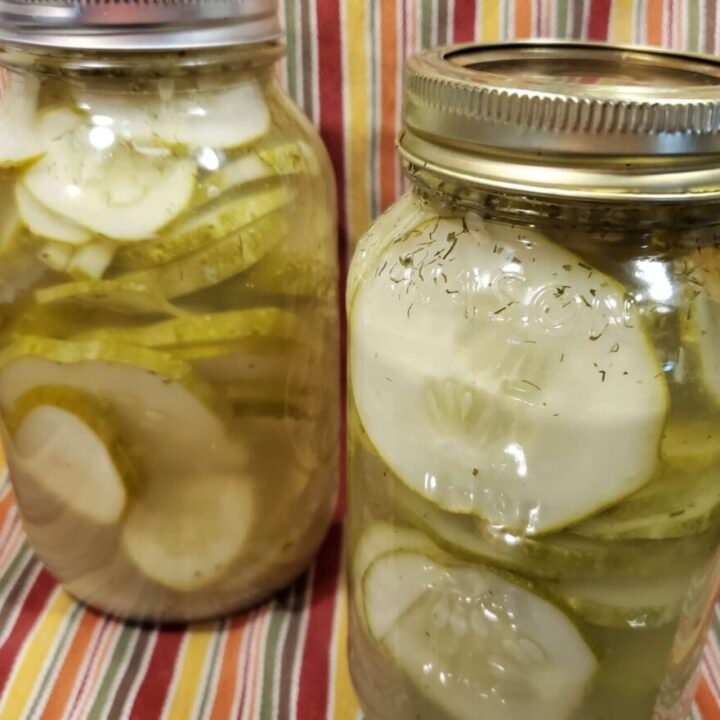 Ranch Dill Pickles (Refrigerator Pickles Recipe)
Total Time:
3 days
20 minutes
This Ranch Dill Refrigerator Pickle recipe is the perfect way to use up a small yield of cucumbers. Make them with pantry staples, no special stuff necessary! The flavor is slightly tangy without overpowering and the pickles have a pleasing crunch.
Ingredients
6 cups of water
2 1/2 cups of white vinegar
1 Tbl of granulated white sugar
1 Tbl of canning salt
1 Packet of dry ranch dressing seasoning
1 Tbl onion powder
1 tsp dried dill
6 cups of cucumbers, cut into slices or spears
Instructions
Put the ingredients for the liquid in the sauce pot: water, white vinegar, sugar, dry ranch dressing packet, onion powder, dill, and canning salt. Bring it up to a boil. Once it boils, it is ready. Remove it from the stove to let it cool for just a little bit. It will still be warm but you don't want it boiling when you add it.
While the liquid boils, scrub and cut up the cucumbers into chips or spears using a sharp knife. Pack the cucumbers into two one-quart mason jars.
Use a ladle and canning funnel to add the liquid to the jars. Cap them immediately and let them cool for thirty minutes on the countertop (so you don't lower the interior temperature of your fridge). After that brief cooling period, put them into the fridge and let them soak up all the good flavor for three days before eating them.
Notes
Be sure to replace the lid and return the jar to the fridge every time you use these refrigerator pickles--food safety is always essential.
The Takeaway: Ranch Dill Refrigerator Pickles Are Easy to Make and Sinfully Delicious
This method of pickling takes less time and effort, but the flavor is phenomenal. You'll love the mild tanginess, the ease of preparation with pantry ingredients, and having these crunchy refrigerator pickles to snack on for as long as six weeks–if they last that long!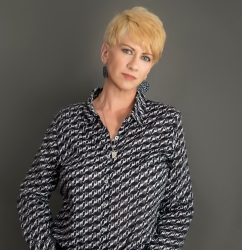 Latest posts by Deborah T
(see all)