Are you worried about moving and how your new home decor will look?
For the home decor lovers among us, nothing quite beats moving into a new property. The possibilities of a blank canvas are endless. Plus, the chances are great that you'll want to get stuck in as soon as possible. The trouble is that, when you're caught in the technicalities of moving, it can take a few weeks, at least, until you're even able to think about how you want the space to look.
This is terrible news! Especially considering that tailoring the space to your style is the only real way to make your home more comfortable. Spend too long living with someone else's vision, and you'll certainly find it difficult to settle or see the full scope of a property's potential for home upgrades later on.
3 Considerations for New Home Decor
Instead of moving first and decorating later, anyone embarking on a home move should prioritize home styling. Here, we're going to consider three simple ways for you to do precisely that.
1 – Take pictures at the viewing stage
It's impossible to know how you'd like property to look if you've only seen it once. Not to mention that, in the time from viewing to moving in, it's easy to forget the smaller details. That's why it's always worth taking pictures during your initial viewing of a property, with a focus on feature walls or the spaces you'd like to style first. This way, you can keep the property fresh in your mind, and begin to develop a new property design board that could just help you to settle on the styles you'd like well before you've got those keys. Then, when you're finally back in that space again, you can get stuck right in.
2 – Hold off moving if you can
There's a temptation to move into a property as soon as you get the keys. But, if you can help it, it's worth holding off until you complete the new home decor. After all, when you're living in a space, it's much harder to paint, change carpets, and renovate.
By comparison, an empty house is, quite literally, a blank canvas. You might be able to perfect an empty house in as little as a week. So, hold off moving out of your current property if you can, Perhaps you can stay with friends and family for a few days so that you can ensure you're moving into a property that's already how you want it.
3 – Get organized on the day
If you can't hold off, then make sure you get organized with your decor intentions in mind on moving day. Most notably, it's worth advising your movers to put everything in a spare room, or at least the rooms that can wait a while. Then, you'll be able to get down to business right away in empty rooms that are just crying for a lick of paint.
The Takeaway: New Home Decor Makes You Feel More at Home in Your New Place
We understand that you'll have a lot going on as you get ready to move. But honestly, the chances are that you just want to close the door of your new home at last. Lastly, trust us when we say that you'll be happy with your new home decor when you're sitting in your dream living room at last.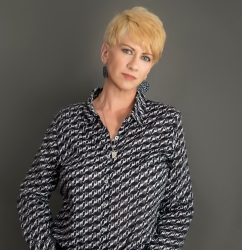 Latest posts by Deborah T
(see all)