This jojoba oil makeup remover is so good for your skin. Unlike the drugstore products that sometimes leave residue behind, it removes every trace of makeup. Besides that, it treats your skin to a rebalancing of the natural oil in the outer layer of your skin.
Your skin, the epidermis, is the body's largest organ! So just as you want to treat your other organs well, you should also treat your skin with kindness.
Why Try a Jojoba Oil Makeup Remover?
According to research published by the International Journal of Molecular Science, several plant-based oils, including jojoba oil, can effectively restore your skin's moisture barrier. However, unlike some other oils, it is considered safe for use on oily skin.
While you might want to tissue it off your skin faster if you have oily skin, you can apply the jojoba oil makeup remover and let the product quench your skin even longer if you have drier or aging skin. This product feels fantastic and smells amazing while it goes to work for you.
Using the Jojoba Oil Makeup Remover
This jojoba oil makeup remover requires only four ingredients (shopping links below!):
When ready to remove your makeup, apply the jojoba oil makeup remover to a cotton ball or round. Generously apply it all over your face, avoiding your eyes. Let the product penetrate through the makeup for about a minute. Then you can tissue it off or remove it with a warm, damp face cloth. The latter is my personal favorite because the warm cloth releases the wonderful orange essential oil.
You might wonder the following…
Why do you need to remove makeup first. So why not just wash up? Cosmetics formulas specifically grip your epidermis, so they don't slip off during wear. Today, we demand long-wearing, fuss-free formulas that we don't need to reapply or touch up. Using an oil-based formula creates "slip," breaking the bond between the cosmetics and your skin.
After you remove all residue of your face products, be sure to also cleanse your face well, following with your favorite serum and moisturizer. Treat yourself to the occasional exfoliating scrub, as well. By the way, the rosehip seed oil you use to make can pull double duty as an incredible anti-aging serum, according to a 2015 study.
Without further ado, here are the printable instructions and a video so you can see how to make a small bottle of jojoba oil makeup remover: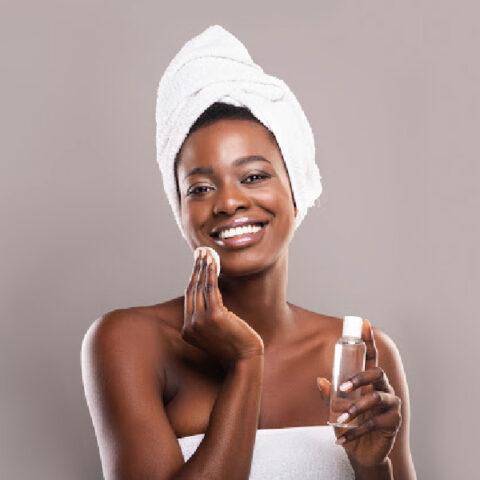 Jojoba Oil Makeup Remover
Make this healthy, inexpensive, and effective Jojoba Oil Makeup Remover to treat yourself to total, complete removal of makeup while rebalancing the balance of oils in your skin. Jojoba oil is safe for ALL skin types (even oily) and tones. Making your own makeup remover is healthier and cheaper than purchasing it at the makeup counter.
Materials
2 ounce jar or bottle (brown bottle preferred to block light rays)
20 drops of Orange Essential Oil
1.5 ounces of Jojoba Oil
1 tsp. of Vitamin E Oil
2 droppers of Rosehip Seed Oil (about 1 tsp)
Instructions
Pour the jojoba oil into an empty jar or bottle (I upcycled an empty purse-sized hand sanitizer bottle)
Add the Vitamin E oil, carefully drop in the 20 drops of orange essential oil, and finish by adding the rosehip seed oil.
Shake well.
Notes
To remove makeup, apply the makeup remover oil to a cotton pad. Apply to the face and let the oil penetrate your makeup for as much as a minute (it feels and smells sooooo good!). Wipe off with cotton rounds or a warm face cloth. Finish by thoroughly cleansing your face and neck.
The Takeaway: Replace Commercially Prepared Products with Jojoba Oil Makeup Remover
In short, your skin will benefit when you replace those commercially prepared products with this homemade makeup remover. You will feel delighted by how well this releases the makeup from bronzers and long-wear foundations to stubborn red lipsticks. It works effectively, smells fantastic, and will help your skin achieve a healthy, balanced appearance. You will glow!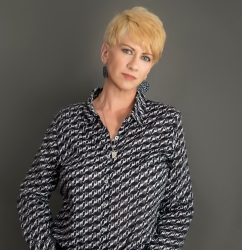 Latest posts by Deborah T
(see all)