DIY home decorating is easy when you use glass in your decor. DIY decorating is all about having options. You want to keep on the latest trend with the ability to opt out quickly and jump onto the new trend. Glass accessories allow you to make quick changes to your accessories due to the wide range of options, color and style choices, and affordability.
RELATED POST: DIY Tips from 5 Home Decor Professionals
DIY home decorating with glass accessories is as easy as it can be!
They are beautiful to look at and can add valuable storage space. In addition, they come in a large variety of colors and add sparkle and shine. Plus, they are affordable enough to store them away and pull them out to use them as you need them.
The possibilities are endless!
Here is a room-by-room look at how you can add glass pieces to your home decor.
KITCHEN: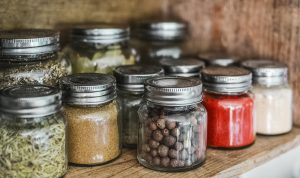 Perhaps the kitchen is the easiest place to use glass jars. You can use glass for so many purposes here! You can combine functional storage with beauty when you use glass accessories in the kitchen.
Instead of shoving your spices to the inside of a cramped and dark cabinet, make them a focal piece. Put a metallic spice rack on top of your kitchen island. Then add your spices to simple glass jars, and set them out as part of your decor.
The glass adds shine and the herbs and spices add an earthy, organic feel to the room.
In addition, you can hang simple glass plates on the wall to add depth and interest to your decor. They are easily removed, cleaned, and can then be put to use when you need extra plates to serve guests.
Finally, you can use glass canisters to store pasta, rice, or other often-used pantry staples. Like the spice jars, they become an interesting way to display items and keep them readily accessible.
Remember that clear jars are kitchen classics. Clear color glass pieces are, of course, a neutral. This means that you can amp up the color by mixing in fun and trendy pieces to liven up the look if you prefer some drama.
DINING ROOM:
Skip Granny's china and dress your table up to impress your dinner guests! Using glass plates and accessories will add flair to your dinner party.
Firstly, choose glass plates in fun shapes or colors. Then, round out your settings with clear glass goblets and wine glasses. Lastly, add candles to the center of the table. The glass will reflect the warm light of the candle and create a warm, flattering glow.
It is a classy and elegant look that doesn't go out of style.
BATHROOM: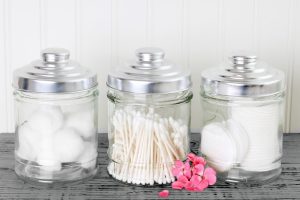 The bathroom is perhaps the place where you can have the most fun using glass accessories. Bathrooms are so often utilitarian, and glass gives you a way to add some often seriously needed style.
Have you ever wished that your favorite bath products were in prettier packaging? You spend good money on luxurious smelling products to set out on your vanity, only to look at the boring plastic packaging.
Invest in pretty glass pump dispensers to add something special to your vanity. Simply use a funnel to pour the products from the ugly plastic bottle into the glass one, then take a paper towel to wipe away any drips, and you have a gorgeous way to dispense your lotions or liquid soaps.
Also, use glass accessories to add valuable storage space. You probably accumulate clutter like cotton rounds, makeup sponges, and ear swabs. They get dusty and dirty before you can use them, and they look messy!
Install a sturdy shelf on the wall, place these bathroom staples in glass jars, and set them on the shelf. This turns your clutter into a focal point that makes perfect sense in the bathroom.
HOME OFFICE:
Like the bathroom, the home office can be a cluttered mess! At least…I will admit that mine is! Very often, I can't find things. They are shoved in a drawer and slide around inside, making a jumbled mess.
Clear jars add great storage options in the home office. Curate a collection of jars in different colors, sizes, and heights. Then add your office supplies and keep every office item on hand and out in plain sight. The stylish look is both fun and functional.
CONCLUSION:

Using glass accessories as part of your DIY home decorating plan is smart and stylish. When you want to swap out pieces, it's affordable to do so. Just wrap the pieces you're "retiring" in tissue and store them away. When you are ready to use them again, put them back into play.
Glass accessories and such an important piece of home decor. The way they add depth to your decor, and for such versatility, is really what DIY home decor is all about!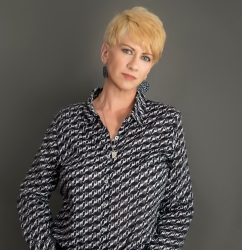 Latest posts by Deborah T
(see all)