When it comes to keeping your home clean, there are some things that we do every day. Vacuuming the high traffic areas, dusting, and a general tidy up go without day – but you can do so much more every so often to keep your home in tip-top shape. In fact, you can easily deep clean your home by tackling one thing at a time.
On nice and sun-filled days, when the sunlight floods through the window you can see every speck of dust. You might have friends or family coming to stay, or you might just know it really needs to be done (at least every 6 months), and it is a little bit overdue. If you are really speedy or are really on top of your cleaning, then you can probably manage this in just a weekend. Or, you can split it over a couple of weekends – it's entirely up to you!
There are a few things that you are going to be better getting professional grade tools, in most cases, your carpet will need some real work so researching the best carpet cleaner will be of benefit. When researching be truthful with yourself, it probably isn't as little a job as you'd like to think.
RELATED POST: Time for a Deep Clean?
Deep Clean The Kitchen:
Let's start where the food prep happens, the kitchen! Although no doubt you have cleaned the kitchen every day for the last few years, it's time to tackle it in a bit more detail. This is a deep clean, designed to get into the nooks and crannies.
Start with the big stuff:
Oven
Your oven probably needs a lot of work. Pick up something from your local department store designed to deep clean. They usually come with all the bags and necessary tools.
Fridge / Freezer
Take everything out, scrub each shelf carefully and really get into the corners. If you can remove the shelves it will allow you to clean them a little more deeply. Remove the drawers and give those a scrub too. Once the inside is taken care of, then start on the outside. The handles can get really grubby, so give those a big scrub. Vacuum the refrigerator coils too.
Microwave
Fill a jug with water and lemon, pop it in the microwave and turn it on for a minute or two. When it's steamed a little bit, it will help remove some of the caked-on stains. Remove the trays and give them a soak while you scrub the inside. Warm soapy water will work perfectly. Give it a once over for any rusty spots or damage. Once the inside is done, head to the outside.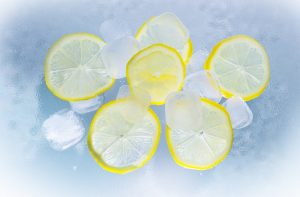 Small Electrics
Wipe down the kettle, toaster, any smoothie makers. Soak all the parts that you can, scrub down the outside of them all, tip out crumbs, and if anything had a filter, use now to replace them.
Cabinets, drawers and more
Scrubbing brush and an all-purpose cleaner, scrub right up into the corners and throw out any out of date items and put things back in better order. You can do the countertops as you go too.

Windows
Use either commercial or home-made window cleaner and some newspaper to get them sparkly clean.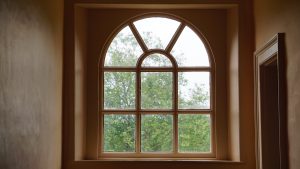 Bathroom:
While you're doing this one, sling on a facemask and a hair mask.

Bathtub / Shower basin / Sink
Get a toothbrush at the ready for the plughole, around the taps, and any smaller details. For the rest of the basin use something a little heavier duty to remove stains and any mildew.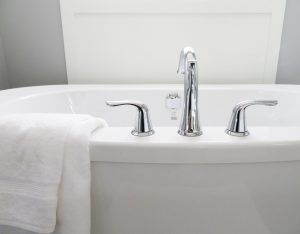 Toilet
Not the most favorite of jobs, but if you've been doing it once a week you're probably going to need to pop in some toilet cleaner and put in a little more elbows grease in than usual, and clean around the underside of the toilet bowl.

Cabinet, drawers and more
Take your multi-purpose cleaner and scrub down all the countertops, shelves and throw out any of those empty bottles that have found their way back onto the shelf. If you have any bath mats be sure to put them in the wash, and likewise your shower curtain.

Windows
Once again, reach for that window cleaner and some newspaper to get them sparkly clean.
Bedrooms:
You can't do a deep clean job on a bedroom unless you have decluttered – start there.
Drapes / Blinds
Take down the drapes and give them a wash, if you have blinds spend some time dusting them really well.
Shelves / Window Sills
Multipurpose cleaner and a cloth will work perfectly here.
Windows
Don't skip cleaning those windows to let the light shine on all your efforts.
Bed
Flip the mattress ones every 6 months, and if there are any stains, then you can use the baking soda trick from the 'sofa' section.
Living Room:
Once again, this is going to need a declutter first to get the most of the cleaning.
Sofa
If you have a few smaller stains on the couch, use a baking soda and cleaning cloth. Vacuum down the couch and really get into the corners. Sprinkle some baking soda on any stains. Leave the baking soda for around 20 minutes, and then scrub it off with a brush attachment for your vacuum.
Drapes / Blinds
Take down the drapes and give them a wash, if you have blinds spend some time dusting them really well.
Shelves / Drawers / Desk
Multipurpose cleaner and a cloth will work perfectly here. Be mindful of the corners and if you have any wood use wood polish to bring them up beautifully.
Ceiling Fan
If you are going to clean your fan, then make sure you do it safely.
Use a ladder to make sure you are the right height, be careful that you don't wipe dust towards your face as your natural reaction will be to duck and move. Plus it might set off a sneeze. Work slowly and carefully.
A microfiber cloth that is slightly damp will prevent the dust from flying around.
If your ceiling fan cover is filled with dead bugs or dust, carefully remove it and thoroughly clean it out.
Windows
Do you sense that I like reminding you to wash the windows?
General Deep Cleaning:
While you are deep cleaning, you can take the time to check bulbs, light switches, dust on top of books, and declutter as you go.
If you have and linen closets take out all of the linens, wipe down all of the shelves, working from top to bottom. Refold the laundry and return to the shelves OR take the time to reorganize. If there are some that have been in there without being used, then pop those in the wash.
Head outdoors and sweep down patios, porches, decks and if you don't have any of those then sweep down the space around your back door. Then take a walk around the garden and pack away any old forgotten toys, or any stray gardening tools.
Test your smoke alarms, replace the batteries and also check your carbon monoxide alarm too.
Clean out your AC unit or hire in a professional to get it done for you.
If you have a tumble dryer that has an exhaust tube, make sure you take the time to vacuum it out – it is a potential fire hazard. Cleaning your dryer is an essential task for your family's safety.
And finally, after you have spent all of that time scrubbing and perfecting simmer a pan filled with lemon and rosemary to waft a fresh and homely sent around your home.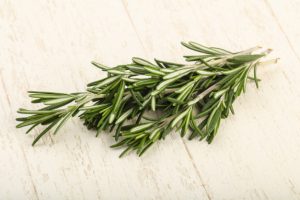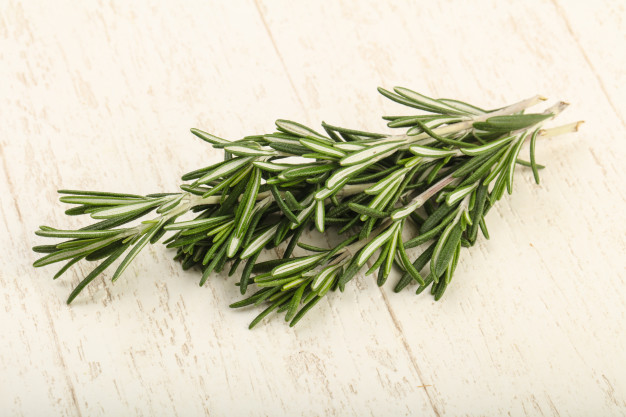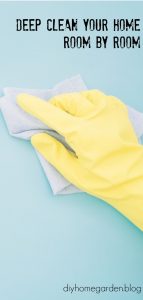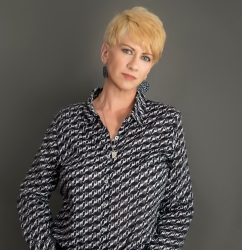 Latest posts by Deborah T
(see all)