Chimichurri Sauce. When the Argentinians say it, they roll their tongue on the two r's in a way that only native Spanish speakers can say it. For us Americans, well… most of us will butcher the beautiful pronunciation but still adore the flavors, nevertheless.
I got this recipe from a friend who traveled to Argentina as a student studying Spanish. The family who hosted her served it alongside chicken, pork, and beef. She described it as "Argentina's version of ketchup," enjoying it on pretty much everything you can imagine. I have not traveled to Argentina, but I'm pleased to get a small taste of their rich culture in this wonderful Chimichurri Sauce.
Every Latin American has its own specialty "salsa," or sauce. And Argentina claims this one. You can learn so much about a nation by its food traditions, and I respect them all!
Frequently Asked Questions About Chimichurri Sauce
We checked Google for the questions people ask about this delightful culinary sauce. We want to leave no questions unanswered, so you can make this easy recipe with confidence.
What Is Chimichurri Sauce Made From?
People might assume (incorrectly) that Chimichurri Sauce is hot. Instead of hot, I describe it as savory. It does have a small pinch of red pepper flakes. However, you can adjust the intensity of that heat by cutting back or increase it by adding more red pepper flakes to your mixture.
However, the original recipe is tangy without undue heat.
What Does Chimichurri Sauce Taste Like?
This delicious sauce is slightly tangy from a vinegar base, balanced out with a nice garlic flavor. It also has parsley, oregano, and cilantro to keep it fresh and "herby" instead of overbearing with acid. The outcome of these combined flavors is a well-balanced, pleasing explosion of flavors.
What Do You Eat With Chimichurri Sauce?
As mentioned before, they eat chimichurri with meats in Argentina. However, it also pairs well with fish and seafood. It's a great topping for salmon! If you enjoy dipping bread in garlic and olive oil, you'd also love it as a bread dip.
You might also consider using it to dress a bean salad if you enjoy a vegan lifestyle.
Really, it's delicious on everything.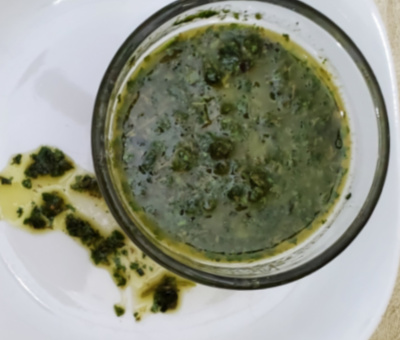 Chimichurri Sauce from Scratch in Under 5 Minutes
Yield: 3/4 cup

Prep Time: 5 minutes

Chimichurri Sauce is a wonderfully well-balanced sauce that offers a pleasing "tang" without too much heat. Must try!
Ingredients
1/2 cup of extra virgin olive oil
5 cloves of chopped garlic
3 tablespoons of white wine vinegar
1/4 teaspoon of ground black pepper
1/4 teaspoon of red pepper flakes (you may adjust this based on your sensitivity to heat)
1/2 teaspoon of white table salt
1/4 teaspoon of ground cumin
A small handful of fresh cilantro leaves (remove the stems)
A small handful of fresh oregano leaves (remove the stems)
One bunch of flat leaf parsley (remove the stems)
Instructions
Put all the ingredients, except the cilantro, parsley, and oregano in a food processor. Secure the lid.
Pulse the food processor three times to combine the olive oil and spiices. Remove the food processor lid and scrape down the sides.
Add in the cilantro, oregano, and parsley. Pulse ten to fifteen more times, or until you see a sauce texture, with broken down (but not pulverised) herbs.
Serve immediately!
Notes
A little Chimichurri Sauce goes a long way. If you find yourself with leftovers, cover it tightly and pop it into the fridge. The olive oil will coagulate, so just remember to remove it fifteen minutes before you're ready to serve it again.

Give this a try, and please tell us how you like it! You can connect with us on Facebook or MeWe. Happy cooking, and have a happy DIY day.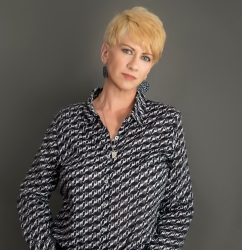 Latest posts by Deborah T
(see all)