Pumpkin spice shortbread cookies are just the right balance of warm spice and slight sweetness. The flavors are complex and not overpoweringly sweet or pumpkiny. This means that even those who don't like overpowered with pumpkin spice will enjoy this light, crisp cookie.
I, for one, love pumpkin spice in anything. In fact, I buy up embarrassingly large amounts of pumpkin spice coffee in December each year and freeze it to use it even in the heat of summer here in North Carolina.
Moving on…
This recipe is actually a variation of my Scottish Shortbread Cookies. They are my favorite cookie, but I gave them a fun, fall twist! They are so easy to make, and I know you'll love them once you've tried them.
PUMPKIN SPICE SHORTBREAD COOKIES
5 Ingredient Cookies:
4 cups of all-purpose white flour
1 cup of confectioner's sugar (the bag might also say powdered sugar or 10x sugar
4 sticks, room-temperature salted butter
1 tbl. liquid pumpkin pie spice extract
2 tsp. powdered pumpkin pie spice
Instructions:
Preheat your oven at 350.
Use a stand mixer (or hand mixer) to cream your butter and pumpkin pie extract. The extract will smell very strong, at first. Don't worry, the flavor will mellow during baking.
A little at a time, add the confectioner's sugar and flour to the stand mixer bowl. Let it run until mixed completely.
Pull the bowl off the stand mixer, cover your dough, and pop it in the fridge for at least 30 minutes. Trust me, if you don't do this, your rolling your dough will be mission impossible. I've tried it. I ended up with a lumpy mess of butter and flour stuck to my baking mat.
After the dough is chilled until no longer sticky, roll it out evenly to 1/2″ in thickness. Work with about 1/4 of the dough at a time, at the most! You don't want to work it until the butter warms or it will get sticky again. I used my 1″ biscuit cutter for these because I wanted to have enough cookies for a nice Halloween tray for my hubby's office, as well as some goodies to share with my neighbors.

A silicone baking mat helps dough release easily. As an added bonus, you keep the messy flour somewhat confined.

Place the cookies on an ungreased cookie sheet. I prefer parchment paper. I don't have a dishwasher at my house. Enough said!

Here, my cookies are on parchment-lined baking trays.

Bake each tray for 13 to 16 minutes. I like to flip my trays from the top rack to the bottom rack of the oven halfway through as they are more consistent in appearance. The baking time will vary based on the size of the cookie you cut. These little guys took 13 minutes, but when I use my larger Pampered Chef rolling cookie cutter to cut squares, it takes 16. A very light golden bottom will let you know they are just crisp on the outer edge but will be light and buttery in the center.

Very light golden brown color tells you the cookies are ready! If you prefer a crunchier cookie, you can let them bake a minute longer. Just be careful not to burn the butter!

Remove your Pumpkin Spice Shortbread Cookies to cooling racks.
Baking Supplies You Need:
Stand Mixer and Mixing Bowl
Nylon Spatula
Bowl Scraper
Rolling Pin
Baking Mat
Measuring Cups
Measuring Spoons
Cookie Sheets
Biscuit Cutter
Here are a few of my favorite supplies.
GIFTING IDEAS FOR PUMPKIN SPICE SHORTBREAD COOKIES:
I built a tray of cookies for my husband's office today. I dressed up the tray by adding 3 cookies to one Halloween cupcake liner. This lets the guys grab and go easily at break time.
Isn't this darling?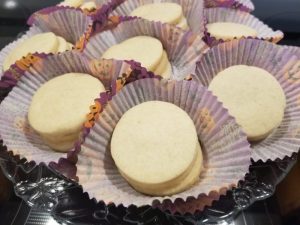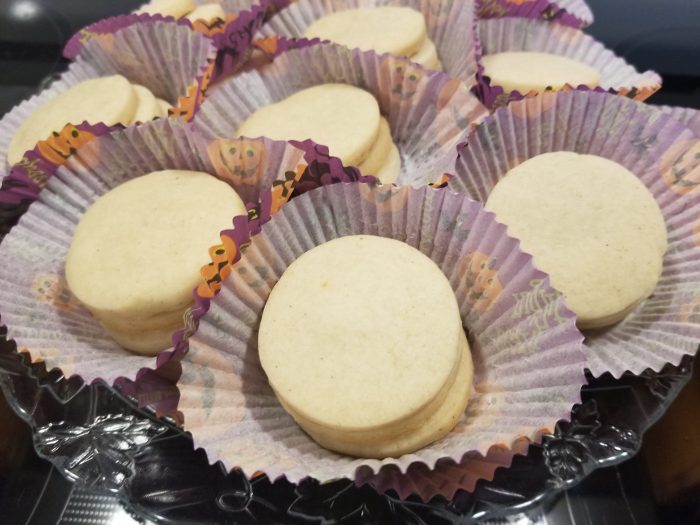 I packed cookies up for my neighbor in a cleaned out potato chip tube. I packed some of the Halloween cupcake liners between every few to keep them from sliding around and chipping or breaking.
Cute.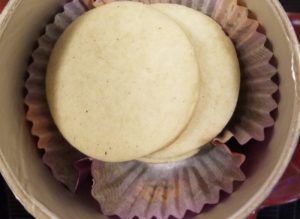 The same will work at Christmastime. I plan to make several dozen of these for gifts.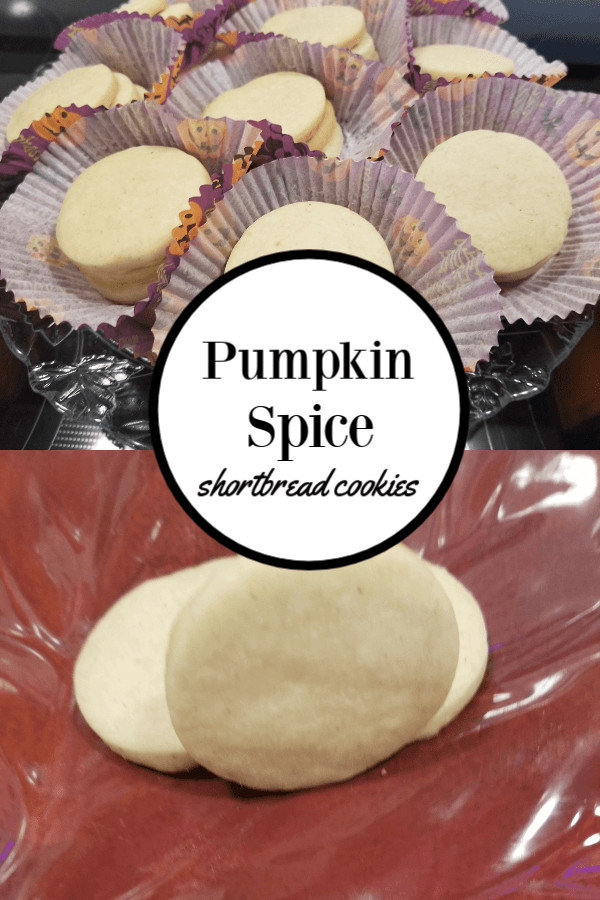 What kind of cookies will you be baking this holiday season? I'd love to hear from you!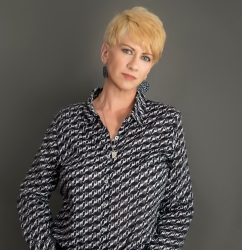 Latest posts by Deborah T
(see all)