Laundry strips provide an innovative, mess-free way for people to do their laundry. Of course, you will probably never consider washing your clothes a fun time. However, using products that make the chore seem easier can at least make it less of a hassle.
We will look at the relatively new laundry product, laundry strips, and explain a little more about them if you want to give them a whirl.
Editorial Note: DIY Home & Garden is not compensated by detergent sheet retailers or manufacturers. However, we are Amazon associates. That means that if you decide to try any detergent strip products, we may receive a small compensation. Of course, this comes at zero cost to you.
By the end of this article, you will learn answers to the following frequently asked questions about laundry strips:
What are laundry sheets?
Do laundry strips work well?
How do laundry strips work?
Do laundry strips work in front loader washing machines?
Do laundry strips work in cold water?
Can I make my own homemade detergent strips?
Additionally, we will review some of the pros and cons of using this product and round up some top-selling brands in this guide.
Frequently Asked Questions About Detergent Sheets
Here are answers to the FAQs questions people have about detergent strips, which you might also find listed as detergent sheets or detergent strips. Each term is interchangeable.
What are laundry sheets? And how do laundry strips work?
Laundry detergent sheets are individual strips that hold a concentrated, non-toxic, usually lightly scented amount of cleanser.
To use a detergent sheet, just toss it into the washer as you begin filling the tub with water. The cleanser releases from the sheet and dissolves once you immerse it into the water. It works the same as a liquid or powdered detergent–but in a more portable, less-mess format.
At the end of the wash cycle, move your clothing to the dryer as per usual. The strips dissolve in the water, so you have nothing more to worry about.
Do laundry strips work well?
Amazon reviewers who purchased and commented on these products state that laundry strips effectively get clothes clean. Some products are more highly rated than others. Most appear to say that they are safe for HE (high efficiency) washing machines.
Do laundry strips work in front loader washing machines?
Yes! Detergent sheets work in either top loader or front loader washing machines. In addition, they work in either regular water capacity or HE machines. Of course, you should read every product carefully for any anomalies before you buy (as with any product!).
Do laundry strips work in hot water?
Detergent strips work well for either cold water or hot water washes. Wash your loads with these sheets following the same rule of thumb as you'd follow with a liquid or powdered detergent.
Can I make my own homemade detergent strips?
Yes, you can. All you need to do is saturate a half-sheet of paper towel with your favorite liquid detergent. Lay it flat and let it dry out. Store the strips in a zip-top bag. One caveat: This paper shreds in the wash cycle, and thus it can make pills or messy shreds of paper.
So while you can make homemade laundry strips, it does not mean that you should.
Pros and Cons of Using Laundry Detergent Strips
Here are the pros and cons of using detergent sheets:
Pros of using detergent sheets:
Reduce your plastic consumption by eliminating plastic laundry bottles.
Pre-measured product.
More sustainable and earth-friendly.
Easy to order them online, even getting them delivered on a subscription basis.
Lightweight and highly portable for easier travel.
No messy liquid dribbling down a bottle.
People who have mobility issues or limited ability to lift heavy detergents might like this option.
Cons of using detergent sheets:
Not a wide range of local availability in supermarkets or retail chain stores.
Less effective on releasing stubborn stains.
Fewer scent or fragrance options.
More widely available online, so you might have to wait on delivery time.
The cost per load might generally be a few cents more than liquid or powdered products.
What Are the Best Laundry Strips?
Here are some of the best-selling detergent sheet brands, according to Amazon. Unlike some product reviewers, I have personally sampled these products and will provide product information and honest opinions.
1 – Tru Earth Hypoallergenic Eco-Friendly Laundry Detergent Sheets for Sensitive Skin
If you have skin sensitivities, Tru Earth is a hypoallergenic option to try. The low suds formula safely works in your HE machine, removes dirt and stains, and makes your clothes clean without heavy fragrance. Tru Earth Hypoallergenic Eco-Strips are made in Canada.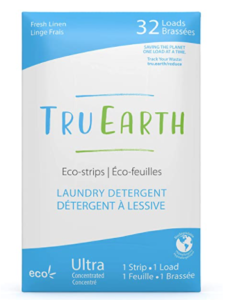 Pros:
Hypoallergenic: Paraben-free, phosphate-free, dye-free, bleach-free, and softly-scented formula.
Vegan: No animal testing, a cruelty-free product.
Reduce Waste by 94%: Plastic-free, compostable packaging costs less in transportation energy than its liquid counterparts.
Easy to Use: No messy runs down the bottle; and no measuring. Just toss in the sheet and walk away.
Cleaning Power: Works well on whites or colors.
Cons:
You might need two strips to clean a larger load.
Not as effective at deodorizing clothes.
Although I did not have this issue, several users noted that this dissolved slowly, leaving a bit of a mess.
These are worth a try if you have sensitive skin or allergies.
2 – Earth Breeze Laundry Detergent Sheets – Liquidless Eco Sheets
Earth Breeze Liquidless Eco Sheets are a lightweight, compact solution that saves space gives you clean clothes, and reduces transportation costs of bulky plastic bottles. This detergent is safe for either HE or standard machines.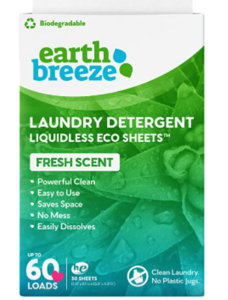 Pros:
Space Savers: Twelve boxes of Earth Breeze require the same space as one large plastic container.
Safe for Sensitive Skin: Bleach-free, paraben-free, phosphate-free product.
Vegan: Plant-based cleanser.
Septic-tank Safe: These detergent strips are safe for septic systems and gray water tanks.
Cons:
Transportation Pollution: This product is made in China for an Oregon-based company. It is not made in North America, adding to transportation pollution.
Light Fragrance: The scent is too soft for some who tried this product.
Confusing Instructions: The package of thirty sheets has a label that indicates it for sixty uses. However, the instructions say one sheet per load. This leaves some people confused about the value.
Most reviewers on Amazon were very pleased with the performance of this product.
3 – Kind Laundry Detergent Sheets
Kind Laundry Detergent Sheets are a zero-plastic, ultra-concentrated, paraben-free product made without animal by-products. These space-saving sheets are excellent for people who enjoy travel. It works for cold or hot water wash in top-loading or front-loading washers.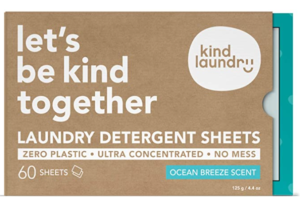 Pros:
Award-Winning: Won the Better Homes & Gardens award for "best eco-friendly laundry detergent."
Zero-waste Product: Even the box is fully recyclable.
Septic-tank Safe: Safe for your septic tank.
Pre-measured: Mess-free, pre-measured detergent sheets, no drippy laundry detergent.
Cons:
Transportation Pollution: This product is made in China for an American company. It is not made in North America, adding to transportation pollution.
Residue: Some reviewers were disappointed with how slowly the product dissolved, leaving behind unpleasant residue.
Effectiveness: A couple of reviewers noted that it took two to three sheets to clean their clothing adequately.
Most Amazon users were satisfied with the cleanliness of their clothes.
4 – Breezeo Laundry Detergent Strips
Breezeo Laundry Detergent Strips, with a fresh linen scent, are manufactured in North America (Canada). Unlike some other detergent sheets, this product carries the USDA Certified Biobased Product designation.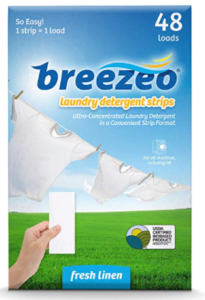 Pros:
Flexible Use: Use Breezeo in front-load, top-load, high efficiency (HE), or standard washing machines. They will dissolve and make your clothing clean.
Easy to Use: Clean, no pouring or measuring.
Concentrated Formula: Your clothes will be clean and fresh-smelling.
Space Saver: 48 load box is small and ideal for an apartment or small laundry room.
Cruelty-free: No animal testing or ingredients.
Cons:
Plastic Packaging: Although the product appears to come in cardboard, it is actually plastic. For those who want zero plastic (opposed to a reduction in plastic waste), this may not be the best option.
Ineffective Dissolving: Some reviewers had to tear the sheets into several pieces to get them to dissolve fully.
Residue: Some people noticed that residue remained on their clothing after washing, speculating that the sheet did not dissolve correctly.
If you prefer a product made in North America, give this one a try.
5 – Lazy Coconuts Eco-Friendly Laundry Detergent Strips (Fragrance-Free)
Despite the nutty fragrance in the name, Lazy Coconuts Eco-Friendly detergent strips are a fragrance-free product perfect for people who have allergies or skin sensitivities to perfumes. The packaging is 100% recyclable cardboard and biodegradable.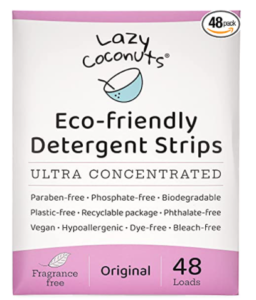 Pros:
Carbon Negative Product: They offset 2x emissions; some people purchase it just for this reason.
No Plastic or Microbeads: Zero plastic in the entire process.
For Sensitive Skin: Paraben-free, perfume-free, dye-free.
Cruelty-Free: No animal testing or ingredients.
Flexible Use: You can Use Lazy Coconuts for HE, standard, cold-water, or hot-water washing.
Cons:
Might Need Two Detergent Sheets: Some loads may require two sheets to make your clothes clean.
Transportation Pollution: This product is made in China for an American company. It is not made in North America, adding to transportation pollution.
Unscented Formula Doesn't Fight Musty Clothing Odors: Some reviewers noted that their gym clothes, etc., did not smell good after washing. The unscented formula did not work for them.
Lazy Coconuts offers a 30-day money-back guarantee. If you are on the fence, this offer means you have nothing to lose for trying it out.
The Takeaway on Laundry Strips, a New and Eco-Friendlier Product
Of course, washing your clothes is a chore no matter what cleanser you choose. However, those who prefer an eco-friendlier solution seem satisfied with their experiences.
So what product did I try and prefer? My pick is the Breezeo–I liked the scent and how clean it made my clothes. In fact, I only tried Breeze and Tru Earth. That's because I wanted to support companies based in North America. After all, if we are trying to cut transportation costs, it feels silly to order something that comes on a container ship. Besides that, the recent supply chain delays caused me to hesitate. I had no problems receiving my orders–maybe because I chose the more local option. Who knows?
Regardless, these seem to be worth a try. Technology is sure to continue to get better as their manufacturing processes improve.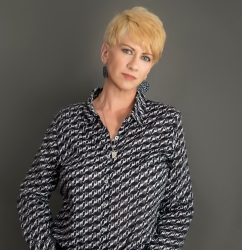 Latest posts by Deborah T
(see all)