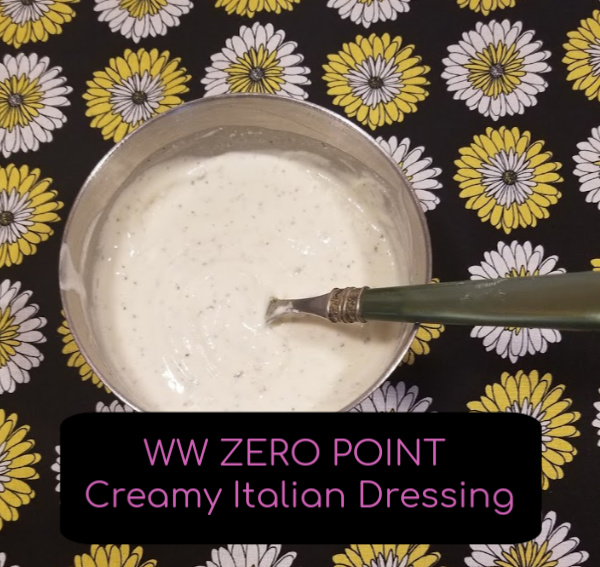 WW member? Then you probably know the value of zero point foods in the revamped WW Freestyle Program. This Creamy Italian Dressing hits all the marks–great in taste, offers protein, and zero points.
For those of you who might not know, WW is the former Weight Watchers. About a year ago (when I joined the first time, remember?), they introduced zero point foods. We can eat as many of these as we want to because they are high in nutrition and low in fat.
But…
There are only so many ways to dress up a plain jane salad.
Bottled salad dressings are convenient. But they are pricey. And when I look at a bottle, I see a bunch of preservatives that I can't pronounce. Since becoming more conscious of food labels, I am now appalled at the crapola manufacturers add into foods.
Yuck.
What is WW Freestyle?
WW Freestyle is the new way to do WW. The program offers a list of zero point foods that are nutritious and have little to no fat. While most of these foods are fruits and vegetables, there are some lean proteins thrown in for good measure.
In addition to the zero point food offerings, WW no longer touts themselves as a diet. Instead, they encourage members to consider the changes you learn to make as permanent lifestyle changes. This promotes a shift in mindset to overall wellness, not just losing weight.
Long story short, they are coaching members to make lifelong healthy food choices so they stay healthy for life.
For those of you who have been following DIY Home & Garden, I am back for WW– the second try. It's going great this go-round. I have lost 48+ pounds from March 4, 2019, through last Tuesday (July 23, 2019). Crossing fingers for my next weigh-in.
(Update 01.17.2020: Lost a total of 71 lbs, hitting my goal weight in Sept 2019. So far so good on maintaining that weight losse. WW taught me how to have a healthier relationship with food!)
Anyhoo…
(Update: I hit my goal weight in September–dropped 70 lbs and have maintained it for four months. Dropped from a size XL to a size S thanks to WW).
Zero Point WW Creamy Italian Dressing
In my kitchen, I'm making every effort to take the tools I am learning and converting recipes into point-worthy creations. This Creamy Italian Dressing is a household favorite. Even my skinny ass husband loves it.
One super important note. This is made from an Italian Dressing seasoning packet. If you consume more than 1/8 of the recipe at one time, you will accrue points. However, if you stick to the standard two tablespoons serving size (like most dressings are), it calculates to zero points. Personally, I get 10 servings out of one batch of this recipe.
WW Creamy Italian Dressing (Zero Points)
Ingredients:
1 cup of non-fat plain Greek yogurt
1 dry packet of Italian dressing mix
1/4 cup of apple cider vinegar
1 packet of Stevia
Instructions:
This is super easy. Dump everything in a bowl, Use a whisk (in my case I had a spatula in my hand–hey that's they reality in my house) to mix everything together.
Store it in a mason jar capped in the fridge for about a week. This recipe makes 8 to 10 servings of dressing–that kind of depends on how much you like on your salad.
Final Tips When Making WW Creamy Italian Dressing
If you want a thicker texture for dipping, short the apple cider vinegar by a couple tablespoons. Or, if you'd prefer a thinner dressing, try adding a couple teaspoons of water to thin it out.
I am sure you will love this dressing. I was skeptical at first because Greek yogurt is just not my thing. However, I was delighted with the outcome of this effort.
Want to try other fantastic WW recipes? How about my WW Shrimp and Grits?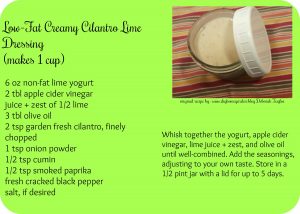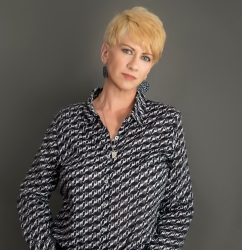 Latest posts by Deborah T
(see all)