So the upcycling trend is on the rise. Everyone is upcycling everything.
Old dressers are being converted into gardening containers, emptied wine bottles are being used as antique table lamps, antique school desks are being transformed into charming end tables, and the list goes on….. A very popular upcycling idea is the transformation of several old and discarded items into eye-catching headboards, from used T-shirts to wooden pallets, shutters, and even old barn doors. Yep, nothing is useless in the world of upcycling. Nothing, including that old headboard of yours.
RELATED POST: Build an Upcycled Coffee Table
You can be a DIY enthusiast who after reading the last two lines has suddenly realized the need to have a more creative headboard, and so, the old one has to go. Or with you, it's a matter of need. For instance, the headboard is past its prime and really needs to be changed. But you love it! After all, it's been with you for ages. As a result, you can't seem to let it go. Whichever category you fall into, I've got great news for you: You can keep your old headboard and transform it into something very useful and pretty.
That's right. With a few construction materials, helpful online tutorials and a handy can of paint, you can transform your old headboard into a stylish bench. But what sort of bench are we talking about here? Now that, my dear, is up to you. You can go with a Gothic bench style, a corner-shaped bench, a garden bench to relax while communing with Mother Earth, a bench for your potted plants, a bench for your hall, a bench in your patio or balcony, a bench…..yeah, I'm sure you get the picture. (Photo Credits: Studio C and Hometalk)
This option requires less construction. Just hammer some nails or hooks into specific points in the headboard, and then hang it upon a large wall. Trust me, there is virtually nothing you can't hang on this rack: coats, towels, and even odd knick-knacks. If placed in the kitchen, the headboard-turned-rack is a great way to maximize your small kitchen space. You can hang pots, colanders, spoons, herb containers, you name it. I think I'm beginning to like this particular option with every passing second.
Headboard to wall cabinets
This comes in quite handy in kitchens. Add some shelves to the flat plane surface of the headboard and presto, you have an open cabinet. Once attached to a wall in the kitchen, you can use it for storing crockery such as plates, cups, bowls, saucers etc.
Headboard to welcome signs
If you've always wanted a unique garden or yard welcome sign, you can't go wrong with this upcycling option. Customize your old headboard with your own welcome greetings and design. After all, it's your headboard, isn't it? Go ahead and place it in your chosen spot. You sure would get lots of lovely compliments from visitors and even passersby.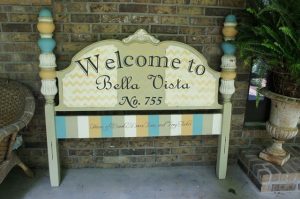 Headboard to comfy furniture
This would work up a little sweat, but the effort would be definitely worth it in the end. You can convert your headboard or bed frame into a spindle bed or cushion. Once done, it is the perfect relaxation furniture after a hard day's work.
So, that's it. Hope you got some fun ideas? If you did, I bet you are rearing to go transform that old headboard into something glorious. Lastly, do let me know how it turns out. Would sure love to hear from you. And, if you want another upcycling idea–check out this post. We transform a scrap pile find into a chic patio bar cart.