This sweet tea jelly is so good. I promise, it will knock the socks off of everyone you serve it to, and that's a fact. Literally, since a friend shared this with me a few weeks ago, I asked several people to taste test it. Before sharing recipes, I always make a test batch and ask for opinions. After all, the DIY Home & Garden brand is my livelihood. I can honestly state that the consensus is overwhelming. Not one complaint (and some of my friends are very picky eaters).
If you love making jams or jellies–or canning in general–you might get bored in the off-season. There's something gratifying about putting up a batch of preserves. Many agree that getting in the kitchen and enjoying the process and methods is very relaxing. Albeit the aftermath of canning means a lot of kitchen-cleaning, it feels great when you are in the zone. This project lets you get that satisfaction, even when Mother Nature does not cooperate.
Sweet tea jelly is seasonless. You don't need to wait for berries or fruits to ripen. You can fix a batch at any time of the year, and that news is great for "canners" who feel the withdrawal during the cooler months.
When I moved to North Carolina from Pennsylvania twenty years ago, I learned quickly that ordering tea meant iced, cold, sweet, and with a wedge of lemon on the rim. Everyone had a favorite family recipe–having "the best family recipe" is a point of pride. Suffice it to say that sweet tea is a year-round favorite here, and this recipe does not disappoint.
Sweet tea jelly recipe notes
Before I share the recipe, let me advise you on a couple of important notes that might confuse you as you read through the recipe card.
First, you will steep the tea for 12 hours. I like to "fix the tea" in the evening. I can the Sweet Tea Jelly the next morning.
One batch only makes four half-pint jam jars of output. I doubled the recipe after my first batch or a "trial run," as I was already in canning mode and wanted more jars to share with others.
The recipe calls for using 2 1/2 cups of water when you steep the teabags. However, you will only 2 cups go in the recipe. This discrepancy occurs because some of the steam will evaporate, so if you steep with only 2 cups of water, you'll fall short of the correct amount. Measure the two cups carefully.
When you first remove the Sweet Tea Jelly from the canner, the preserves will be liquid. If this is your first time making jam, know that this is perfectly normal. The texture will tighten up as it cools. Trust the process!
Do not omit the lemon. It provides the necessary acidity to preserve the jelly safely. The omission can lead to serious illness.
If you need instructions on how to do boiling water bath canning, visit your local county extension office for the most updated information on best practices and food safety.
Are you ready to make your jelly? Let's go.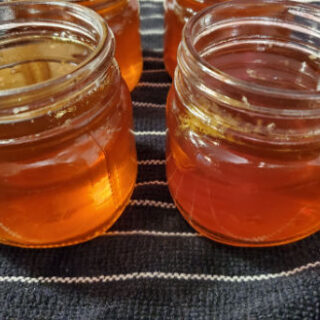 Sweet Tea Jelly
Additional Time:
15 minutes
Total Time:
12 hours
25 minutes
Many people love canning, but they miss out during the off-season. No more! This Sweet Tea Jelly is seasonless, a year-round treat.
Ingredients
2 cups of steeped tea
4 cups of sugar
4 tea bags (regular-sized, not family size)
One pouch of liquid pectin
1/4 cup of bottled lemon juice
Instructions
Twelve hours before you'd like to cook and can the Sweet Tea Jelly, steep four regular-sized tea bags in 2 1/2 cups of boiling water.
When ready to cook the jelly, remove the tea bags, but do not pinch them! Strain the tea through a cheese cloth. (I use my Melitta coffee maker, fitted with a cone filter).
Measure two cups of tea into a large pot. Simmer the tea. Add the four cups of sugar all at once.
Stir in the lemon juice and boil it for one minute. Next, open the liquid pectin packet and pour the contents into the pot. Boil for one additional minute.
Remove the pot from the heat, skim off any bubbles or foam that rise to the top (they will cloud your jelly)
Place the jelly into sterilized 1/2 pint jars using a ladle and leaving 1/4" of head space. Carefully wipe any dribbles of jelly off the rims. Add the lids and rings.
Put the jars in a boiling water canner to process for ten minutes. Remove and let them sit undisturbed for 24 hours.
Notes
Once you open up a jar of Sweet Tea Jelly, be sure to refrigerate. Sealed jars remain fresh for up to one year.
How to enjoy this home-canned treat
Slather Sweet Tea Jelly on bagels, English muffins, toast, homemade bread or rolls, or biscuits
Give it as a hostess gift. Attach a cute little spreader knife with butcher's twine for an instant gift.
Use it as a cake filling to transform a yellow cake from boring to extraordinary.
Serve it with fresh fruit slices as a "dip" for apples, pears, or grapes.
Create your own unique flavors–add a sprig of mint or lavender as you steep, perhaps?
The Takeaway: Sweet Tea Jelly is easy to make and delicious to eat
Give this home-canning recipe a try today. I'm confident you will enjoy the delicious flavor of Sweet Tea Jelly. And if you are inclined to share it, your friends and family will love it, too!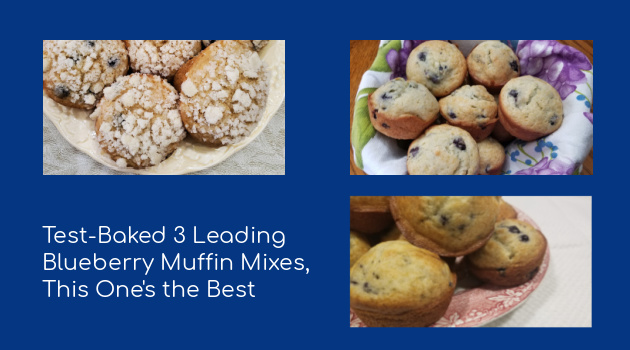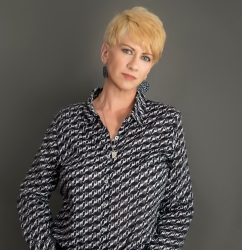 Latest posts by Deborah T
(see all)