Nobody likes to feel as though they are closed in–especially when they are in their own homes. If you feel claustrophobic in your humble abode, it can ruin your enjoyment of the place where you should feel the most comfortable and at ease.
If you're not blessed with a home that has a great deal of square footage, you'll want to look for ways to make it appear more spacious.
But how can you do that without building onto your home?
Here are nine simple and effective ways to make your small home feel more spacious.
1 – Hide Your Blinds Inside The Glass
One neat touch would be to get French Patio Doors with blinds between glass. Having your blinds between panes of glass will mean that your room will appear bigger because you don't lose the area where your curtains or blinds would have protruded into the room.
2 – Paint Your Walls White
If you paint your walls in bright white paint, the light will reflect off the walls. This in turn will make the rooms seem bigger and brighter.
Avoid using dark paint in small rooms as it will make the room appear much smaller than it actually is.
3 – Use Less Furniture
If you can, try and use less furniture in your home. The less that you have in your home, the bigger the space will feel.
Look for cupboards and other storage units that allow you to store a lot in minimal space. It's a quick and easy way to fix up your house.
4 – Get Furniture With Legs
Sofas and chairs that have legs rather than skirted bases will make space appear bigger and less cluttered.
5 – Use Mirrors
If you want to make a room appear twice the size that it is, fit a large mirror on one side. This will give the illusion of space and make the room feel bigger and more comfortable.
6 – Let The Light In
Opening up your blinds and curtains will allow you to get more light into your home. Do everything that you can to let as much natural light into your home as possible.
7 – Hang Art High Up
If you want to emphasize the fact that you have high walls, then you should make full use of the space by hanging your paintings all of the way up the wall.
8 – Use Light Rugs
While darker colors on rugs and carpets tend to not show up the dirt so much, they also absorb all of the light. This leaves you with a room that will feel smaller.
Opt for lighter colored rugs if you want to create the illusion of space in your home.
9 – Use The Right Lighting
If you've got lighting on your walls, you should use a flush light fitting that doesn't eat into the room space.
Similarly, with lighting on your ceiling, you should avoid big light fixtures. These will hang down and take up valuable space in the room and make the ceiling feel lower.
Instead, you should use more subtle light fixtures that are not too big.
The Takeaway on Making a Small Home Feel Larger
ou might not be able to change the dimensions of your home physically. But by using these nine tips, you can give your home a spacious appearance. Do not dwell on the space you don't have. Instead, focus on the positive features and maximize the great area you do have!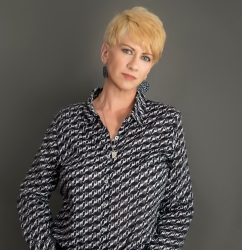 Latest posts by Deborah T
(see all)