In case you haven't noticed, I love cooking with bourbon. So I have an apple bourbon peanut cake recipe to share with y'all today.
It's a doctored up cake mix, so moist and delicious that nobody will know (or care!) that it came from a box. The cake is rich from the bourbon (not extract, the real stuff!) and crisp from the apples. And, the peanuts? They add an interesting texture and great flavor.
Here's my shameless plug for a local peanut producer in my area–Bakers' Southern Traditions. I used their salted blister fried peanuts. They have a perfect crunch that holds up during baking. I can't say enough good stuff about their products. So here is the link if you want to try them for yourself. I am not a paid rep for them, just an enormous fan.
However, if peanuts are not your cuppa tea, feel free to swap out walnuts or pecans–either would suit the cake well, too!
While there are a few steps in prepping this cake, it really doesn't take very long, and the reward for your extra work is so worth every step.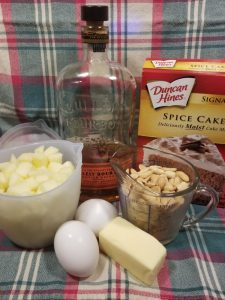 Apple Bourbon Peanut Mini Cakes
Let's make this decadent treat!
Ingredients:
1 spice cake mix
2 large eggs
1/2 cup bourbon. I prefer Bulleit, it's really the only kind that I like
5 tbl. salted butter, room temperature
2 cups diced apple
1 tbl. lemon juice + 1/4 cup water in a small bowl
1 tsp. vanilla extract
about one cup of salted roasted peanuts (the salt adds flavor, but you can easily use unsalted)
1/2 cup water
Instructions:
Preheat your oven to 350 degrees.
Peel and finely dice up 2 cups of apples. You want a fine dice because of the relatively short baking time of the cake. A fine dice will allow the apples to cook down a little bit, but they still retain a fresh, flavorful little crunch. Sit the cut apples into the bowl of lemon water. Make sure all bites of apple are coated until you're ready for them.
Chop 1 cup of roasted unsalted peanuts into a fine to medium texture. It depends on your textural preference. I used a manual food processor to quickly chop these.
Cream the butter and eggs in your stand mixer (or hand mix if you prefer).
Add the spice cake mix, Bulleit bourbon, vanilla extract, and water to the butter and mix until butter is fully incorporated.
Drain the apples of all water and add the apples to the mixing bowl. Discard the lemon water. Put the mixer on a slow speed for about 30 seconds. That's because you don't want to pulverize the apples!
Spray your mini fluted cake pan with non-stick spray.

I used the Pampered Chef Mini Fluted Cake Pan. I only have one pan, so it took two batches–will definitely be ordering a second one.

Fill each cake pan well halfway with batter. Next, gently drop the cake pan about 1 inch straight down onto the counter to level the batter and work out any air bubbles.
Place the cake pan into the oven. Position it towards the back of the oven, where the temperature is typically the warmest on a middle rack. Bake for 16 minutes for mini bundt cakes. Test with a toothpick for doneness.
Remove the cake from the oven and let it cool for 15 minutes. Then use a butter knife to gently work around each cake to make sure the side of the cake isn't stuck to the pan. Place a cooling rack or large cutting board on top of the cake pan. Flip it like you mean it! Commit to it. The cakes will pop right out.
Refill the now-empty pan and bake all over again. This recipe makes 12 mini cakes.
Want to Try Another Boozy Cake?
So if you enjoyed this recipe, you might also love our Pineapple Rum Cake. No artificial rum flavoring, here at DIY Home & Garden. Of course, we whipped out the bottle of the good stuff!
The Bottom Line on Apple Bourbon Peanut Cakes
I kept this simple and sifted a little bit of powdered sugar over the top of my cakes. While I love super sweet glazes and icings, this had a whole lot of flavor already going on! The powdered sugar turned out to be just the right final touch in this situation.
Plus, these will make awesome homemade Christmas gift-giving ideas, packed in little individual little boxes, and I'd rather give them without messy icing. Unlike frosting, powdered sugar won't bloop up inside those boxes. For this test-run batch, we will be sharing with some friends.
While you are baking these apple bourbon peanut cakes, you will fill your home with the most tantalizing, sweet but spicy fragrance. It's definitely an autumn or winter aroma, but it's definitely not the same old dessert.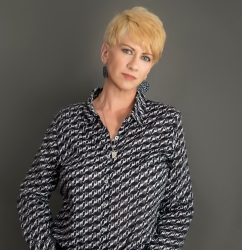 Latest posts by Deborah T
(see all)