Home is a place where every life needs to feel safe and secure from potential threats. When a family member can't take the necessary steps to keep themselves safe, others bear this responsibility. For many, pets are part of the family as with children; they need protection from things that can harm them. The best way to accomplish this level of safety is to pet-proof your patio and home.
When pet-proofing your patio, it's essential to look at the items from your pet's point of view. For instance, what things are they likely to get into, play with, or chew? If any of these items can hurt or kill your pet, remove or relocate them to a place where the animal does not have access.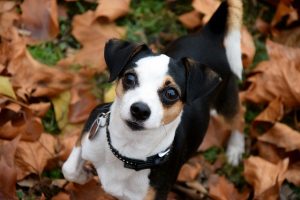 Pet-proofing your patio takes time, effort, and some research. As an owner, consider the damage a pet is likely to inflict to your patio furniture. Then, implement measures to prevent this from happening. Your goal should be to protect your patio, so it stays nice while keeping your pets safe. Ideally, you need to pet-proof before bringing a pet to your house. However, you can undertake the exercise during a home improvement exercise or at any other time.
1-Pet Proof Your Patio by Investing in Pet-Friendly Furniture
When buying patio furniture, it's critical to consider all the factors. For instance, how will your furry friend interact with the furniture? If your pup likes to chew things or your cat loves to scratch things, check the following before buying patio furniture: fabrics, covers, and materials.
For instance, you can buy patio covers to protect your investment. The best covers are perfectly tailored to keep your furniture dry in all types of weather and animals. When not in use, cover your furniture to protect against dog hair or cat scratches.
To extend the life of your favorite patio chair, purchase an extra cushion that matches your seat so pets can have an outdoor bed of their own.
2-Ensure Pet safety by Avoiding Poisonous Plants
Pets love getting into things. Keep them out of harm's way by being mindful of what you plant. For instance, geraniums, hyacinths, and tulips are a no-go-zone for dogs!
A shortlist of things to plant includes oregano, sprouts, rosemary, basil, peppermint, and parsley.
Keep any possible danger zones away from the patio or keep your pet out with fencing.
3-Take Care with Patio Heaters
Snuggling next to heat can be comforting to your pets. However, it's also likely to be dangerous.
However, this doesn't mean you ban your pets from their favorite cool weather lounging spot. Instead, take reasonable safety precautions to avoid any disastrous results. For instance, consider ceiling or tabletop heaters rather than propane heaters on your floor.
4-Add a Latching Gate
Have a deck or porch? The last thing you want is a treasured pet escaping from your happy place.
Confine your dog to your patio with a latching gate. These gates offer protection to your kids and pups, keeping them safe from any dangers of the street.
Latching gates come in different size, types, décor, materials, and hardware. Choose the best brand and style that matches the décor of your patio furniture.
5-Have a Collar with ID or Microchip for Your Pet
A microchip is a permanent method of pet identification that lasts throughout the lifetime of your animal. Their use helps reunite stolen or lost pets with their owners.
Every year, thousands of pets escape or get separated from their owners. Out of these, only less than ten percent reunites with their owners.
If your pet has a microchip, ensure your contact details are up-to-date. Otherwise, the facility that stores the chip data will not have a way to contact you.
6-Use Flea/Tick/Heartworm Prevention
As months turn warmer, the risk of skin problems and other deadly infections increases. The number of environmental parasites is also on the rise.
Ensure your pet's safety by protecting it from these parasites. Sure, the preventative products may appear costly. However, it is nothing compared to the veterinary bills resulting from long and dangerous treatment options on a preventable condition emanating from flea, ticks, heartworm, and other parasites.
7-Set Up a Watering Station
Whether sleek or fluffy, your pets can be active and healthy in the heat. Provide them with access to safe, clean drinking water and some shade.
As most veterinarians will tell you, dehydration is among the many issues affecting their feline and canine patients. Most dogs require about one ounce per day for every pound of body weight. So, for instance, if your dog is forty pounds, it needs forty ounces (five cups) of water daily.
Each cup contains eight ounces; you can use this to determine the amount of water your dog needs in a day. Keep in mind that other conditions like diabetes, pregnancy, excessive air temperatures, kidney disease, and old age may affect the amount of water your pet consumes in a day.
Offering a constant source of clean water is among the best thing you can do as a pet parent.
Pet-Proof Your Patio and Enjoy Time with Your Best Furry Buddy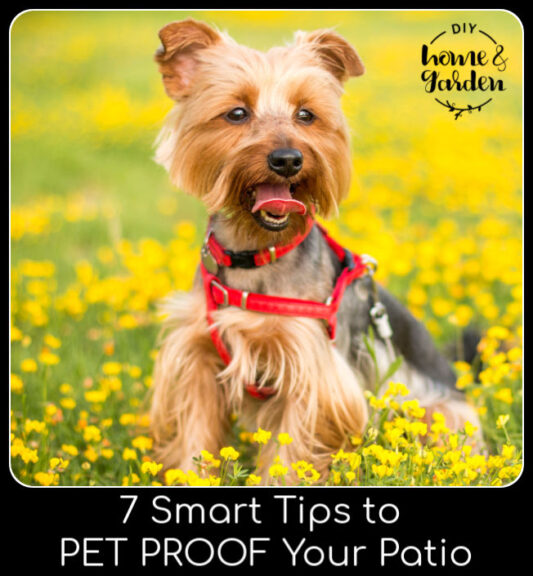 Now that you've taken all the needed steps to protect your pet, there's only one thing left to do. Step outdoors into nature and enjoy your pet-proof patio with your furry buddy.
Love reading pet content? Great things are just around that next corner. Don't miss out on future posts. Sign up to receive our emails, and you'll be treated like a VIP.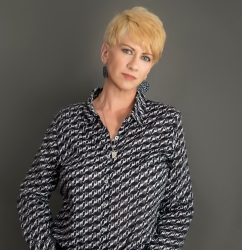 Latest posts by Deborah T
(see all)