A little bit of hope is all you need to sail through a massive fire at your place. For everything else, there is Sibley Construction. You need a pro like Sibley-restoring your home after a fire is not a job for the faint of heart.
Unlike mold removal and water damage restoration, you should never try to repair your home or business on your own after fire damage. Fire can be brutal and potentially destroy a lot many things than meets the eye. You must hire a professional restoration company that specializes in fire services to make your home livable again.
Sibley construction is a certified restoration service provider that specializes in insurance restoration, roofing, home remodeling, and fire, water, and mold remediation.
How to Restore your Home After You Suffer Fire Damage
Experts from the company share that no matter how small or big the fire is, it causes severe harm to the house. That fact remains, even after the firemen put out the flames, and you remove the debris. Some of the risks can include caving of the roof, mold growth, internal pipe bursts leading to water damage, smoke and soot allergy, and other health problems. Therefore, the wisest action you can make is getting your property inspected by a technician before entering or remodeling it.
Fire restoration is a complex step-by-step process. Since one must know what they are, we have outlined them for your benefit, lest you need to go through at some point in the future.
Step 1: Ensure the Property is Safe
The professional will make sure that there is no broken electrical wire, structural damage, roof cave, or flood. They will look around the property before entering the house. You should wait until the inspector gives you a green signal.
Step 2: Extract Water and Clean the Place Dry
Before you can begin restoring your home, the water damage restoration expert will extract the water formed during the extinguishing process. Technicians will look for mold or mildew growth signs, a common problem after a firebreak. They will also identify and stop any water damage occurred to the property. Dehumidification is a crucial step in the water damage restoration process. But in case of fire, it is done after soot and smoke have been completely removed.
Water damage should be immediately addressed as it can lead to rust formation and metal corrosion. Water can rust electrical appliances containing metal parts and make them unfit to use. Stagnant water can soak into walls, insulation, drywall, carpet, and flooring, and damage the wood.
Step 3: Remove Personal Belongings and Salvageable Goods
The professionals will clear away debris, dispose of charred items, and shift the salvageable ones to a safer place. You must completely dry and electrical devices exposed to water, at least for a couple of days before you attempt to use them again.
Step 4: Clear Soot and Smoke
After clearing the place, the soot will be vacuumed up and wiped down to improve the air quality and decrease the smoke odor.
A little note on soot:
Soot can produce adverse effects, such as surface staining. Staining takes place when the soot deposits and starts discoloring the surface. The effect can be permanent. Wood, fabric, metal, carpet, and plastic are prone to soot staining.
Step 5: Start Deep Cleaning
Deep cleaning involves removing stains from walls, scrubbing and rinsing floors and salvaged items, deodorizing, and disinfecting. Professionals use special cleaners and bleach to remove stains and eliminate the stench. Depending upon the type of material and surface, the professionals will decide the cleaning product required.
Give special attention and care to carpets, fabrics, and upholsteries. You can use shampoo, mild bleach, and warm water to clean the fabrics.
Ventilation is crucial during the remediation process. Incorporate cross ventilation, install table fans, and place dehumidifiers to remove extra moisture and improve the quality of the air. Restoring your home after the devastating impact of a fire is a daunting task. Moreover, it's one you need professional help to complete.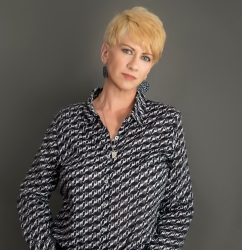 Latest posts by Deborah T
(see all)