Now is the time to put off the job you've overlooked–turning your outdoor space into a dream garden.
There has never been a better time to get to grips with your garden. Perhaps you have put off getting your hands dirty, or have been feeling overwhelmed by the work that lies between you and your dream garden. The task may look impossible now, but with some small, simple steps, you can make a massive difference.
Clear the outdoor space of debris and weeds
Your first job, before you do anything else, is to clear your outside space completely. This will give you a real idea of what space you have to play with. Remove all the weeds, mow your lawn if you have one.
Before you scrap any outside furniture or sheds, have a good look at them and see if you could repurpose them. Sometimes wooden garden chairs look terrible, but with a little sanding and some outdoor paint, you can breathe new life into them. It will help you if you are on a budget.
Visualize it!
Once you can see the space you have, start to build a mood board. Researching on the internet can help you find a garden design you want. It could be modern or retro, you may wish for a small country garden. Find the garden style you want and then focus on that, looking at colors, plants, and lighting.
It's nice to section gardens off if you have space. Consider whether the area is shaded, sunny, or a mix of both. An area of lawn, planting, and perhaps some decking to create an outdoor dining room. Take into consideration your everyday routine. If you don't usually have a lot of time, possibly avoid a lawn as these can take lots of maintenance to keep them looking beautiful.
Shop for your needs
With your design in mind, it's time to start shopping. Due to the current global pandemic, there are a lot of shops offering new services. Calloway's Nursery has created a curbside pick-up service to help you maintain social distancing. You could also check your local nursery to see if they offer an online service. Just make sure you understand exactly what you are buying.
You may find you can buy everything you need from your local nursery, but when looking for planters, decking, and outdoor furniture, don't forget to look at online auction sites. You can save money buying second-hand items, and this may help you spend more on luxuries that can take your design to the next level.
Don't forget to install lighting for warm evenings
Lighting plays a huge part in all design, and this extends to your garden too. You can use it to uplight trees or add warmth in the evening. It can create a magical feel to even a small space. There are lots of options on the market, but solar-powered lighting is best. It won't need to run off your electrical supply and makes use of our best, free, resource – the sun.
The Bottom Line: There's Never Been a Better Time to Revamp Your Outdoor Space
You can build a garden from wasted outdoor space in a short space of time if you plan it right. Knowing precisely what you want will speed up the process. You can also rope your whole family in to do the work! You really could be a couple of days away from the ultimate outdoor living space.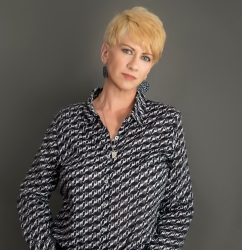 Latest posts by Deborah T
(see all)