It seems like you have not much else to do or to look forward to at the moment. Right? So you may as well start preparing for Christmas. However, this one isn't going to be your normal Christmas but a very COVID Christmas. So what changes do you need to make and how can you make it memorable for all the right reasons?
1 – Accept It's Going To Be Strange
This is the first thing you need to do to get ready for this year's festivities, accept that they're going to be different. Work Christmas parties are cancelled, pantomimes won't be going ahead, large family gatherings are not allowed, there'll be no Christmas markets or carol singing in the square and Santa is going to have to wear a face mask and use a lot of hand sanitizer. Luckily he is an essential worker though so he will still be coming down the chimney. Once you have accepted this and stopped feeling sad about it, then you can embrace the different Christmas you're going to have this year and make the best of it.
2 – Decide Who You're Going To Spend It With
With COVID restrictions limiting how many people can gather together from different households, you'll have to make some tough decisions on who you spend this Christmas with. It might have to be just you and your immediate family. Or if you live on your own then find someone or a group of people you can safely spend it with. Everyone else you'll just have to see another day or on Zoom.
3 – Do What You Can Now
Imagine the usual crowds when you're Christmas shopping now imagine trying to keep a two-metre distance? It's not going to happen is it, so while things are quieter get your shopping done early. Whether it's presents, food, or sorting out your house to avoid disasters as there's nothing worse than your over breaking on Christmas day or having a leak and having to call an emergency plumber.
4 – Shop Local Where You Can
Your local retail stores need your support this year more than ever!
When it comes to your Christmas shopping, many people will automatically go online as it's safer. However, if you can shop locally. So if it is safe for you to do so, then it's really good to boost your local economy and help out your local businesses. See if your local shops have an online presence so you can still support them, but you don't have to leave the house.
5 – Go Over the Top With The Decorations
If there's not much else, you can do this year you might as well turn your house into the most magical winter wonderland you can imagine.

6 – Get Prepared For Digital Fun
Prepare some games you can play with all the family online. If you're all quizzed out this year then why not play Bingo or get some other virtual games that you can all play together over the internet.
7 – Make It One To Remember
Take photos, buy Christmas themed face masks, spoil yourself and your family, make it special for more than just one day and really go all out to have an amazing COVID Christmas. After all, it was a rubbish year for everyone. So you deserve it!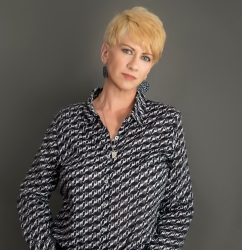 Latest posts by Deborah T
(see all)