So you want to design a beautiful home on a budget. Can it even be done?
Home is the most important place in the world- a place to retreat after a hard day, spend quality time with loved ones, rest and rejuvenate. And so a space that feels comfortable and that feels like your own is so important. Research shows that mess, clutter, and unpleasant surroundings all add to our stress levels. Let's face it, life is already stressful enough.
If you're not happy with the way your home looks but don't have a massive budget to make changes, you'll be pleased to know that it can be done. Here are some ideas!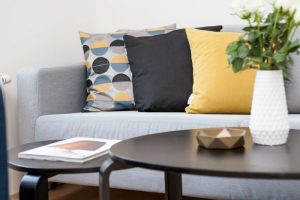 3 TIPS FOR A BEAUTIFUL HOME ON A BUDGET
Get started on your makeover with these budget-friendly hacks.
Paint the walls
Clean, plain, neutral walls create a wonderful 'blank canvas' in the home. They can make it look bigger and brighter, and will work with any other decor you add in. Strip off peeling or fussy looking wallpaper, and use a tub of ready-made filler to fill in cracks and holes (then sand it all down when it's dry). Start by using a brilliant white gloss to paint all of your doors, skirting boards and other woodwork, and then paint the walls in white, cream, or a very light grey.
Big pots of paint can be found in any DIY store, they don't cost much but can massively transform your home. Your home will look so much cleaner and fresher once it's all done. Put in the prep work and take your time to get the best finish. If you paint all of the walls in your home in the same color it will look bigger and create 'flow'- you can always add in color using accessories.
Scour bargain shops
Bargain stores like eBay, dollar stores, and end of line shops like TJ Maxx are all full of inexpensive items you can find for your home. From photo frames to cushions, vases, decorative accessories, and more, these are all ways to add personality, color, and texture to the room but needn't cost a fortune. Go with pieces that really catch your eye rather than quantity, it can help to have a theme or color scheme in mind for each room and them shop based on this.
If you browse junk shops and search places like Facebook marketplace, you might be able to find freebies that you can upcycle or repurpose.
Houseplants can be found cheaply from places like Ikea and can make any home look more expensive and well cared for. Donate or dispose of existing items that you have that are worse for wear or don't look right in your freshly updated home.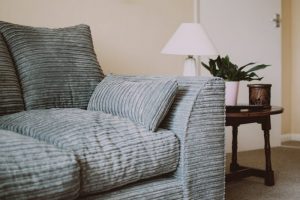 Save some money
There are some items in the home that are just worth the extra money. Two examples are your sofa and your mattress, used models will tend to be lacking in support as they do wear out after a while.
It can be hard when you're on a budget, but instead of buying cheap (just to have to buy again a short while after when the item fails) you're best off thinking about how to save money and gain the value of purchasing new. You could use what you have for the time being and then put away a little money each week until you can afford what you want.
Are you looking to achieve a beautiful home on a budget? What tips would you give others looking to do the same?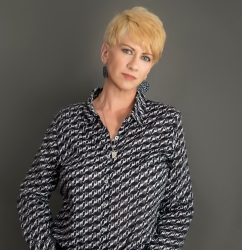 Latest posts by Deborah T
(see all)