Is it time to update or remodel your kitchen?
It's no secret that a whole new kitchen upgrade will cost most people thousands of dollars. That's because you're paying for new kitchen furniture and appliances, flooring, tiles, and the time spent by kitchen fitters gutting your existing kitchen and installing the new one.
You're probably reading this now and feeling quite sad because you don't have that sort of money to spend on a new kitchen. But, you desperately want to remodel it because it has seen better days. Is there anything you can do in such a dilemma?
Well, if you're handy with a hammer and don't mind doing some physical DIY work, it turns out there's a lot you can do to revamp your kitchen! The following tips and strategies will help you remodel your kitchen without spending a fortune. Here's what you need to know:
Get busy with your paintbrush.
Firstly, it's worth knowing you can do quite a lot to approve your kitchen's aesthetics with just a paintbrush or roller and some paint! Many kitchens will see a transformation with just a simple paint job on the walls, ceiling, and even kitchen furniture.
Be sure to mask off the areas you don't want to paint, and only use premium-quality paint designed for kitchens. That way, you'll achieve the best possible outcome with your kitchen remodeling project.
Improve the look of your kitchen cabinets
Next, you'll undoubtedly turn your attention to your kitchen cabinets. Many homeowners can give them a new lease of life by painting them or applying attractive vinyl coverings over them. But what if you've got a kitchen cabinet issue that won't get solved with paint or vinyl?
Never fear, because you usually replace the doors with custom-sized new ones that fit your existing cabinets. Assuming you've taken correct measurements, all you'll need to do is unscrew the old doors and fit the new ones for an instant transformation.
Upgrade your lighting
So far, your budget kitchen remodeling project is proving very successful. You've got fresh new paint on your walls and ceilings, and your cabinets look stunning. Now is the time to turn your attention to the lighting.
It makes sense to opt for LED lighting as it's bright, saves you money on your electricity bills, and lasts longer than conventional and CFL bulbs. You may decide to have LED downlights or adjustable ones on a rail.
Whichever option you choose, make sure that all electrical work gets carried out by a professional. When buying the lighting you want, be sure to check for special deals online. You might even get new ones for a fraction of the cost off sites like Craigslist!
Drab, outdated cabinets and flooring? Maybe it's time to remodel your kitchen, and we have budget-friendly tips for you to try.Revive your flooring
Finally, you should also give your flooring a new lease on life. You don't need to spend thousands on a new floor when you can improve what you've got right now. Suppose you've got a tiled kitchen floor, and it's looking lackluster.
Hire a professional floor steam cleaner to extract all ground-in dirt, dust, and stains. The process will also make your floor sterile, resulting in a healthier kitchen. If you've got wood flooring, a floor sander and varnish will yield fantastic results.
Good luck!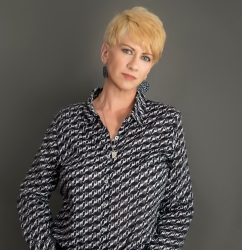 Latest posts by Deborah T
(see all)