Got Clutter? Here are the secrets to clearing it out so that you can fall in love with your closets all over again. It happens. Clutter creeps up on all of us. It starts out with a little pile of this here, and a little bit of that there. Eventually, it takes over. The closet that you used to love becomes a huge mess!
With a little bit of time and a few rules, you can clean up your act and reclaim your closet! Take the afternoon and tackle this project, and you will find your time freed up from spending time trying to find things.
Sadly, I will admit that I need to go through this process about every six months. I have a smaller home, built in the mid-1960s. This means there aren't walk-in closets. Instead, I have wall closets with sliding doors. It tends to get messy as I go through rushing through life.
Admittedly, I start out very neat after a closet cleanout. It progressively gets a bit untidy over time. Therefore, I need to keep myself committed to keeping my closet clean on an ongoing basis.
Basically, I do a major cleanout both spring and fall as I change out my clothes for the seasons. It works for me! You will find the frequency with which you will need to follow this process.
RELATED POST: Home Office Declutter and Cleanup (Once and for all!)
STEP ONE: KEEP/DONATE/SELL/TRASH
Start your closet clean up by removing everything from your closet. I like to toss everything onto the bed, up and away from the dog hair. Be honest during this process. Be brutal. If it doesn't work for you anymore, it doesn't deserve closet space.
As I remove each item, I assess each item. I categorize these items into four piles. Box each stack up accordingly after you make the call on every piece of clothing, every pair of shoes, and every bag in your closet.
KEEP: If it fits, is in good repair, and I still love it, I keep it.
DONATE: If it doesn't fit or I don't love it but it doesn't have much value, I donate it. For example, a sweater that is too big or small from Target has a lot of use left. I can't use it, but it's got life left. Donate this sweater.
SELL: If I don't still love it and it doesn't fit but is a higher value item, I sell it on either eBay or a local Facebook yard sale group that I belong to. For example, I recently took out a J. Crew tote bag that I had forgotten about and never used. I looked it up on eBay. I saw that it was selling for around $15. I took a photo with my phone, uploaded it, and it sold in less than 6 hours.
TRASH: This is self-explanatory. If an item has stains, rips, missing buttons that I know I'll never fix, then trash it.
STEP TWO: HANG YOUR CLOTHES ON LIKE HANGERS
This may sound silly, but you should hang your clothing back up on hangers that are all alike. In fact, this is a perfect way to save closet space. Hugger hangers are wonderful as they hug close to each other. Therefore, they save you a ton of closet space.
An alternative is hangers that "nest". This means that they hang one below the other, taking up some vertical space. In effect, you will double your closet space by nesting your hangers.
While these hangers are a bit of a splurge, they will help keep your organizing efforts on track for longer. Shop around, watch for sales, and buy the hugger or nesting hangers that work the best for you. In addition to reducing clutter and adding space, they make your closet look neat, clean, and efficient.
STEP THREE: ADD SHOE SHELVING
I have a shoe addiction. Bad. My husband will vouch for this.
However, I find that I have difficulty in organizing my shoes. Naturally, it contributes to clutter overtime. While my husband would argue that I have so many that I never wear them all, I disagree. I insist that I just need to organize them well so I don't forget that I own them!
You can build a simple shoe shelf out of 1″x6″ shelving board or purchase a pre-fab laminate kit at your local SuperStore. It's your choice. Either way, you'll find it a great organizational tool for your closet.
A simple shoe shelf can double…or triple…your closet space. And keep your shoes organized so you can really enjoy them!
STEP FOUR: HANDBAG STORAGE
I mentioned that I collect shoes. However, I may have made a tiny omission of fact…my guilty love for handbags. Clutches, shoulder bags, totes, or satchels. I love them all.
First of all, I will say that Rule One does apply. If a bag has an unrepairable zipper, it's trashed. If I don't love it anymore, it's sold. If it's cute but not valuable, it's donated. Of course, this discipline is especially important for items that you accumulate. As a result, you reduce clutter.
In fact, stored handbags actually display beautifully inside your closet. Use the space on the top shelf of the closet to store them. I don't mean toss them up there so they get scuffed up!
Purchase inexpensive cubbies and store them upright, with the narrow end out, so that you can see all of them. Indeed, you will find that you use them more often when they are visible. You will be able to easily select which bag to pair with your outfit in just seconds.
STEP FIVE: KEEP THE MOMENTUM
Finally, let's look at how to keep your closet organized and free of clutter .Step Five is where I go wrong. This is definitely a moment of "do as I say, not what I do."
Keep the momentum of your newly-organized closet going as you move forward. Continue to be discriminating in what you choose to add to your clothing, shoe, and handbag collection. Constantly keep an eye open for pieces that are to be discarded, donated, or sold.
Ultimately, I always make the choice to keep my closet organized. I find that I spend less time looking for the perfect completer piece. My accessories keep clean and fresh-looking. With the less is more attitude to closet organizing, my outfits are more on point.
It's work. Yes, it takes commitment. However, a once every 6 months or so clear out and constant upkeep will make you fall in love with your closet all over again.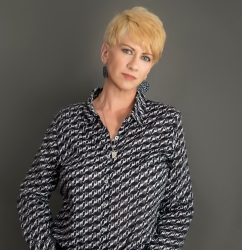 Latest posts by Deborah T
(see all)